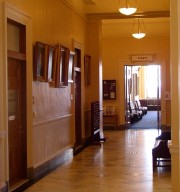 The Senate currently has 35 members, although the number has varied over the years. The President of the Senate presides over that body and is constitutionally eligible to act as Governor in the event of the chief executive's disability or death.
Its smaller number of members compared to the House (35 v. 151) make each Senator's vote more critical in gaining a majority (only 18 of the 35 members) in that body than a House member who is only one of 76 needed for a majority in the House of Representatives.
Since only 18 senators in the 186 member Legislature can block legislation, the more powerful Senate is known as the "upper chamber."
Members are assigned to Joint Standing Committees, including members of the House, to hear and recommend proposed legislation.
Both House and Senate districts are reapportioned every ten years, based on the decennial population census, to keep them approximately equal in population, as required by the United States Constitution.
In recent years, the reapportioned districts have taken effect with the election four years after the census year: 1984, 1994, 2004. However, beginning in 2012, reapportionment will be in effect with the election two years after the census year.
The party balance in the Senate has been relatively evenly divided during the past decade.