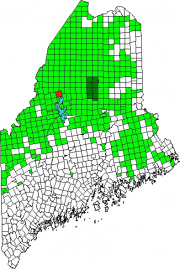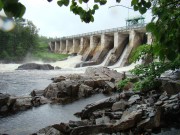 is both an unorganized township and a lake created by the Seboomook Dam.  Just north of Moosehead Lake, half the township and all of the lake are in Maine Public Reserved Land protective status.
The 6,880-acre lake has over 69 miles of shoreline, with the dam at its eastern end where it spills into the West Branch of the Penobscot River.  Roll Dam Campsite is downstream. Seboomook lake is fed at its western end by the North and South Branches of the Penobscot River.
Split north and south by the east-west Golden Road, Seboomook Township is dominated by logging roads and forests in its northern half, including the Golden Road, which extends the full length of the lake near its north shore.  A few campgrounds and boat launches dot the  eastern portion of the township.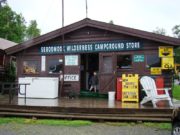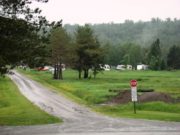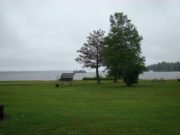 The photos below were taken on July 1, 2008, in sequence from the Burbank Road to Seboomook Dam, then west along the Seboomook Road.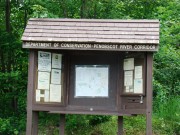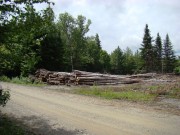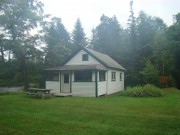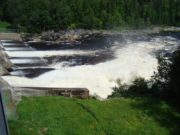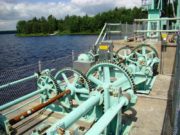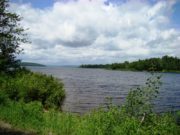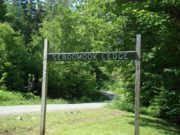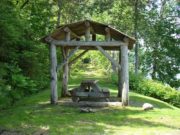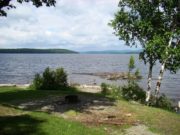 During World War II, about 250 German prisoners of war were brought to Seboomook in the spring of 1944.  (Others were at Houlton, Princeton, and Spencer Lake.) They worked in the woods cutting and hauling pulpwood for Great Northern Paper Company, which was suffering from a labor shortage caused by the war.
Seboomook Farm, converted to a prison facility, housed the men until 1946 when they were repatriated to Germany.  The current Seboomook Wilderness Campground (photos above), on the site of the POW camp, is located on the southern portion of the township that has frontage on Moosehead Lake's Northwest Cove. According to the website moosehead.net,
At Seboomook, a double barb-wire fence surrounded the compound with four guard towers, one at each corner. Each tower was equipped with high-powered spotlights and 30-caliber machine guns and a guard on duty 24 hours a day. The horse barn was converted into living quarters for the prisoners with toilet and laundry facilities in the basement. The potato house was converted into a mess hall for the prisoners with the kitchen in the lower level and the dining area upstairs. The carriage house was made into a recreation room for the Germans. The blacksmith shop was converted into an infirmary on the first floor and doctors quarters on the upper floor. Other buildings were built to house U.S. Troops and guards. Officers were housed in the farmhouse outside the compound. Some U.S. Troops and their wives rented rooms for the summer months at the nearby Seboomook Hotel.
Additional resources
Harmon, Penny S. "Seboomook Farm: Home to POWs in Maine."  Western Lakes & Mountains. Discover Maine. November 9, 2011. pp. 40-41. http://issuu.com/discovermaine/docs/wlm12 (accessed October 19, 2012)
Parker, Everett L. SEBOOMOOK From Native Americans to POWs: A History of Northwestern Moosehead Lake. Moosehead Communications. 2003.
"Prisoner of War Camp ~ Seboomook, Maine." http://www.moosehead.net/history/POWCamp.html (accessed October 20, 2012)