| Year | Population |
| --- | --- |
| 1970 | 1,951 |
| 1980 | 2,309 |
| 1990 | 2,603 |
| 2000 | 2,641 |
| 2010 | 2,615 |
Geographic Data
N. Latitude
44:28:27
W. Latitude
68:55:45
Maine House
District 98
Maine Senate
District 11
Congress
District 2
Area sq. mi.
(total) 42.9
Area sq. mi.
(land) 28.6
Population/sq.mi.
(land) 91.4
County: Waldo

Total=land+water; Land=land only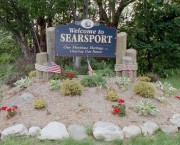 [SEERZ-port] is a town in Waldo County, settled in the 1670's and incorporated on February 13, 1845 from portions of Prospect and Belfast.
David Sears of Boston, after whom the town is named, was one of ten who bought land in the area held by the heirs of General Samuel Waldo.
19th century U.S. Representative Ephraim K. Smart was born in Searsport (then part of Prospect) in 1813.
In 1847, when fire destroyed the Province House in Boston, General Waldo advocated, unsuccessfully, that the capital of Massachusetts be moved to Searsport.
During the nineteenth century the port had 17 shipyards and built 200 ships, while supplying fully one-tenth of the nation's Merchant Marine deep water captains.
The Penobscot Marine Museum in town faithfully recalls that heritage.
Sears Island, known as Wassumkeag or "shining beach" by the Indians, has been a point of controversy for years.
The state's second largest deep water port is ideally located for railroad, wood product, and other development interests. Others have expressed environmental and esthetic concerns about further industrializing this portion of the coast.
In addition to substantial resources of the Penobscot Marine Museum, Searsport has recreational opportunities at Moose Point State Park on Penobscot Bay, and frontage on Swan Lake inland at the northwest corner of the town.
Formers U.S. Representative Peter Garland served as town manager of Searsport from 1974 through 1981.
Maine's coastal U.S. Route 1 is famous for its antique businesses. Searsport is no exception to the rule, especially in tourist season. Main Street downtown has been designated a historic district by the National Register of Historic Places.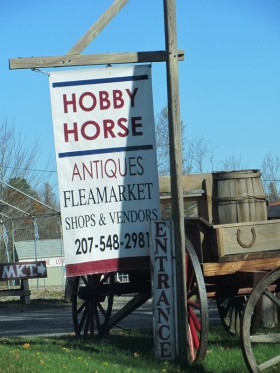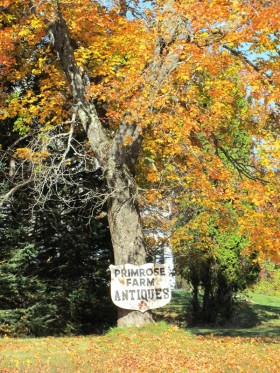 The town has two areas with industrial potential on Penobscot Bay.  Sears Island, connected to the mainland by a causeway, has been  the target of several major industrial developments: nuclear power plant, aluminum smelter, coal fired generator, cargo/container port, and Liquid Natural Gas terminal.  Now owned by the State of Maine, a conservation easement protects about two-thirds of the island from development.
Nearby Mac Point is home to the Irving Corporation's "Searsport Terminal," connecting rail and truck transportation with its storage facilities. According to one news report, in 2012 "up to 70 percent of Maine's gasoline supply comes from the Irving Oil refinery in New Brunswick."*
Form of Government: Town Meeting-Select Board-Manager.
Additional resources
*Turkel, Tux. "Alarm over climate 'tipping point' fueled Portland rally." Maine Sunday Telegram. February 3, 2013. pp. A1, A7.
125th Anniversary Searsport, Maine, 1845-1970. Anniversary Committee. 1970.
Andrews, Catharine M. A Touch of Searsport's History. Searsport, Me. C. M. Andrews?. 1965? [Maine State Library]
Around Our Town. Searsport, Me. Searsport Historical Society. 1967-. [University of Maine, Raymond H. Fogler Library, Special Collections]
Kramer, Barbara. Belfast and Searsport. Dover, N.H. Arcadia. c1997.
Lilly, Paige S. "Many Plans and Many Puzzles": One Woman's Self-construction in Post-Victorian New England. 1997. (Thesis (M.A.)–University of Southern Maine, 1997) [University of Southern Maine (Portland), The Albert Brenner Glickman Family Library]
**Maine. Historic Preservation Commission. Augusta, Me.   Text and photos from National Register of Historic Places: http://pdfhost.focus.nps.gov/docs/nrhp/text/xxxxxxxx.PDF and http://pdfhost.focus.nps.gov/docs/nrhp/photos/xxxxxxxx.PDF
Carver Memorial Library: 93001113.PDF
College Club Inn: 0000377.PDF
John McGilvery House: 83003685.PDF
William McGilvery House: 83003686.PDF
Mortland Family Farm: 91001510.PDF
John P. Nichols House: 83000476.PDF
James G. Pendleton House: 95000218.PDF
Penobscot Marine Museum: 70000088.PDF
Searsport Historic District: 79000168.PDF
Union Hall: 86000478.PDF
Union School: 93000203.PDF
Sherman, Rexford Booth. The Bangor and Aroostook Railroad and the Development of the POrt of Searsport. 1967. (Thesis (M.A.) in History–University of Maine, 1967.) [University of Maine, Raymond H. Fogler Library, Special Collections; University of Southern Maine (Portland), The Albert Brenner Glickman Family Library]
National Register of Historic Places – Listings
Carver Memorial Library
[Junction of Union and Mortland Streets, northeast corner] Built for $25,000, the 1910 Carver Memorial Library blends fieldstone walls with half-timbered and stuccoed gables. Designed by the Boston architectural firm of McLean and Wright, the library was given to the Town of Searsport in memory of Captain George Albert Carver (1836-1908).
The Library was given by Mrs. George A. Carver and his children Amos B. Carver and Mrs. Elizabeth Carver Whittier. George Carver was born in Searsport where he was a shipbuilder from 1858 to 1870 and a shipmaster from 1870 to 1877. Though he summered in Searsport, he moved to New York where he was in the ship chandlery business in the firm of Baker, Carver and Company.**
College Club Inn
[190 West Main Street] Built about 1800, it was acquired in 1902 by George D. Pettee and his wife Rose for use as a summer house. Apparently in 1917 their daughter Frances (a recent Wellesley College graduate) and several friends opened a tea room which they named the College Club T House.
After his return from service in World War I, George and Rose Pettee converted the T House into the College Club Inn, operating it until 1953. Later it became a bed and breakfast named "Watchtide."
The rapid rise in automobile traffic along U.S. Route 1 had a profound impact on local economies as well as the built environment that arose to service this new trade. Development of road side facilities for auto tourists had explosive growth in the early 20th century, particularly after World War I. Conversion of 18th and early 19th century residential buildings into inns and restaurants was widespread. The College Club Inn illustrates this pattern of reuse.**
East Main Street Historic District
[US Route 1 between Black Road and Navy Street] The East Main Street Historic District contains a number of substantial dwellings that occupy spacious lots, one of which touches the shore of Penobscot Bay. Architecturally, the district contains a high percentage of Searsport's most significant late nineteenth century buildings. All are of frame construction with attached barns. The District is distinguished by an abundance of mature deciduous and evergreen trees, lot sizes that vary from one to five-plus acres, and setbacks that range between 75 feet and 150 feet.
This area, bisected by U.S. Route 1, encompasses 20 acres, upon which are five historically significant properties. Standing within their large, wooded lots, the buildings here offer a stark contrast to their neighbors. To the west along Route 1 lies an older, more densely developed residential area with many Greek Revival capes and later Italianate dwellings. Beyond this is the well preserved brick commercial downtown. To the east are a number of Federal, Greek Revival, and Italianate houses scattered among more recent commercial enterprises.**
McGilvery, Capt. John, House
[East Main Street] In the mid-19th century, one of every ten captains in the American merchant marine came Searsport, a concentration not equaled elsewhere before or since. Very much in this tradition, Captain John Willard McGilvery was one of five sons of Robert and Elizabeth McGilvery, all of whom became sea captains.
Born in 1829, he went to sea, typically, as a boy and held his first command at age 22. From 1855 to 1860 he temporarily left the sea for a short, but evidently very successful, business career in Portland. Returning to Searsport with a wife he went back to what was obviously his first love, the sea. His success is attested to by this greathouse, a fine example of high style Second Empire architecture, that he built in 1874. From then until only four years before his death in 1904, he held a series of important commands including the famous Oneida. He never lost a ship and in a time when the treatment of crews was generally not of the best, McGilvery was said to always have many men wanting to sign on with him. His popularity in Searsport was no less and a large public funeral was held at his death.**
McGilvery, Capt. William
[East Main Street] The house is important as the home of entrepreneur William McGilvery (1814-1876), one of the leading shipbuilders and owners on the Penobscot River, whose holdings extended upriver as far as a major shipyard in Brewer. Of twelve shipyards in Searsport, the McGilvery Works was the longest-lived and produced many of the finest ships. McGilvery shot himself in the house on March 9, 1876, reportedly after losing his business and fortune.
The original porch on the house's ell was extended around 1936 when McGilvery's granddaughter opened the house as a hotel. Otherwise in 1983 the house was unaltered, was in excellent condition, and retained virtually all of its original acreage. In the great tradition of Searsport, McGilvery was a sea captain as a young man. He came from a family of five sons, all of whom were captains. John McGilvery was his brother.**
Mortland Family Farm
[East side of Mortland Road, north of Searsport] On a 16.3 acre site in rural Searsport, the Mortland Family Farm consists of a range of connected domestic and agricultural buildings surrounded by pasture and a remnant orchard. Constructed in three distinct phases during the second to fourth quarters of the 19th century, including the earliest in stone, it depicts the dynamic changes in agriculture that took place in Maine during this period.
The association of the property with the Mortland family began in the early 1820s. Samuel Nortland (1791-1873) and his wife Ann (Roulston) Mortland (1795-1864) emigrated from Ireland and settled on this property. According to family tradition, their first house was a log dwelling. The Mortlands and their surviving family of six children moved to the existing rubble stone cape in 1834. Since Samuel Mortland was a stone mason and farmer it is presumed that he built the house himself. Several generations of the family worked the farm until the 1980s when it was sold.
Old photographs and postcards show that the connected farm complex of which the Mortland farm is an example, existed in great numbers in Maine during the 19th and early 20th centuries. These sets of buildings reflect a distinct pattern of rural development. The decline of the agricultural system that sustained such buildings has resulted in their wholesale abandonment. A few notable examples still exist, among them the Merriconegan Farm in Harpswell.**
Nichols, Capt. John P., House
[US Route 1] The 1865 Captain John P. Nichols House is a fine hipped-roofed, cupola topped Italianate house. The only example of the type in Searsport, the house is also one of the major Italianate-style residences in Waldo County. The decorated cupola adorning the house's roof is probably Waldo County's major piece of wood carving.
Except for minor alterations, the house retains its original appearance and remains in an excellent state of repair. Captain John P. Nichols (1818-1883), who lived there from his retirement in 1865 to his death, commissioned it. Nichols was one of the most financially successful of Searsport's many sea captains. He first went to sea when eleven years old, and was captain of his own ship at the age of twenty-one. The Nichols were perhaps the largest of Searsport's sea-going families, boasting twenty-seven ship masters in the 19th century.
The house was also the home of Commodore (later Vice Admiral) Carleton P. Bryant. As a Rear Admiral with the Atlantic fleet, Bryant was Commander, Gunfire Support, during the Allied Invasion of Normandy in June, 1944, and Commander, Center Support Group, Western Naval Task Force, in the invasion of Southern France in August, 1944.**
Pendleton, James G., House
[81 West Main Street] This 1865 Italianate style dwelling was built for James Gilmore Pendleton (1821-1903), a successful ship's captain and local businessman. Pendleton was born in 1821 in Searsport and worked on his father's farm until he was eighteen when he began his career as a mariner. From 1845 until his retirement in 1864 he commanded a variety of vessels in the foreign trade making several voyages around the world.
In 1870 Pendleton's personal estate was valued at $20,000, and tax records show that he held shares in ten vessels. Three years later he became president of the Searsport Savings Bank, and in 1882 upon the organization of the Searsport National Bank he was elected its president. In 1897 he was a Director of the Merchant's Insurance Company of Bangor and the Maine Belting Company of Philadelphia. Pendleton was also a member of the Governor's Council from 1879-1881.**
Penobscot Marine Museum
[Church Street] The Penobscot Marine Museum is appropriately located in the community that produced more sea captains than any other in the United States.
It maintains eight buildings listed on the National Register of Historic Places on its three-acre campus. Complete with a classic New England Town Hall ( see Union Hall below), the First Congregational Church (see photo above), private residences, and a commercial building, all ranging in date from about 1810 to 1845.**
Se

arsport Historic District
[Main Street] Nowhere outside Portland may one find finer examples of the heavy granite post and lintel facade than in the buildings that range along Main Street. Its sturdy brick Methodist Church clearly expresses the economic confidence of mid-19th century Searsport.
The buildings are not only well maintained, but are so little altered from their original state that they retain the flavor of the mid-19th century seaport. The heavy commercial pressures to "modernize" exerted by their location on Maine's principal summer travel route have so far been resisted.**
Union Hall
[3 Reservoir Street] Union Hall is a highly distinctive Italianate public hall that, except for the loss of its cupola, remains virtually unaltered. Designed by the eminent Portland architect George Harding, this structure is unusually ambitious and imposing for a relatively small town municipal building.
Built in 1863 during the depths of the Civil War, the Searsport Union Hall reflects the great period of maritime prosperity that produced more sea captains than any other community in the country.**
Union School
[Mt. Ephraim Road east side, 0.2 miles north of junction with US 1] The Union School in Searsport is an Italianate style brick building erected in 1866 from designs by Portland architect George M. Harding, one of the two most important architects in mid-nineteenth century Maine. Despite the loss of several exterior architectural features and alteration of the first floor interior finish, the Union School continues to illustrate an important part of this prominent architect's work.
By 1860 the town's population stood at 2,533 persons. Among the many public buildings were fourteen schoolhouses in eleven separate districts. The construction of the architect designed, two-story brick building testifies to the importance that the town placed on educating its children. Used for both elementary and high school instruction until 1953, Union School remains the most architecturally prominent historic building of the type in Searsport.**