| Year | Population |
| --- | --- |
| 1970 | 360 |
| 1980 | 626 |
| 1990 | 758 |
| 2000 | 980 |
| 2010 | 1,010 |
Geographic Data
N. Latitude
44:34:18
W. Latitude
69:53:05
Maine House
District 76
Maine Senate
District 3
Congress
District 2
Area sq. mi.
(total) 31.7
Area sq. mi.
(land) 25.4
Population/sq.mi.
(land) 39.8
County: Kennebec

Total=land+water; Land=land only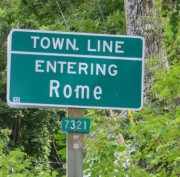 [ROME] is a town in Kennebec County, settled about 1780 and incorporated on March 7, 1804 from a portion of West Pond Plantation.
The originally much larger tract is now smaller having ceded land to Mount Vernon (1814), Vienna (1815, 1840), and Belgrade (1845, 1897).
Named for the ancient city of Rome, one historian notes "it has seven times as many hills as the eternal city whose name it bears, and granite enough to build the old Roman capital."
The town has substantial frontage on Long Pond (at right) and Great Pond in the Belgrade Lakes region, with many camping, boating, and other recreational opportunities.  The town line is adjacent to the small village of Belgrade Lakes in the town of Belgrade.
In a way Rome is a tale of two towns: part on the ponds and part inland. On one side private developments with fine houses and water access.
On the other, no extensive main village, but a series of small settlement clusters along the main roads, a community center and town office in a former school.  Rome has no public library of its own.
In the northeast, Rome has extensive frontage on North Pond, which is primarily in Smithfield.  Situated west of Oakland, though not all roads lead to it, Rome is served by Maine Routes 8, 27, 137 and 225.
The signs below appear on Route 27, just north of Belgrade.
Form of Government: Town Meeting-Select Board.
Additional resources
Chadbourne, Ava Harriet. Maine Place Names and The Peopling of its Towns.
Town of Rome. New York. H.W. Blake & Co. 1892. (Cataloger Note: Extracted from: Illustrated History of Kennebec County Maine, 1625-1799-1892. Editors Henry D. Kingsbury, Simeon L.Deyo)
University of New Hampshire, Dimond Library Historic USGS Maps Collection, Norridgewock, ME Quadrangle, USGS 15 Minute Series.