| Year | Population |
| --- | --- |
| 1970 | 273 |
| 1980 | 274 |
| 1990 | 296 |
| 2000 | 207 |
| 2010 | 161 |
Geographic Data
N. Latitude
45:41:43
W. Latitude
60:07:06
Maine House
District 144
Maine Senate
District 2
Congress
District 2
Area sq. mi.
(total) 59.6
Area sq. mi.
(land) 59.4
Population/sq.mi.
(land) 2.7
County: Aroostook

Total=land+water; Land=land only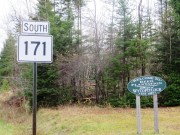 [REED] is in Aroostook County, settled in 1804 and organized June 6, 1843 from the township T1 R3 WELS. As was often the case with early plantations, it was "organized" several times thereafter in 1853, 1860, 1876, and 1896.
The first settler, John Clifford, came from Dover (now part of Dover-Foxcroft) in 1830.  In 1886 the European and North American Railroad passed through and had a station in the southeastern part of the town.  At the time Reed supported two schoolhouses and its population in 1880 was 109.
The village of Wytopitlock, in the south of the plantation, is probably better known because of its interesting name. Fanny Harding Eckstorm, who studied the native languages, is reported to have found twenty-eight different spellings of the name. According to Brian McCauley, it means "a place where there are alders" in the Abenaki language.
The village is located on Maine Route 171 near the Mattawamkeag River and on the Wytopitlock stream.
Two lots of Maine Public Reserved Land lie within the plantation: the 996-acre Thompson Deadwater Lot and the 539-acre Central-Wytopitlock Lot. The Maine Bureau of Public Lands observes, (edited and condensed)
Thompson Deadwater is the site of a historic river-driving dam and log landing. The Wytopitlock Stream-Thompson Deadwater area also has recorded rare and endangered species such as Tomah mayfly, fresh water mussels, and wood turtle.
There are at least three cellar holes and corresponding wells and stone walls on the Central Lot. One old field on is relatively open, with several apple trees. Wytopitlock Stream and Finn Brook support brook trout fisheries.
Both lots have northern hardwood stands with sugar maple that show signs of historic tapping. Both are used primarily for dispersed hunting and fishing. Wytopitlock Stream provides a traditional but lightly traveled canoe trip. The "old dam site" is used as a primitive hand-carry launch site for anglers and canoeists. A large traditional deer wintering complex extends to the east.
Unimproved roads on private property lead to the two lots. Reed has no lakes or ponds.
Other than Route 171, which runs through the western portion north to U.S. Route 2A, the Bancroft Road travels northeast from Wytopitlock to the Bancroft town line. These are the only improved roads.
The Plantation is home to the Reed Forest (Not to be confused with the "Big Reed Forest" in northern Penobscot County, north of Baxter State Park, and surrounds the pristine Big Reed Pond.)
According to the Bangor Daily News, in November 2016,
Apple announced a partnership with The Conservation Fund, a national nonprofit land trust with offices in Freeport, to deliver a conservation easement on the Reed Forest land to the Forest Society of Maine. It restricts use of the land that can be monitored and enforced legally forever. The easement guarantees recreational activities such as hunting and fishing, and requires forest harvest plans to address water quality, native fish and wildlife habitat, scenic benefits and other conservation values. The Wytopitlock Stream flows through the forest.
Form of Government: Assessors-Annual Meeting.
Additional resources
Bond, C. Lawrence. Native Names of New England Towns and Villages.
Lynds, Jen. "Apple, conservation group donate easement on 32,400 acres in Aroostook County." Bangor Daily News. November 17, 2016. http://bangordailynews.com/2016/11/17/outdoors/apple-conservation-group-donate-easement-on-32400-acres-in-aroostook-county/ (Accessed December 1, 2016)
Maine. Department of Conservation. Bureau of Parks and Lands. "Eastern Interior Region Management Plan," Augusta, Me. July 1, 2009. pp. 122-123. https://www.maine.gov/dacf/parks/get_involved/planning_and_acquisition/management_plans/docs/eastern_interior_plan_final.pdf (accessed April 3, 2014)
McCauley, Brian. The Names of Maine: How Maine Places Got Their Names and What They Mean.
Varney, George J. A Gazetteer of the State of Maine. 1886. pp. 476-477.