| Year | Population |
| --- | --- |
| 1970 | 358 |
| 1980 | 511 |
| 1990 | 542 |
| 2000 | 642 |
| 2010 | 709 |
Geographic Data
N. Latitude
44:33:29
W. Latitude
68:51:53
Maine House
District 131
Maine Senate
District 11
Congress
District 2
Area sq. mi.
(total) 20.3
Area sq. mi.
(land) 18.1
Population/sq.mi.
(land) 32
County: Waldo

Total=land+water; Land=land only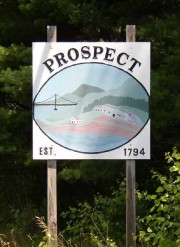 [PROSS-pekt] is a town in Waldo County, settled in 1759 and incorporated on February 24, 1794 from a portion of Frankfort.
It later set off land to form a part of Searsport (1845) and to form Stockton, now Stockton Springs (1857).
Located on the west bank of the Penobscot River, across from Bucksport, the main village is at the junction of Maine Route 174 and U.S. Route 1A, near the headwaters of the South Branch of the Marsh River.
Prospect is home to Fort Knox, built in 1844 from Mount Waldo granite from neighboring Frankfort and named for Henry Knox, the first U.S. Secretary of War.
Notable for its brick arches and underground passages, it was built as a defense during the Aroostook War.
The Town Office and Fire Department share space in the same building in Prospect Village.
In the 19th century a ferry was used to cross the Penobscot River at Prospect.  According to a cataloger note (see below), "At Prospect Ferry Albert Harriman had a store which was located on the wharf at the ferry landing, and it was the gathering place for the area residents, travelers, and fort personnel.
It was a typical country store with cracker and pork barrels, penny candy, groceries, yard goods, and grain."
The veterans memorial is at the crossroads in the village. The store and the Community Center occupy the same building, also at the crossroads.
Maine has many architecturally interesting bridges. The old Waldo-Hancock was one; the new Penobscot Narrows bridge is another.
The Hancock-Waldo Bridge photo courtesy Maine State Archives, George French Collection.
Form of Government: Town Meeting-Select Board.
Additional resources
Ellis, Alice V. The History of Prospect, Maine, 1759-1979. Prospect, Me. Town of Prospect, Me. c1980.
*Maine. Historic Preservation Commission. Augusta, Me.  Text from National Register of Historic Places: http://pdfhost.focus.nps.gov/docs/nrhp/text/xxxxxxxx.PDF
Fort Knox State Park: 69000023.PDF
Marsh School: 13000188.PDF
Prospect, Maine Collection, 1849-1878. (Cataloger Note: A collection of materials concerning education and the town of Prospect, Maine. Included are an account book of school agents for school districts of Prospect, Maine 1849-1878.) [University of Maine, Raymond H. Fogler Library, Special Collections]
Shaw, Richard R. The Lower Penobscot River Region. Dover, N.H. Arcadia, 1996 (includes photos of Prospect)
National Register of Historic Places – Listings
Fort Knox State Park

, National Historic Landmark
[U.S. 1 near Prospect] Located on the west bank of the Penobscot River in a commanding position on a high bluff, Fort Knox is a massive granite-and-brick five-sided fortress with a dry moat, a downward sloping glacis [bank] on the landward sides, and two powerful flanking shore batteries.
"Massively constructed of granite blocks, the main fortress is about 146 feet by 252 feet in size and its walls average about 20 feet in height and 40 feet in width.
"Two of its five walls face east on the river and these contain a series of eight great arched casements with ceilings heavily vaulted to support the artillery platforms mounted on the stone deck above. Both levels in these walls were armed with heavy guns that dominated the river."*
Marsh School
[930 Bangor Road] Built to serve school District #3, Marsh School is the only remaining one-room school house in Prospect. Located in the center of the town, the schoolhouse is situated on a grassy lot on the west side of U.S. Route 1A and is surrounded on two sides by the Maple Grove Cemetery.
Built about 1880, this was the third school building in town, and was used continually for that purpose until 1963. The school also hosted the annual and special town meetings and was a polling place. After the school was closed it became the Town Hall and community center, a function that lasted until the beginning of the twenty-first century.The period of historical significance began about 1880 and ended in 1963, when the last classes were held in the school.*