| Year | Population |
| --- | --- |
| 1970 | 800 |
| 1980 | 1,189 |
| 1990 | 1,262 |
| 2000 | 1,491 |
| 2010 | 1,474 |
Geographic Data
N. Latitude
43:53:55
W. Latitude
70:10:46
Maine House
District 46,48
Maine Senate
District 24
Congress
District 1
Area sq. mi.
(total) 23.0
Area sq. mi.
(land) 22.9
Population/sqmi
(land) 64.4
County: Cumberland

Total=land+water; Land=land only
[POW-nuhl] is a town in Cumberland County, settled in 1680 and incorporated on March 3, 1808 from a portion of Freeport, while Maine was still a part of Massachusetts. It  was named for governor Thomas Pownall of Massachusetts. Pownal swapped land with North Yarmouth in 1813 and 1816 to complete its current boundaries.
The Chandler River, once known as the East Branch of Royal's River, flows through the town and joins the Royal River in North Yarmouth, just south of Pownal.
In the late 19th century, the river supported two saw mills and a grist mill. Jacob Randall, whose farm is on the historic register noted below, owned a saw mill and a grist mill in the town.
The 1854 "Hearse House" adjoins the 1811 First Parish Church and its cemetery in Pownal Center.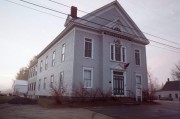 Benjamin True, born around 1820 in Pownal, was a farmer and the Cumberland County Sheriff from 1883 to 1886. He and his family lived in the jail in Portland, during that time. His diaries are noted below.
Historic Mallett Hall is also Pownal's town hall.
The former Pownal State School ("for the Feeble Minded"), closed in 1996, was located in New Gloucester. Now "Pineland Center, " it is a community of non-profits and local businesses.
The few commercial establishments in town, pictured below, are clustered in Pownal Center Village at the crossroads of Route 9 and Elmwood Road.
Most of the town is rural residential, with homes and a few farmhouses widely spaced along the local roads. The huge power line running along the western portion is striking on the landscape as it crosses the Allen Road. Images below are from West Pownal.
Bradbury Mountain State Park offers picnicking, a modest walk to the summit, and a historic cattle pound. The 1818 pound is one of the largest in the state, measuring 45 feet square with walls four to five feet tall. Its size may well indicate the commercial importance of Pownal in the 19th century.
Form of Government: Town Meeting-Select Board.
Additional resources
Ayres, Christopher. Between House and Barn: A Rural Interlude. Photography by Christopher Ayres; essays by Stephen W. Hyde. Pownal, Me. Standing Stones Farm Press. c2010.
Boyles, Donna. On Pownal Time: One Hundred Years in a Rural Maine Town, 1908-2008. Pownal, Me. Published by the Pownal Scenic and Historical Society. c2008.
Latam, Ettie J. History of the Town of Pownal: Written for its Centennial, Sept. 2, 1908. 1908? Yarmouth, Me. A.F. Tilton. Printer.
*Maine. Historic Preservation Commission. Augusta, Me.   Text from National Register of Historic Places: http://pdfhost.focus.nps.gov/docs/nrhp/text/xxxxxxxx.PDF
Mallett Hall: 91001511.PDF
Jacob Randall Homestead: 79000144.PDF
Pownal Cattle Pound: 04000745.PDF
Pownal: A Rural Maine History. Pownal, Me. The Pownal Scenic and Historical Society. c1977.
True, Benjn (Benjamin). Diaries, 1884-1894. (Cataloger Note: Eleven diaries of a county sheriff and farmer in Portland and Pownal, Maine covering the years 1884 to 1894. Entries are short and topics covered include his work as a county sheriff, his daily activities, short observations on the daily weather, work on the farm, who came to visit, trips he made. Included are records of financial accounts at the end of each diary.) [University of Maine, Raymond H. Fogler Library, Special Collections]
National Register of Historic Places – Listings
Mallett Hall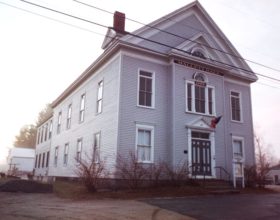 [Route 9, east side, North of Dyer Road Pownal Center]  The 1886 Mallett Hall is a large wood frame building that is one of the town's most significant architectural resources. It has served as the town hall and community center since its construction. At a special town meeting voters agreed to a building committee's recommendation to build a new hall, get an additional piece of land, sell the old townhouse and to accept the contribution of $1,000 from Edmund B. Mallet. The gift was conditional on the upper hall being free to all the town's meetings and social gatherings subject to rules established by the selectmen and their permission for its use.
Since 1886 Mallett Hall, named for the Freeport industrialist who donated the funding, has housed the town's governmental and many of its social activities including town meetings and local theatrical performances. Its rooms have been used by Granite Grange No. 14 and the Pownal Scenic and Historical Society, linking it to local historic events. Its well kept condition and architectural prominence lends it an important position among the surviving historic buildings in Pownal.*
Pownal Cattle Pound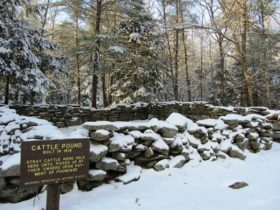 [Hallowell Road., Bradbury Mountain State Park, 0.7 mi. North of jct with Dyer Road: N43° 54′ 8.16″ W70° 10′ 38.46″ ]  Within six years of Pownal's incorporation  in 1808, the residents sought the construction of a cattle pound, but it was not until 1817 that an appropriate piece of land was found. John Tylor was paid 50 dollars to construct the pound to the town's specifications: "…to build said Pound thirty-six feet square in size. Voted the wall of said Pound to be four feet thick at the bottom and eighteen inches at the top and six feet in height with a cap of timber nine inches square on the top of said wall with a good gate in the 'frunt' (sic) with iron hinges and a good lock."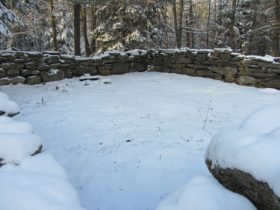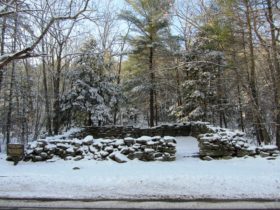 The location was on the land of the William Cotton family, who owned and worked the land on Bradbury Mountain for five generations until fire destroyed the farmhouse in 1929. Thomas Cotton, whose house was conveniently situated just north of the pound, was elected the town's first Poundkeeper. In order to reclaim livestock that had been impounded, the farmer was required to pay the Poundkeeper the expense of feeding and caring for the animal. The following schedule of fees were established by the town Selectmen in 1835:
For each horse, 25c for every 24 hours
For every ox, 16c for every 24 hours
For every cow, 13c for every 24 hours
For every 2 yr. old, 10 c. for every 24 hours
For every yearling, 8c for every 24 hours
For sheep at the rate of 3c per head for every 24 hours*
See other Maine cattle pounds from a list at Cattle Pounds.
Randall, Jacob, House
[752 Lawrence Road; N43° 55′ 47.04″  W70° 11′ 28.79″] An excellent and extremely well preserved example of rural Federal brick architecture, the Jacob Randall Homestead is closely tied to the early history of Pownal. In 1796, Jacob Randall, originally from Weymonth, Massachusetts, purchased 105 acres in North Pownal. The land included the site of the house he built between 1796 and 1804. It also included as several hundred feet on both sides of the Chandler River (now a stream) across the road.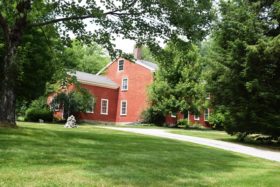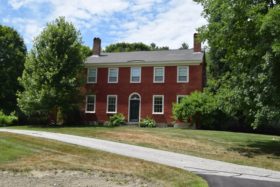 About 1800 Randall built a dam on the river and began operation of a saw and grist mill. The dam was largely in place and still held a fairly sizable head of water nearly 200 years later. But in July 2017 only traces of the dam were in evidence.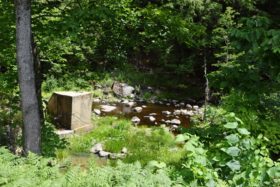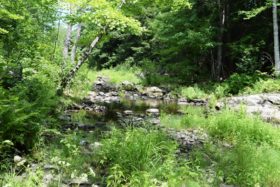 At the first town meeting held in 1808 in the newly incorporated Town of Pownal, Jacob Randall was elected selectman, indicating his stature in the community. He held that office almost continuously until his death in 1836.*