Nature Preserves
Six miles of trail along the Barren Mountain ridge are protected by The Maine Bureau of Parks and Recreation. The Trail south trends westward over Barren Mountain to Wilson Stream, then south to Little Wilson Falls, one of the highest in Maine with a drop of about 40 feet.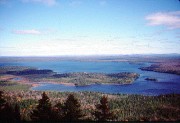 Chamberlain Lake Public Reserved Land.
In T7 R12 and T7 R13 WELS, this is a group of parcels encompassing 9,557 acres abutting the large lakes that form the south end of the Allagash Wilderness Waterway, the primary access point to the reserve. Canoeists from the waterway follow the hiking trails to the tops of two low mountains and enjoy fine views of the lakes and forests.
Gero Island Public Reserved Land
in Chesuncook Township is a large island in Chesuncook Lake. The water access campsites on the shore are popular with anglers and canoeists paddling the West Branch Penobscot River. The 3,845 acre parcel also includes most of historic Chesuncook Village on the mainland.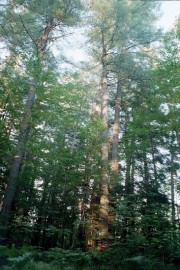 The Hermitage
Katahdin Iron Works, Brownville Junction. 35 acres. Stately grove of 150-year-old-growth white pine on bluff overlooking the Pleasant River. National Natural Landmark includes five kettle hole remains of a retreating glacier, the largest of which is Pugwash Pond. Managed by the The Nature Conservancy, it is on the Appalachian Trail near Gulf Hagas and Katahdin Iron Works.
Little Moose Public Reserved Land
Moosehead Junction and Big Moose townships (formerly Little Squaw and Big Squaw townships). Located just west of Greenville in Piscataquis County, it covers more than 15, 000. Although the forested land is flat to gently rolling in the southeastern quarter, it also includes most of the Little Moose Mountain Range with its steep slopes, rocky streams, and remote ponds. Visitors enjoy hiking, snowmobiling, fishing, hunting, and camping in this remote setting. Access is by gravel road off Route 15 north of Greenville.
Mount Kineo
Kineo Township. Home to peregrine falcons and a variety of rare plants. The 800-acre property is on Moosehead Lake and is managed by The Nature Conservancy and the Land For Maine's Future Board.
Nahmakanta Public Reserved Land
T1 R11 and T1 R12, encompasses more than 43,000 acres and is the largest unit in the public reserved lands system. The Appalachian Trail crosses the area following the shore of Nahmakanta Lake. The large roadless back country area offers the experienced hiker the opportunity to explore a spectacular complex of low mountains and remote ponds. The hiking trail along Turtle Ridge crosses densely wooded terrain with panoramic views of surrounding lands, including Mt. Katahdin, from open ledges. Vehicle accessible campsites provide convenient access to scenic ponds and hiking trailheads. Lakeshore campsites are accessible by canoe and offer water-based camping. A popular snowmobile trail crosses the unit linking Millinocket and Greenville. It can be reached by traveling from Kokadjo over the Second Roach Pond road to the Penobscot Pond Road which enters at its western boundary.
Seboeis Public Preserved Land
T4 R9 NWP, contains a considerable amount of shoreline on two large lakes (Seboeis Lake and Endless Lake) and is located south of Millinocket. Campers and day visitors on this 13,000 acre parcel enjoy fishing and impressive views of the nearby mountains, including Katahdin. Snowmobilers pass through the unit in winter, traveling from Milo to Medway. Access is via a gravel road leaving Route 11 south of Millinocket.
Telos Public Reserved Land
T6 R11 WELS, is a 23,000 acre area that surrounds Telos Lake and the southern end of Chamberlain Lake, the most popular starting point for canoeists traveling the Allagash Wilderness Waterway. Campsites are located on Coffelos Pond which is popular with anglers. The State is a member of North Maine Woods, an organization that manages recreation on over three million acres in northern Maine. Day use and camping fees collected at various checkpoints defray the costs of managing public access and maintaining recreation facilities. This unit is within the North Maine Woods system, so visitors must pass through a checkpoint and pay the required day use and camping fees.