| Year | Population |
| --- | --- |
| 1970 | 3,739 |
| 1980 | 4,168 |
| 1990 | 4,492 |
| 2000 | 4,793 |
| 2010 | 5,183 |
Geographic Data
N. Latitude
44:14:50
W. Latitude
70:29:30
Maine House
District 73
Maine Senate
District 19
Congress
District 2
Area sq. mi.
(total) 41.0
Area sq. mi.
(land) 40.8
Population/sqmi
(land) 127.0
County: Oxford      Total=land+water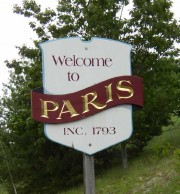 [PAHR-iss] is a town in Oxford County, incorporated on June 20, 1793 from Number Four Plantations. It set off land to Hebron (1818) and Oxford (1838) and annexed land from Buckfield in 1828.
Paris also swapped land with surrounding communities: Woodstock (1828, 1859, 1880), and Norway (1859, 1861).
The Mt. Mica mine in Paris was the site in 1820 where amateur naturalists Elijah Hamlin and Ezekiel Holmes virtually tripped over a clear green crystal, the first gem tourmaline discovered in the United States. According to an exhibit in the Peabody Museum at Harvard University,
For years, mining on Mt. Mica continued as a small-time affair. More ambitious mining began in 1868, when Elijah Hamlin and his son Augustus launched a blasting program that uncovered new pockets. They discovered beautiful gem-quality tourmaline in a rainbow of colors . . . .
The Paris Hill neighborhood has several architecturally interesting old homes, while South Paris has been the industrial and manufacturing center. 19th century U.S. Representative Rufus K. Goodenow lived and practiced law in town.
The Hamlin Memorial Library is the former Old Stone Jail built in 1822. Hannibal Hamlin's birthplace is adjacent to the Hamlin Memorial Library.
According to the Library,
The small granite building that now houses the Hamlin Memorial Library and Museum was built in 1822 to house the Oxford County Jail. The jail, the jailer's house next door, the County Courthouse and the Registry of Deeds, now private homes, continued to operate as county government buildings until the 1890's, when the County Seat was moved to South Paris to be near the train station.
Dr. Augustus Choate Hamlin, a nephew of Hannibal Hamlin, Vice President during Lincoln's first term, purchased the old jail, and in 1902 deeded it to the Paris Hill Library Association to be a library and museum. The downstairs now serves as a library and the upstairs as a museum. The museum has on display items belonging to the Hamlin family, (Hannibal Hamlin was born in the house next door to the library,) old jail artifacts, as well as items of historical interest donated by Paris Hill families throughout the century.
On the Stearns Hill Road near its intersection with Route 26, the old Hungry Hollow schoolhouse sits on a small plot. "Hungry Hollow" apparently extends to nearby West Paris.
South Paris village, split by the Little Androscoggin River, is the main population center and is half of the Norway-South Paris community, at the junction of Maine Routes 26, 117 and 119. Oxford Hills High School here, a "comprehensive high school," serves several surrounding towns.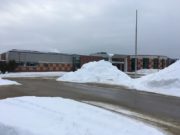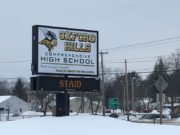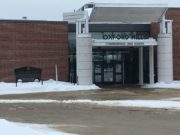 Form of Government: Town Meeting-Select Board-Manager.
Additional resources
Briggs, Frank Augustus. Paris, Maine Soldiers of the Revolutionary War and their Descendants. Kennebunk, Me. F. A. Briggs.1937.
Dibner, Martin. Portrait of Paris Hill: A Landmark Maine Village. Paris, Maine. Paris Hill Press. c1990.
The Early history of Paris, Maine. Compiled by the South Paris Merchants' Association. 1925. (Maine State Library)
Lapham, William Berry and Silas P. Maxim. History of Paris, Maine, From its Settlement to 1880, with a history of the grants of 1736 & 1771, together with personal sketches, a copious genealogical register and an appendix. Paris, Me. Printed for the authors. 1884.
Paris Cape Historical Society Book Committee. Paris, Maine: The Second Hundred Years 1893-1993. South Paris, Me. Paris Cape Historical Society. c1994. (Camden, Me. Penobscot Press)
Waterman, Charles Elmer. A City on a Hill (Paris Hill) with High Lights that Hit It. Auburn, Me. Press of Merrill & Webber Co. 1931.
National Register of Historic Places – Listings
Hershey Plow Company Building, Hill Street near Stony Brook
McLaughlin House and Garden, 97 Main Street South Paris
Paris Hill Historic District, Main Street and Hannibal Hamlin drive east to Mt. Mica and Christian Ridge Roads Paris Hill
Paris Public Library
3 Main Street, South Paris
Robinson-Parsons Farm, Town Farm Brook Road
Stone, Elisha F., House, Gothic Street South Paris