| Year | Population |
| --- | --- |
| 1970 | 92 |
| 1980 | 84 |
| 1990 | 69 |
| 2000 | 56 |
| 2010 | 65 |
Geographic Data
N. Latitude
46:25:23
W. Latitude
68:30:45
Maine House
District  151
Maine Senate
District 1
Congress
District 2
Area sq. mi.
(total) 39.5
Area sq. mi.
(land) 38.9
Population/sq.mi.
(land) 1.8
County: Aroostook


Total=land+water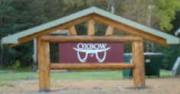 [OX-bow] is a plantation in Aroostook County, first organized for general purposes on August 8, 1870. That organization was "legalized" in 1873 and "made valid" in 1895. The area was settled in 1839 or 1840. Shortly after the first settlers arrived, the township, then T9 R6, was organized for election purposes in 1844. It had a population of 147 in 1880.
Virtually all of the plantation's population is located along the Oxbow Road, leading West from Maine Route 11.
The windings of the Aroostook River through the area make shapes similar to oxbows, the harness that keeps oxen attached to their loads. [See photo above from a sign along the Oxbow Road.] A particular circular configuration in the River is called The Oxbow.
The western end of the Oxbow Road is marked by the "Oxbow Checkpoint," an entry point to the North Maine Woods, most of which is privately owned.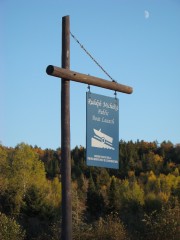 The major "industry" centers on hunting accommodations supplied mainly by the Oxbow Lodge, Homestead Lodge, and Umcolcus Sporting Camps.  Guided bear baiting and hunting is a prime focus for the lodges, which offer accommodations and guide services.
Fishing and canoeing on the Aroostook River is accessible at the Rudolph Michalka Public Boat Launch.  "Oxbow Wreaths" gift shop offers its "Maine Made Crafts."
The modest exterior of The Homestead Lodge contrasts with its finely crafted interior. The Homestead Farm maintains a herd of bison.
From Oxbow village, Masardis is about ten miles north on Route is 11; Ashland is another 8 miles away. Presque Isle is the nearest major community – almost thirty miles from Oxbow.
[All photos taken 2008]
Form of Government: Assessors-Annual Meeting.
Additional resources
Chadbourne, Ava Harriet. Maine Place Names and The Peopling of its Towns
Hayden, E. H. The First Settlers of Oxbow, 1839. Oxbow, Me. The Author. 1854? (Cataloger Note: Original journal is handwritten ; owned by Lester and Stanley Junkins of Oxbow.) [University of Maine at Presque Isle. Library and Learning Resource Center.]