| Year | Population |
| --- | --- |
| 1970 | 1,281 |
| 1980 | 1,633 |
| 1990 | 1,574 |
| 2000 | 1,601 |
| 2010 | 2,041 |
Geographic Data
N. Latitude
44:04:09
W. Latitude
69:04:20
Maine House
District 93
Maine Senate
District 12
Congress
District 1
Area sq. mi.
(total) 19.6
Area sq. mi.
(land) 8.9
Population/sq.mi.
(land) 52.5
County: Knox

Total=land+water; Land=land only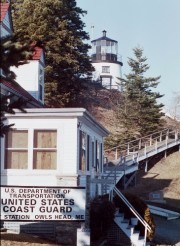 [OWLZ-hed] is a town in Knox County, incorporated on July 9, 1921 from a portion of South Thomaston.
The cape that it occupies was called Bedabedec Point.
Its meaning is either "cape of waters" or "cape of the winds" (depending on the source) when Champlain arrived in 1605.
According to Maine: A Guide Downeast.
It continues "A bloody encounter occurred here in 1755 when Indian fighter Capt. Carlyle killed and scalped nine braves, receiving a bounty of 200 pounds each."
The Knox County Regional Airport is located in Owls Head and is one of Maine's busiest during the summer months.
In addition to visitors from outside the state, it serves several of the off-shore islands.
Owls Head State Park offers views of Penobscot Bay and the nearby Owls Head Transportation Museum contains vintage aircraft frequently flown over the Bay.
Owls Head Light Station marks the southern entrance to Rockland Harbor.
Built in 1826, the 87 foot granite lighthouse is approachable by car since it is located on the headland.
Recreation on the shores of Penobscot Bay is available at several beaches, including Crescent Beach, Birch Point Beach State Park, and Crockett's Beach.
Additional resources
Coffin, Edward Wayman. The Coastal Town of Owls Head: A History with Plans, Photos and Comments from Long Ago. Owls Head, Me. Tug and Grunt Boatyard. 2008.
Isaacson, Dorris. Maine: A Guide Downeast. p. 263.
National Register of Historic Places – Listings
Owls Head Light Station
[Northeast of Owls Head on West Penobscot Bay] At the entrance to the attractive seaport of Rockland is a high, wave-swept promontory, visible to all who sail up or down Penobscot Bay. Anyone who sails in the vicinity recognizes the location at once as Owl's Head.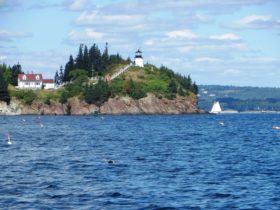 The headland has been the scene of many battles, shipwrecks, and other dramatic episodes since the advent of the white man. When the Indians ruled the coast, they called it Medadacut. The owl's head is easily identified in the rocky cliff by the two cave like hollows which form the eyes and a ridge which makes the bridge of the owl's nose. Rocks that jut out on either side of the bridge form two eyeballs.
The lighthouse at Owl's Head designates the entrance to Rockland Harbor. The ships that were guided to safe harbor by the light carried the goods, raw material and people that assisted in the development of coastal villages to modern towns and cities of today. Ships and boats were the main mode of transportation, and the sea, rivers and streams were the only roads.*