| Year | Population |
| --- | --- |
| 1970 | 123 |
| 1980 | 307 |
| 1990 | 365 |
| 2000 | 543 |
| 2010 | 672 |
Geographic Data
N. Latitude
44:42:26
W. Latitude
68:28:04
Maine House
District 131
Maine Senate
District 7
Congress
District 2
Area sq. mi.
(total) 28.8
Area sq. mi.
(land) 24.9
Population/sq.mi.
(land) 27.0
County: Hancock

Total=land+water; Land=land only
[OH-tiss] is a town in Hancock County, named for its early proprietor James Otis, settled in 1805 and incorporated on March 19, 1835 from the township T8.
Located just north of Ellsworth, the town is dominated by Floods Pond and Beech Hill Pond, with several smaller ponds and streams mixed in.
The brief town history offered by the Otis Historical Society reads as follows [edited and condensed]:
In 1805 people from Union River Plantation, now a part of Ellsworth, and from Thorndike, now called Trenton, moved to Otis. Over the next 28 to 30 years more people arrived. Some were drawn by the lumbering business; others were drawn to the land, built farms and supported themselves off the land.
The settlement, Plantation 8, included the towns that are now called Dedham and Otis. The town was named after Joseph Otis. In 1835 the people met to draw up plans for an Act of Incorporation, which was approved on March 19, 1835. Otis became the 227th town in the State.
Otis had 8 sawmills over the years. At one time 5 mills were running simultaneously. These mills made shingles, staves, clapboards, and long and short lumber. They were family owned and usually employed 10-15 people. A shop making iron hoops for  barrels operated until 1930.
O. C. Tibbetts ran a store on Rebel Hill from 1883 to 1889. F. W. Fogg had a variety store from 1893 to 1901. Harold Salsbury ran a store on the Otis-Ellsworth line in the early 1900's and Roland Salsbury ran a store in the 1940's, across the street from the present Otis General Store.
Otis was divided into 2 school districts with 3 schools. High school students had to find families to live with so they could attend Ellsworth High School.
In 1949 the system changed drastically; all the schools were closed and students attended the Otis School (The Otis Civic Center) until the present school was erected.
George Varney, in 1886, offered this interesting observation: "There is a cave in Oak Hill on the West side of Beech Hill Pond, which is 12 feet under ground, with rooms 7 feet by 10 feet.  Ice and snow have been found in it on the 4th of July, by which it has gotten its name of the "Cold Cellar." A cave has also been explored in the town of Otis and  Waltham.
The small, old cemetery and the working forest in the photos above appear to symbolize Otis' past and present as a sparsely populated, wooded area off the major highways.  However, the consistent, lately rapid, population grow and the presence of blueberry barrens hint at a more complex picture.  Photos below were taken on Route 180.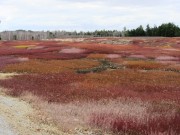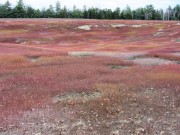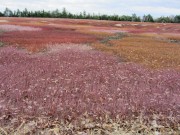 Maine Route 180 connects Otis with Ellsworth in the south and Clifton in the north.
Form of Government: Town Meeting-Select Board-Administrative Assistant.
Additional resources
Otis Historical Society. "Otis Town History." http://64.176.47.78/images/PDF/otishistory.pdf (accessed February 11, 2011)
Varney, George J. A Gazetteer of the State of Maine. 1886. p. 419.