| Year | Population |
| --- | --- |
| 1970 | 9,989 |
| 1980 | 10,578 |
| 1990 | 10,573 |
| 2000 | 9,112 |
| 2010 | 10,362 |
Geographic Data
N. Latitude
44:52:58
W. Latitude
68:42:13
Maine House
Dists 123,124
Maine Senate
District 5
Congress
District 2
Area sq. mi.
(total) 19.8
Area sq. mi.
(land) 18.2
Population/sqmi
(land) 569.3
County: Penobscot

Total=land+water; Land=land only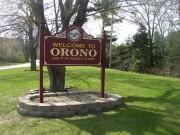 [OR-uh-no] is a town in Penobscot County, incorporated on March 12, 1806 from Stillwater Plantation. In 1840 it ceded land to form Old Town.
The town is named for a well-respected Chief of the Penobscots who supported the American Revolution.
The name "Orono" may not be of Indian origin since he reportedly said that his father was French and his mother was half-French and half-Indian.
The town was settled in about 1774, but in 1775 the pioneers retreated to other nearby settlements for protection against Indian raids.
After the Revolutionary War they returned along with others to develop mills and lumbering.
Water power was plentiful with the Stillwater River bisecting the town and merging with the Penobscot along its east boundary.
A comment from the Fogler Library's Special Collections, notes the impact of early setters:
Gideon Mayo was born in 1808 and lived in Orono, Maine. He was involved in various businesses in the Orono area and served as agent for several sawmills on the Stillwater River, including the Basin Mills, the Island Mills, and the Orono Manufacturing Company which consisted of sawmills and water-power on the lower dam at Ayers Island on the Stillwater River in Orono.
Mayo also became involved in the 1850's in founding and financing the Penobscot Railroad Company and served as a member of the Board of Directors and as president of the company.
In 1903 two labor unions existed in the town: the Sawmill Workers' Union and the Papermakers' Union.
A land-grant agricultural school was established at Orono in 1862, evolving in 1865 into the University of Maine, which now dominates the town's economy and culture.
Pat's Pizza, at the center in the photo at right, has been a major institution among students for generations.
It has since opened restaurants in other towns across the state.
Orono Land Trust manages the Gould Landing area at Pushaw Lake, which includes 38 acres of upland, wetlands, and two islands.  The Nadeau-Savoy park at the landing memorializes two Orono men killed in action in1966 and 1970.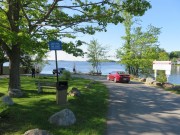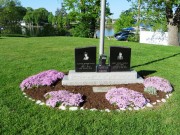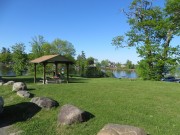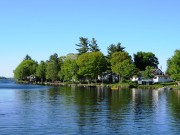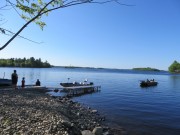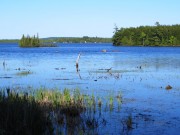 Form of Government: Council-Manager
Additional sources
Chadbourne, Ava Harriet. Maine Place Names and The Peopling of its Towns.
Day, Clarence Albert, 1883-1981. Historical sketch of Orono. Orono, Me. 1956.
Doty, Stewart C. Orono, 1806-2006. Orono, Me. Orono Historical Society. c2006. [University of Maine, Raymond H. Fogler Library, Special Collections]
Mayo, Gideon, 1808-1876. Papers. Special Collections, Fogler Library, University of Maine. Orono.
Peterson, Scott D. Orono. Chicago, Ill. Arcadia. 2004.
Rogers, Hanna W., ed. A History of Orono, Maine. 1926. Special Collections, Fogler Library, University of Maine. Orono.
National Register of Historic Places – Listings
Colburn, William, House, 91 Bennoch Road
Maine Experiment Station Barn, University of Maine campus
Old Fire Engine House, North Main Street
Orono Main Street Historic District, Main Street from Maplewood Avenue to Pine Street
Treat, Nathaniel, House, 114 Main Street
University of Maine at Orono Historic District, Munson, Sebec, and Schoodic Roads
US Post Office–Orono Main, Forest and Bennoch Streets
Washburn, Governor Israel, House, 120 Main Street