| Year | Population |
| --- | --- |
| 1970 | 9,989 |
| 1980 | 10,578 |
| 1990 | 10,573 |
| 2000 | 9,112 |
| 2010 | 10,362 |
Geographic Data
N. Latitude
44:52:58
W. Latitude
68:42:13
Maine House
Dists 123,124
Maine Senate
District 5
Congress
District 2
Area sq. mi.
(total) 19.8
Area sq. mi.
(land) 18.2
Population/sqmi
(land) 569.3
County: Penobscot

Total=land+water; Land=land only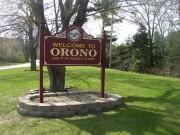 [OR-uh-no] is a town in Penobscot County, incorporated on March 12, 1806 from Stillwater Plantation. In 1840 it ceded land to form Old Town.
The town is named for a well-respected Chief of the Penobscots who supported the American Revolution.
The name "Orono" may not be of Indian origin since he reportedly said that his father was French and his mother was half-French and half-Indian.
The town was settled in about 1774, but in 1775 the pioneers retreated to other nearby settlements for protection against Indian raids.
After the Revolutionary War they returned along with others to develop mills and lumbering.
Water power was plentiful with the Stillwater River bisecting the town and merging with the Penobscot along its east boundary.
A comment from the Fogler Library's Special Collections, notes the impact of early setters:
Gideon Mayo was born in 1808 and lived in Orono, Maine. He was involved in various businesses in the Orono area and served as agent for several sawmills on the Stillwater River, including the Basin Mills, the Island Mills, and the Orono Manufacturing Company which consisted of sawmills and water-power on the lower dam at Ayers Island on the Stillwater River in Orono.
Mayo also became involved in the 1850's in founding and financing the Penobscot Railroad Company and served as a member of the Board of Directors and as president of the company.
In 1903 two labor unions existed in the town: the Sawmill Workers' Union and the Papermakers' Union.
A land-grant agricultural school was established at Orono in 1862, evolving in 1865 into the University of Maine, which now dominates the town's economy and culture.
Pat's Pizza, at the center in the photo at right, has been a major institution among students for generations.
It has since opened restaurants in other towns across the state.
Orono Land Trust manages the Gould Landing area at Pushaw Lake, which includes 38 acres of upland, wetlands, and two islands.  The Nadeau-Savoy park at the landing memorializes two Orono men killed in action in1966 and 1970.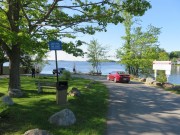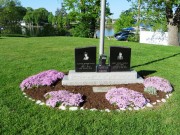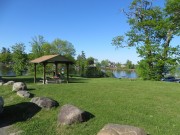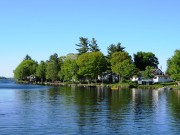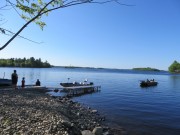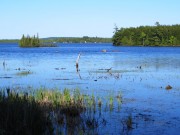 Form of Government: Council-Manager
Additional sources
Chadbourne, Ava Harriet. Maine Place Names and The Peopling of its Towns.
Day, Clarence Albert, 1883-1981. Historical sketch of Orono. Orono, Me. 1956.
Doty, Stewart C. Orono, 1806-2006. Orono, Me. Orono Historical Society. c2006. [University of Maine, Raymond H. Fogler Library, Special Collections]
Maine. Historic Preservation Commission. Augusta, Me.   Text and photos from National Register of Historic Places: http://pdfhost.focus.nps.gov/docs/nrhp/text/xxxxxxxx.PDF and http://pdfhost.focus.nps.gov/docs/nrhp/photos/xxxxxxxx.PDF
Old Fire Engine House: 85002181.PDF
Orono Main Street Historic District: 77000082.PDF
Post Office: https://npgallery.nps.gov/pdfhost/docs/NRHP/Text/86000881.PDF
Treat, Nathaniel, House: 73000143.PDF
Washburn, Governor Israel, House: https://npgallery.nps.gov/pdfhost/docs/NRHP/Text/73000144.PDF
Mayo, Gideon, 1808-1876. Papers. Special Collections, Fogler Library, University of Maine. Orono.
Peterson, Scott D. Orono. Chicago, Ill. Arcadia. 2004.
Rogers, Hanna W., ed. A History of Orono, Maine. 1926. Special Collections, Fogler Library, University of Maine. Orono.
National Register of Historic Places – Listings
Colburn, William, House, 91 Bennoch Road
Old Fire Engine House
[North Main Street] The Old Fire Engine House is a virtually unaltered example of a late 19th century fire station. It was also important to the northern half of the town, separated from the rest of the community by the Stillwater River. This area developed after the Civil War as an industrial center with factories and working class housing. [Roger G. Reed photo]
Although a volunteer fire department was organized in the late 1830s, an engine house was not built until the 1860s. Known as Monitor Hall, it served the town center south of the Stillwater River. A town meeting in 1892 raised $2,000 for an engine house. Designed in a modified Colonial Revival style, it contained a large hall at grade level for the engine. Below grade, where the structure was built into the side of a hill, were the horse stalls. A bell tower at the front called the volunteer firemen. A hose tower is in the rear.
The interior has original woodwork on the floors, walls and ceilings. The walls have tongue and groove paneling; windows have molded trim with corner blocks.
Orono Main Street Historic District
[Main Street from Maplewood Avenue to Pine Street] During the War of 1812 the infant lumber industry in Orono was deprived of its markets, particularly after the capture of Bangor by the British in 1814. During this period primitive conditions existed for the most part, there being no doctors or lawyers, marginal schooling, no churches, and roads which were little more than dirt tracks.
After 1820, however, rapid growth took place largely due to a dramatic boom in the lumber industry. Between 1820 and 1840 the largest population growth in the town's history took place. It had become a thriving community including many professional men, prosperous mill owners and merchants. In addition to the fine houses they built, by mid-century the town could boast many lumber mills, an iron and a cantdog factory, a canal, bridges, schools, churches, and even a railroad.
In 1865 the Maine State College of Agriculture and Mechanic Arts, later the University of Maine, was founded. This provided a new and continuing stimulus for Orono, as the great lumbering days were drawing to a close. Over the years a number of faculty members have occupied various houses in the Main Street District. Main Street is primarily significant as it reflects Orono's emergence as a prosperous, thriving community in the first half of the 19th-century.* [See photos above: St. Mary's Catholic Church, Nathaniel Treat House, Governor Israel Washburn House.]
Treat, Nathaniel, House
[114 Main Street] Nathaniel Treat, who was to become one of the most prominent mill owners and lumbermen in the area, was born in Frankfort in 1798. About 1829 he came to Orono with his young wife, Mary Parker, whom he had married two-years earlier. He built a sawmill on Treat and Bennoch dam (called the Treat mill) and built this house where he was to live for almost thirty years.
During this period, he and his younger brother, Joseph, built other sawmills along the Stillwater River. With Andrew Webster, he acquired extensive land holdings. The land, which includes much of the towns of Old Town and Orono, was known as Treat and Webster Island. A dam in the Stillwater River is known as the Treat and Webster dam.
Nathaniel Treat was very interested in civic affairs. He served as first selectman of Orono for many years. He also represented, Orono in the State Legislature in 1834. He was the second president of the Stillwater Canal Bank, incorporated March 31, 1835.
In 1924 the house was acquired by Isabel R. Dunn, wife of Charles J. Dunn, Associate Justice of the Maine Supreme Court from 1918-1935 and Chief Justice from 1935-1939. During the twenty-five years of the Dunn's residence in the house, it gained considerable prominence as a meeting place of high officials. Because of Judge Dunn's occupancy the house was often referred to as the Dunn House by some older residents of Orono.* [See photo above.]
University of Maine at Orono Historic District, Munson, Sebec, and Schoodic Roads
US Post Office–Orono Maine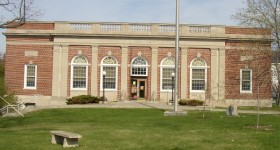 [Forest and Bennoch Streets] The Post Office was designed as one of 156 post offices in 1952 and built along with 210 post offices throughout the United States in 1955. Built of substantial modern construction, it is a fine expression of classical revival design of great elegance. The building was designed by Louis A. Simon, Supervising Architect of the U. S. Treasury. The building was authorized under the Public Buildings Act of 1926, a general act allotting $100,000,000 for post office construction. Full implementation was delayed by the crash of 1929.
The Act and an amendment marked the beginning of public works projects to relieve unemployment and restore economic health to communities and was representative of the government's new activist role to stimulate a depressed economy. The construction of this Post Office in 1935 is an expression of these qualities.*
Washburn, Governor Israel, House
[120 Main Street] This 1840 house was built by the Hon. Israel Washburn, Jr. for his bride. Washburn was prominent in both state and national politics. He was admitted to the bar in Bangor in 1834, at the age of 21, with no formal education. He began his practice in Orono at the beginning of the mid-century logging era and land boom in eastern and northern Maine. Washburn was elected to Congress in 1851, where he served with distinction until 1860. While in the House of Representatives, he was a leader in drafting anti-slave legislation. He helped in the organization of the Republican Party and suggested the name "Republican" for the new party.
In 1861, Washburn became governor of Maine and served two terms during Lincoln's administration. In 1874 he returned to Orono to give a historical address before the citizens on the 100th anniversary of that settlement. The great work of his life was his contest against extension of slave power in America, and later against slavery itself. He was known as an exceptional orator, writer and man, loved and esteemed by all. Israel Washburn was born in Livermore in 1813 and died in Portland in 1883. He was one of seven brothers, all of whom gained prominence. One brother was Governor of Maine, another of Wisconsin.* [See photo above.]