| Year | Population |
| --- | --- |
| 1970 | 1,307 |
| 1980 | 1,645 |
| 1990 | 1,805 |
| 2000 | 2,134 |
| 2010 | 2,225 |
Geographic Data
N. Latitude
44:34:34
W. Latitude
68:40:04
Maine House
District 131
Maine Senate
District 8
Congress
District 2
Area sq. mi.
(total) 52.5
Area sq. mi.
(land) 46.9
Population/sq.mi.
(land) 47.4
County: Hancock

Total=land+water; Land=land only
[OR-lnd] is a town in Hancock County, settled in 1764 and incorporated on February 21, 1800 from the township T2 EPR, LS.
The township was granted to David Marsh and associates in 1762 and was known as Alamasook (also Alamoosook), then Eastern River. In addition to Alamoosook Lake, the town hosts Craig, Heart and Toddy ponds, and the State's Craig Brook Fish Hatchery.  See the 1970 WABI-TV news clip about the hatchery, its procedures and goals, from Northeast Historic Film's archives.
In the 19th century Orland had one grist mill, six sawmills, a lumber mill, a brickyard and a shipyard, and a woolen factory.
Samuel Wasson had these observations in his Survey published in 1878:
The surface confirmation of Orland is peculiar. The hills are conical and precipitous, while the valleys approach the gorge form. Standing upon a picturesque knoll of " modified drift," on the farm of Frank Buck, one has a grand view of the erratic results of one of Nature's tantrums. Before him are the evidences that in time past, the pent up waters which submerged the vast plane above the factory, burst their bounds, and with fearful force cut a new outlet to the sea, formed Eastern river, and made an island of Verona.
On the northeast side of Great Mountain is a cave which has been explored for sixty feet. It has several rooms with walls and ceiling of basaltic finish. [Caves are also found in Otis and Waltham.]
H.O.M.E., a crafters' cooperative was established by Sister Lucy Poulin in 1970. Since then it has expanded to address the unmet needs of low-income rural Mainers, but, nearly forty years later, the craft store and the craft workshops remain as perhaps its most visible public face.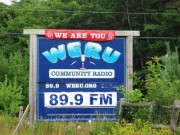 In addition to the H.O.M.E. co-op, Orland hosts another grassroots institution that makes it voice heard well beyond the town's boundaries.  Radio station WERU was launched in 1988 by an highly dedicated group of volunteers. Noel Paul Stookey was the station's first benefactor and WERU first broadcast from studios in his converted chicken house, affectionately known as "The Henhouse." In 1997 the station moved to its current location on U.S. Route 1 in East Orland. In 2012 it broadcast on FM 89.9, and 99.9 in Bangor. WERU is a noncommercial service supported by volunteers and listner contributions.
Located just east of Bucksport, Orland is a growing community served by Maine Routes 3, 15, 175, 176 and U.S. Route 1.
The old village center is located on the Orland River and Route 175, where the old village school and the general store are located. The post office and fire department are nearby.
A dam south of Route 175 creates a long pond up river. Toddy Pond is east of the village near U.S. Route 1.
Form of Government: Town Meeting-Select Board.
Additional resources
Best Remembered: Orland, Maine, 1800-2000: History and Recollected Stories to Celebrate our Bicentennial. Orland, Me. Town of Orland. 2000. [University of Maine, Raymond H. Fogler Library, Special Collections; Bangor Public Library]
Bowden, Don. Hardscrabble. 198-?  [University of Maine, Raymond H. Fogler Library, Special Collections]
Day Book A. 1864-1868 (Cataloger Note: Daybook, 1864-1868, of an unidentified merchant in Orland. Entries record names of customers and quantity and price of products purchased. Many purchases were made to outfit various vessels, including seasonal purchases by fishing vessels. Items sold include beef, molasses, tea, salt, flannel shirts, burlap, deck plank, twine, boots, mackerel, etc.) [University of Maine, Raymond H. Fogler Library, Special Collections]
Grindle, James E. The Back Ridge and Beyond. 200-? [Bangor Public Library]
Wasson, Samuel. A Survey of Hancock County, Maine. Augusta, Me.  Sprague, Owen, & Nash. Printers to the State. 1878. p. 83. http://library.umaine.edu/localhistory/Wasson_Survey_of_Hancock.pdf (accessed April 24, 2012)