| Year | Population |
| --- | --- |
| 1970 | 83 |
| 1980 | 77 |
| 1990 | 157 |
| 2000 | 145 |
| 2010 | 147 |
Geographic Data
N. Latitude
45:49:04
W. Latitude
67:51:34
Maine House
District 144
Maine Senate
District 2
Congress
District 2
Area sq. mi.
(total) 37.9
Area sq. mi.
(land) 35.8
Population/sq.mi.
(land) 4.1
County: Aroostook

Total=land+water; Land=land only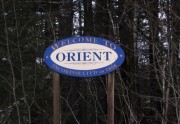 [OR-ee-ent] is a town in Aroostook County, formally organized as a town from the township T9 R1, Monroe Gore and Orient Gore on April 9, 1856.
The name derives from its eastern location adjoining New Brunswick. Its eastern point lunges into Grand Lake and North Lake on the Canadian border, accessible by the Boundary Road.
The town's web site describes the community as follows:
Being home to East Grand Lake, North Lake, Deering Lake, and Longley Lake makes Orient a sportsman;s and vacation paradise. There are fishing, hunting, boating, ATV trails, and idyllic forests to hike. In winter, Orient is a destination for snow sledding and ice fishing. The wildlife habitats with deer, moose, raccoons, fox, bear, and other species as well as a large variety of birds and waterfowl satisfy the sportsman, shutterbug, and vacationer.
Orient is a rural community involved in farming, forestry, and landscaping. A small year round population grows during vacation, hunting, and fishing seasons to include those already enlightened to the natural beauty of the area.
U.S. Route 1 runs north-south through the middle of the township. Orient village is just east of Route 1 on the Boundary Road. Sunset Park and other camping areas are attractive vacation locations.
Just north of Danforth in southernmost Aroostook County, Orient's population peaked at 244 in 1890.
Form of Government: Town Meeting-Select Board.
Additional resources
Bubar, A.S. Daybook, 1899-1901. (Cataloger Note: A daybook used by A.S. Bubar to record the names of customers and their purchases at an unidentified business in Orient, Maine, possibly a general store. Items purchased include beans, tea, fish, pork, lard, corn, etc. The volume also gives information about logging in the area, recording costs of cutting, hauling, and driving logs, stumpage totals, etc.)
Orient, Town of. The Town of Orient Welcomes You." http://www.townoforient.org/ (accessed March 30, 2014)