| Year | Population |
| --- | --- |
| 1970 | 83 |
| 1980 | 77 |
| 1990 | 157 |
| 2000 | 145 |
| 2010 | 147 |
Geographic Data
N. Latitude
45:49:04
W. Latitude
67:51:34
Maine House
District 144
Maine Senate
District 2
Congress
District 2
Area sq. mi.
(total) 37.9
Area sq. mi.
(land) 35.8
Population/sq.mi.
(land) 4.1
County: Aroostook

Total=land+water; Land=land only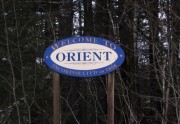 [OR-ee-ent] is a town in Aroostook County, formally organized as a town from the township T9 R1, Monroe Gore and Orient Gore on April 9, 1856.
The name derives from its eastern location adjoining New Brunswick. Its eastern point lunges into Grand Lake and North Lake on the Canadian border, accessible by the Boundary Road.
The town's web site describes the community as follows:
Being home to East Grand Lake, North Lake, Deering Lake, and Longley Lake makes Orient a sportsman;s and vacation paradise. There are fishing, hunting, boating, ATV trails, and idyllic forests to hike. In winter, Orient is a destination for snow sledding and ice fishing. The wildlife habitats with deer, moose, raccoons, fox, bear, and other species as well as a large variety of birds and waterfowl satisfy the sportsman, shutterbug, and vacationer.
Orient is a rural community involved in farming, forestry, and landscaping. A small year round population grows during vacation, hunting, and fishing seasons to include those already enlightened to the natural beauty of the area.
U.S. Route 1 runs north-south through the middle of the township. Orient village is just east of Route 1 on the Boundary Road. Sunset Park and other camping areas are attractive vacation locations.
Just north of Danforth in southernmost Aroostook County, Orient's population peaked at 244 in 1890.
Form of Government: Town Meeting-Select Board.
Additional resources
Bubar, A.S. Daybook, 1899-1901. (Cataloger Note: A daybook used by A.S. Bubar to record the names of customers and their purchases at an unidentified business in Orient, Maine, possibly a general store. Items purchased include beans, tea, fish, pork, lard, corn, etc. The volume also gives information about logging in the area, recording costs of cutting, hauling, and driving logs, stumpage totals, etc.) [Summary from University of Maine Orono, Special Collections]
Dunn, Marion L. Baskahegan families a genealogical dictionary of Bancroft, Danforth, Orient and Weston, Maine. Compiled by Marion L. Dunn; edited by Basil E. Kinney. B.E. Kinney. 1984. [Maine State Library]
Orient, Town of. "The Town of Orient Welcomes You." http://www.townoforient.org/ (accessed March 30, 2014)
Orient, Town of. Annual report of thee municipal officers of the town of Orient, Maine. 1856. [Maine State Library; University of Maine Orono, Special Collections;. University of Maine Presque Isle, Special Collections]
*United  States.  Department  of  the  Interior.  National  Park  Service. National Register of Historic Places Registration Form.   "U.S. Inspection Station Orient, Maine." December 6, 2011. https://www.nps.gov/nr/feature/places/pdfs/14000557.pdf (Accessed May 29, 2016)
National Register of Historic Places – Listings
U.S. Inspection Station-Orient

[Boundary Line Road] Inspection Station–Orient was part of an historic effort to insure confidence in America and its government during the difficult years of the Great Depression.  It is one example of the first set of U.S. Border Inspection Stations that were planned, designed and built by the U.S. Government to improve land border security. Constructed in 1937, it was in direct response to a chain of political events. They included imposition of head taxes and country quotas on immigration in 1917 and 1921, smuggling arising from the prohibition of alcohol in 1919, and increased automobile use and improved roads in the 1920s.
Inside and out the station still conveys the historical design, workmanship, and materials of its original construction. The Colonial Revival design throughout combined brick or clapboard exterior wall surfaces,  symmetrical design, steep gable roofs, multi-light double-hung sash windows, flat arches, and Colonial style columns.  Louis A. Simon designed the building while Supervising Architect of the Treasury, a post he held from 1933-1939. During Simon's tenure, the Department of the Treasury was the largest architectural office in the United States, with over 700 million dollars worth of various Post Offices, Border Checkpoints, Custom Houses, and other Federal buildings constructed during that period. This spate of construction, and the construction of this particular inspection station, initially resulted from the Public Buildings Act of 1926, a Congressional enabling act that doubled the number of U.S Federal buildings in existence.* [See photos above.]