| Year | Population |
| --- | --- |
| 1970 | 5,404 |
| 1980 | 6,291 |
| 1990 | 7,789 |
| 2000 | 8,856 |
| 2010 | 8,624 |
Geographic Data
N. Latitude
43:31:37
W. Latitude
70:23:40
Maine House
District 13
Maine Senate
District 31
Congress
District 1
Area sq. mi.
(total) 7.6
Area sq. mi.
(land) 7.5
Population/sqmi
(land) 1,150
County: York

Total=land+water; Land=land only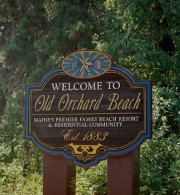 [OR-chd] is a town in York County incorporated on February 20, 1883 as Old Orchard from a portion of the town of Saco. Named for an orchard set out by Thomas Rogers in 1638, it added the word "Beach" to its name in 1929.
Richard Boynthon settled the area in 1631 and hosted meetings of the councilors governing Sir Fernando Gorges' Province of Maine in the early 17th Century. Thomas Roger planted an apple orchard in 1638 that became known as "Rogers' Garden by the Sea" by 1657.
The "old orchard" was on high land behind the beach and became a landmark for sailors.
Seeds of tourism might be traced to the first "public house," an inn serving coach travelers in 1820. In 1837, E. C. Staples began taking in boarders at his farm. He later established the Old Orchard Boarding House.
The Boston to Portland railroad passed within two miles of town in 1842 and the Grand Trunk Railroad connected Old Orchard Beach to Montreal in 1853, encouraging Canadians to visit the beach. By 1873 the Boston & Maine Railroad passed through the town, now served by Amtrak.
As tourism-based building accelerated, the electric trolley linked Biddeford to the beach in 1892; another connected Portland in 1903.
The "great fire" of 1907 destroyed most of the beachfront properties, which were soon rebuilt.
In June of 1927, Charles A. Lindbergh landed his plane, the Spirit of St. Louis, on Old Orchard Beach on his tour of the United States following his historic solo New York to Paris flight. He had attempted landing in Portland, but fog obscured the airport.
The town, with its long beach, carnival atmosphere, and famous Pier on which the big bands such as Duke Ellington and Guy Lombardo, as well as Rudy Valle played, has been a recreational playground for over a century.
Located on Saco Bay just east of the The Pier, the Beach draws hundreds of thousands of tourists each summer, including many Canadians.
Heavy storms severely damaged and partially destroyed the pier in 1909 and in 1978. The current pier was opened in 1980. Though small in area, the town is one of the most densely populated areas of the state.
Form of Government: Council-Manager
Additional resources
Bachelder, Peter Dow. The Great Steel Pier: An Illustrated History of the Old Orchard Ocean Pier. Ellsworth, Me. The Breakwater Press. c1998.
Blaney, Daniel E. Old Orchard Beach. Charleston, SC. Arcadia Publishing. c2007.
Cole, Alton Bryant. A Biography of a Railroad : the Dummy Line of Old Orchard Beach. Thesis (M.A.) in History–University of Maine.1969.
Cournoyer, Jill C. Victorian Retreat to Amusement Capital: the transformation of Old Orchard Beach, Maine at the Turn of the Century. 1996.
Maine. Historic Preservation Commission. Augusta, Me.   Text and photos from National Register of Historic Places: http://pdfhost.focus.nps.gov/docs/nrhp/text/xxxxxxxx.PDF and http://pdfhost.focus.nps.gov/docs/nrhp/photos/xxxxxxxx.PDF
The Temple: 75000119.PDF
Jakeman, Adelbert M. Centennial History of Ocean Park, Maine, 1881-1981. Ocean Park, Me. Ocean Park Association. 1981.
Old Orchard Beach and Vicinity. Portland, Me. L. H. Nelson Co. 1906. [Maine State Library]
Old Orchard Beach Historical Society.
Old Orchard House, Old Orchard Beach, Maine. Publisher Portland, Me. Lakeside Press.
Locke, John Staples. Historical Sketches of Old Orchard and the Shores of Saco Bay: Biddeford Pool, Old Orchard Beach, Pine Point, Prout's Neck. Boston. C. H. Woodman. 1884.
Locke, John Staples. Shores of Saco Bay; A Historical Guide to Biddeford Pool, Old Orchard Beach, Pine Point, Prout's Neck. Boston. c1880.
Scully, Jeffrey A. The Old Orchard. Dover, N.H. Arcadia Publishing. c1995.
Warner, Raymond. "The Crescent-enthroned Queen of the Maine Coast." New England Magazine. 1909. [Maine State Library]
National Register of Historic Places – Listings
Ocean Park Historic Buildings, Temple Avenue Ocean Park
Staples Inn, 8 Portland Avenue
Temple, The
[Temple Avenue in Ocean Park] What came to be called "The Temple" was designed by the firm of Dow and Wheeler, built in 1881 by James Bickford of Portland. It is one of two religious structures in Maine designed in the octagon form. The other was a church, now a library, in Andover.
It is the focal point in Ocean Park and has thrived over the years with a variety of programs. The Temple has provided entertainment including first run motion pictures. Sunday services have been conducted by eminent theologians and preachers of many denominations. The Temple represents an unusual, once popular, architectural form. It also symbolizes an ongoing commitment to an admirable nineteenth century ideal. [Frank A. Beard photo]