| Year | Population |
| --- | --- |
| 1970 | 944 |
| 1980 | 1,492 |
| 1990 | 974 |
| 2000 | 1,226 |
| 2010 | 892 |
Geographic Data
N. Latitude
44:30:48
W. Latitude
69:26:08
Maine House
District 4
Maine Senate
District 35
Congress
District 1
Area sq. mi.
(total) 39.5
Area sq. mi.
(land) 38.9
Population/sq.mi.
(land) 52.5
County: York

Total=land+water; Land=land only
[oh-GUN-kwit] is a town in York County, incorporated on July 1, 1980 from a portion of the town of Wells, thus its early history* is that of Wells.
Ogunquit, before 1980, was a village corporation and functioned for the most part as a town of its own, supporting its own police, fire, highway and sewer departments.
The town is a well known actors and artists colony, featuring the historic Ogunquit Playhouse and beautiful beaches.
Public facilities, such as the Judson Dunaway Community Center-Town Office, Fire Department, and Library, form the core of the main village.
Perkins Cove, south of the main village on Shore Road, combines a working waterfront, a restaurant, an art museum, and fine cottages.
Lobster boats use the local wharf in full view of substantial summer homes.
In addition to its natural and cultural features, Ogunquit Village hosts many shops in its center.
Located on U.S. Route 1 and Interstate 95, the town is easily accessible from Boston and Portland.
Form of Government: Town Meeting-Select Board-Manager.
Additional resources
*Ogunquit History" a summary from various sources by the Ogunquit Chamber of Commerce. http://www.ogunquit.org/ogunquitHistory.php (accessed November 19, 2013)
Boyd, Carrie, et al. The Cove: Perkins Cove at Ogunquit, Maine. c1976 (Lewiston, Me. Pen-Mor Printers) [University of Maine, Raymond H. Fogler Library, Special Collections; Maine State Library]
Perkins, Esselyn Gilman. A New History of Ogunquit, Maine, [Beautiful place by the sea] 1974. [University of Maine, Raymond H. Fogler Library, Special Collections; Maine State Library]
*Maine. Historic Preservation Commission. Augusta, Me.   Text and photos from National Register of Historic Places: http://pdfhost.focus.nps.gov/docs/nrhp/text/xxxxxxxx.PDF and http://pdfhost.focus.nps.gov/docs/nrhp/photos/xxxxxxxx.PDF
Ogunquit Memorial Library: 83003706.PDF
Ogunquit Playhouse: 95001458.PDF
Winn House: 79000194.PDF
Perkins, Esselyn Gilman. History of Ogunquit Village: with many interesting facts of more recent interest. Portland, Me. Falmouth Publishing House. c1951.
Seaman, Charles Littlefield. A Pictorial History of Ogunquit, Maine. Ogunquit, Me. 1993. (Sanford, Me. Wilson's Printers) [University of Maine, Raymond H. Fogler Library, Special Collections; Maine State Library]
Severson, Kathryn M. Ogunquit. Charleston, SC. Arcadia Pub. c2009.
Standish, Carol C. Contexts for Change: Influeneces on Ogunquit's Emergence as an Art Colony, 1872-1922. 1996. (Thesis (M.A.)–University of Southern Maine, 1996) [Maine State Library; University of Southern Maine (Portland), The Albert Brenner Glickman Family Library]
National Register of Historic Places – Listings
Goodale-Bourne Farm, North Village Road
Goodale-Stevens Farm, North Village Road
Mill House, Post Road
Ogunquit Memorial Library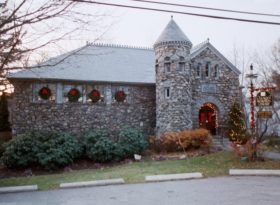 [Shore Road] This excellent example of Romanesque Revival in the Richardson manner is one of very few structures in this style in southern Maine and is certainly one of the best. It is sited on the scenic Shore Road and is a very popular mecca for summer visitors in this popular resort. This library was a gift to the village by Mrs. George Conarroe of Philadelphia in memory of her husband. She retained an architect whose specialty was ecclesiastical architecture. A few years later the original building was deemed to be too small and an addition was designed in 1914 in an identical style by Henry A. Macomb also of Philadelphia. This was executed so cleverly that it is virtually impossible to tell where the original building leaves off and the addition begins. This striking building is a landmark in the community.*
Ogunquit Playhouse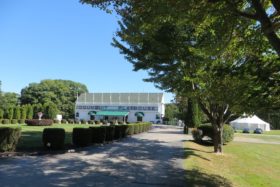 [US Route 1, east side, 0.2 miles south of junction with Bourne Road] Opened in 1933 in a converted garage and relocated to the existing building upon its completion in the summer of 1937, the Ogunquit Playhouse is an important part of Maine's historic 20th century cultural landscape. It was founded by former Hollywood director and Broadway producer Walter Hartwig and his wife Maude. Its present facility was designed by theater architect Alexander Wyckoff.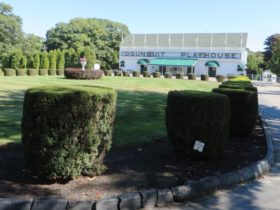 Located on a spacious lot along US Route 1, the playhouse is a significant reminder of the post World War I development of this roadway into the state's most heavily traveled route for the burgeoning summer tourist trade. Its history traces  1927 when Walter Hartwig established the Manhattan Theater Colony in Peterborough, New Hampshire with the intent of bringing professional theater outside of New York City. For three years the company performed outdoors in Peterborough; then spent the next two summers in Bristol, Connecticut.
Hartwig kept thinking about the tiny Maine seacoast village of Ogunquit where he had participated in play readings in the Art Center on Hoyt's Lane. The Art Center, also known as the Village Studio, was the first summer playhouse in Ogunquit. Opened in 1914, it had been host to many famous artists, actors, and authors. Already a well established art colony and popular tourist destination, Ogunquit would be the ideal location for a permanent playhouse Hartwig thought. Thus, in 1932 a lease was negotiated to a former automobile garage on the Shore Road and the building was transformed into a theater for the 1933 summer season. By the end of the 1936 season it was obvious that the enormous popularity of both Ogunquit and its playhouse demanded a larger theater. Hartwig eyed the Weare Farm on Route 1, bought a parcel of land and engaged theater architect Alexander Wyckoff to design the building in keeping with New England tradition. On completion, the new Qgunquit Playhouse had a larger stage than many Broadway houses, a spacious auditorium seating 750 and the most modern technical facilities available at the time. The new playhouse debuted on July 19, 1937, the third week of the season, with Boy Meets Girl. Sally Rand followed in They Knew What They Wanted. Tickets ranged from $.75 to $2.00.
Walter Hartwig died on January 17,1941, and his widow Maude took over as the producer for the upcoming season. In 1947 she engaged George Abbott, New York's most distinguished playwright/producer to share in the managerial duties, and in 1950 John Lane arrived as co-producer. Lane acquired the property in the following year, counting among his first tasks the rebuilding of the stage which had been destroyed in a near hurricane the previous November. Additional improvements and modernization of the building were subsequently made, and an extensive landscaping program was implemented that included the removal of the large parking lot in front of the building.*
Perkins, Charles, House, Scotch Hill
Winn House
[King's Highway] The Captain William Winn House was built  c. 1780-1790 by an early sea captain. A central chimney serves three fireplaces on the first floor and one on the second floor. Wainscotting appears in much of the house. Historical details are limited concerning the building and its builder. In 2014 the building was home to the Ogunquit Historical Museum. *[See photos above.]