| Year | Population |
| --- | --- |
| 1970 | 3,535 |
| 1980 | 5,162 |
| 1990 | 5,595 |
| 2000 | 5,959 |
| 2010 | 6,240 |
Geographic Data
N. Latitude
44:33:37
W. Latitude
69:43:49
Maine House
Dists 77,110
Maine Senate
District 15
Congress
District 2
Area sq. mi.
(total) 28.2
Area sq. mi.
(land) 25.7
Population/sqmi
(land) 242.8
County: Kennebec

Total=land+water; Land=land only
[OAK-lnd] is a town in Kennebec County, settled in 1764, and incorporated on February 26, 1873 from a portion of Waterville and was known as West Waterville. Oakland became its new name in 1883. Soon thereafter in 1899, the local electric company was sold to a group that eventually became Central Maine Power Company.
Previously the town was known as Taconet, Kingsfield, then it became part of Winslow, and later of Waterville. Before 1800 Jonathan Coombs built a saw mill and grist mill on Messalonskee Stream, the site of several mills over the years.
The Maine Conservation Corps developed a hiking trail along the stream. A kiosk explains the route and the rules.
The Timber Unit of the Diamond Match Company was located in Oakland. It was responsible for the purchase, transportation, and production of the lumber used to manufacture the company's products in Maine. The company contracted with lumber camps for its supplies. Its long history in Oakland began as the Forster Manufacturing Company in 1913, which manufactured toothpicks and clothespins. In 1916, it was succeeded by the Berst-Forster-Dixfield Company, operating from 1923 to 1946.
During its operation under various owners, the plant made products such as  ice cream sticks, swab sticks, lollypop holders, toothpicks and woodenware. In its peak years just before World War II, the mill employed over 500 people and gave work to loggers and others who provided raw materials. The Oakland operation closed in 1983.
Waterville's commercial strip that is Kennedy Memorial Drive continues into Oakland for about a mile before becoming a more scenic road. Here the village emerges  as it sits at Messalonskee Stream and at the junction of Routes 11, 23, and 137, just off I-95.
Downstream from the village, the Messalonskee becomes a lake with more than a mile of frontage in the town.
Long the home of the New England Music Camp, recreational opportunities include access to several of the Belgrade lakes: East Pond, Salmon Lake, and Messalonskee. Summer camps for young people, such as Camp Manitou on East Pond, take advantage of the lake shores.
The town's "Church Street" is well named, with three large churches in a row.  Church photos taken 2017 in vicinity of N44° 32′ 40.64″ W69° 43′ 15.17″.
Form of Government: Town Meeting-Council-Manager.
Additional resources
Chadbourne, Ava Harriet. Maine Place Names and The Peopling of its Towns.
Diamond Match Company. Berst-Forster-Dixfield Division. Timber Unit. Records, 1938-1955. (source of text regarding the company) [University of Maine, Raymond H. Fogler Library, Special Collections]
Kingsbury, Henry D. and Simeon L.Deyo (eds.) "Town of Oakland." Illustrated History of Kennebec County Maine, 1625-1799-1892. [Maine State Library]
*Maine. Historic Preservation Commission. Augusta, Me.   Text and photos from National Register of Historic Places: http://pdfhost.focus.nps.gov/docs/nrhp/text/xxxxxxxx.PDF and http://pdfhost.focus.nps.gov/docs/nrhp/photos/xxxxxxxx.PDF
Memorial Hall: 77000071.PDF
Oakland Public Library: 00000375.PDF
Pressey House: 77000072.PDF
Oakland. Oakland Area Historical Society. Charleston, SC. Arcadia Publishing. 2004.
National Register of Historic Places – Listings
Memorial Hall
[Church Street; N44° 32′ 43.67″ W69° 43′ 13.72″] Memorial Hall an remarkably ambitious Civil War monument for a relatively small community. In 1870, when construction began, the populati0n of West Waterville, as it was then named, was only slightly more then 1500. It is not surprising that more than four years were required for completion of the building in 1873 after a long series of heroic fundraising efforts. In July 1870 the recently formed Soldiers' Monument Association announced that plans drawn by Thomas W. Silloway, a prominent ecclesiastical architect, had been approved. Construction was begun the following month.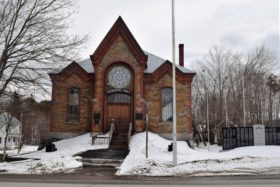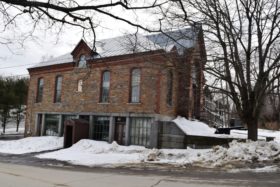 With considerable forethought, the Association had included in the plans commercial space in the basement to provide income for retiring indebtedness and for maintenance and improvement of the building and grounds. By early 1874 both a savings bank and the post office had moved into the space. In 1887, Memorial Hall was transferred to the Trustees of the Sergeant Wyman Post, G.A.R. with the interesting provision that it should forever bear the same name that should also be carried on to any building that might replace it.*
The town's contemporary veterans memorial is adjacent to Memorial Hall.
Oakland Public Library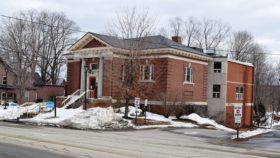 [18 Church Street] The Oakland Public Library is a Neo-Classical Revival style brick building that was designed by the Lewiston architect Harry S. Coombs. Built with a grant from the Carnegie Foundation, it was opened on March 17, 1915. Oakland almost didn't get a library due to red tape and the cautious nature of its would-be benefactor Andrew Carnegie. In 1891 a library had been established, supported by subscription and housed in the basement of Memorial Hall. By 1911 it had 2,200 volumes and had outgrown its quarters. Carnegie was skeptical of the need for a library building separate and near Memorial Hall.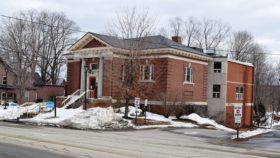 The tenacious officers of the town, however, finding the hall to be "very cold, damp, improperly lighted and too small; fit only for use in summer," continued to plead their case, submitting a revised estimate of $6,000 to $8,000 to complete the project. In 1912, the town received a letter from the Carnegie Foundation agreeing to fund the library "if the city agrees by Resolution to maintain a Free Public Library at a cost of not less than $6,000 a year and a suitable building. Mr. Carnegie will be glad to give $6,000. This shall include the cost of the building completely furnished. Clinton S. Humphreys was selected to design the new building. Humphreys' experience in the design of libraries included the 1906 commission for the Madison Public Library (also funded by Carnegie).  In a letter to Carnegie's secretary in July 1912 the town asked for an increase to $10,000, stating that they expected the population to increase to 4,500 in the next year and a half, and that the rate of patronage in their library was one of the highest in the state. After much back and forth about design and cost, in 1914 the Carnegie Foundation agreed to raise its donation to $14,000. Construction began soon after, and the library opened to the public on March 17, 1915.*
Pressey House
[287 Summer Street] Only a relatively small number of octagon houses were built in Maine although the fad, if such it can be called, lasted for at least three decades. Because of this relatively long time span, examples of are found decorated with a variety of stylistic details. Some are Gothic, some Italianate and some, as in the case of the Pressey House, Greek Revival.
As a well preserved example, the Pressey House with its interestingly attached ell and barn deserves attention. Most octagon houses in the state exist in more urban surroundings with separate stables or carriage houses. Here, in a rural setting, the typical New England tendency to connect accessory buildings has been used. Built between 1854 and 1858 by H. T. Pressey, this house, pleasingly sited near the shore of Messalonskee Lake, is both a local landmark and an architectural rarity.*