| Year | Population |
| --- | --- |
| 1970 | 836 |
| 1980 | 847 |
| 1990 | 846 |
| 2000 | 732 |
| 2010 | 737 |
Geographic Data
N. Latitude
46:04:59
W. Latitude
68:05:05
Maine House
District 145
Maine Senate
District 2
Congress
District 2
Area sq. mi.
(total) 36.1
Area sq. mi.
(land) 35.3
Population/sq.mi.
(land) 20.9
County: Aroostook

Total=land+water; Land=land only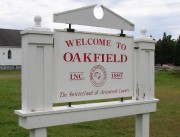 [OAK-field] is a town in Aroostook County.
It was formally organized as a plantation from the township T5 R3 WELS on February 21, 1878 and its organization was reconfirmed in 1895.
Originally settled in 1831 and organized for the assessment of taxes in 1866, the town itself was incorporated on February 24, 1897.
Its mountainous terrain, known as the Oakfield Hills, earned it the name "Switzerland of the Aroostook" by one observer.
He may not have had 48 wind turbines 450 feet high in mind.  That is a project, with some turbines arriving in 2015, that will span 150 acres and ultimately produce 148 megawatts of power.
Sam Drew Mountain is the highest point at 1,516 feet.
The main village, is located on the Mattawamkeag River, just south of Smyrna Mills.
It is near the junction of U.S. Route 2, Interstate 95, and the Bangor and Aroostook Railroad, also know as the BAR, or in northern Maine, the B&A.
Oakfield Station, built in 1910, is home to the Oakfield Historical Society.  The station was moved to its present location in 1942.
Smyrna Mills village in southwestern Smyrna, spreads its influence to Oakfield's northeast corner and to Merrill's southwest corner. The images below are in Oakfield at the Oakfield-Smyrna line.
Additional resources
Cyr, Joseph. "Oakfield First Wind project takes shape, wind turbines soon to arrive." Houlton Pioneer Times. September 3, 2014. pp. 1-1.
Goodall, Sadie H. Diary, 1939 Jan. 1-April 27. [Diary of a housewife in Oakfield, Maine. Topics included are the weather, baking, washing, cleaning, ironing, visits, children's activities, sewing, deaths and funerals, books read.] University of Maine, Fogler Library, Special Collections.
Index of stones in an old deserted cemetary [sic] located in Oakfield, Maine. Names copied by Isa P. Johnson, Cora M. Putnam Houlton, Me. Daughters of the American Revolution, Lydia Putnam Chapter. 1956.
*Maine. Historic Preservation Commission. Augusta, Me.   More text and photos at National Register of Historic Places: http://pdfhost.focus.nps.gov/docs/nrhp/text/87000928.PDF and http://pdfhost.focus.nps.gov/docs/nrhp/photos/87000928.PDF
Oakfield Community High School (Me.). Class of 1957: The Story of Oakfield. Commercial Department. High School. 1957.
Souvenir of Oakfield, Me. Brunswick, Me. Maine Map & Register Co. 1911.
Timoney family. Family Papers, 1860-1927. [University of Maine, Fogler Library, Special Collections.] (Cataloger Note: The Timoney family lived in Oakfield and Smyrna, Maine, both towns in Aroostook County. James Timoney (1821-1885) and his wife Jane lived in Oakfield. He is described as an explorer and surveyor of lumber in the 1880 Federal Census. Robert E. Timoney, son of James and Jane, was born around 1851 and was a teacher. . . . Thomas C. Timoney was a farmer in Oakfield. . . . Photocopies of letters and personal papers of various members of a family living in Oakfield and Smyrna, Maine in the late 19th and early 20th centuries.)
National Register of Historic Places – Listings
Oakfield Station
[Station Street] This former railroad passenger station is the most significant building associated with the community's once important position on the Bangor and Aroostook Railroad. Opened in 1912, the station served in its original capacity until 1961, when passenger service was eliminated. Similar station were in Fort Kent and Frenchville. In addition to its association with Oakfield's development as a railroad center, the relatively intact station has the architectural features of similar structures along the B&A Railroad.
This small rural community became an important railroad center at the junction of two important rail lines. In 1893, the B&A Railroad completed a main line from Brownville via Oakfield to Houlton, and a few years later a line was built between Oakfield and Ashland.
Construction of the station coincided with the development of the B&A Railroad's large freight classification yard in Oakfield. The depot had a busy schedule, which by 1930 included 16 daily passenger trains. Following the end of passenger rail service, the station was used by maintenance personnel. In 1986, it was given to the Oakfield Historical Society, which converted the building to a museum.* [See photos above.]