| Year | Population |
| --- | --- |
| 1970 | 399 |
| 1980 | 373 |
| 1990 | 332 |
| 2000 | 381 |
| 2010 | 355 |
Geographic Data
N. Latitude
44:09:33
W. Latitude
68:53:30
Maine House
District 134
Maine Senate
District 12
Congress
District 1
Area sq. mi.
(total) 82.59
Area sq. mi.
(land) 11.5
Population/sqmi
(land) 32.7
County: Knox

Total=land+water; Land=land only
[NORTH haav-ehn] is an island town in Knox County, incorporated on March 1, 1847 as the town of Fox Isle from a portion of Vinalhaven.
Its name was changed to North Haven on July 13 of the same year.
According to Bill Caldwell,
"The first white man to name these islands was Martin Pring, from Bristol, England. He sailed down this Thoroughfare in 1603, long before any colonist landed at Jamestown."
In 1836 the island witnessed a horrible fire aboard the Royal Tarr, a sidewheel steamer from New Brunswick heading for Portland with ninety people and a cargo of animals as a traveling circus.
The revenue cutter Veto was in port and rescued as many as it could, but thirty drowned.  The story still resonates with islanders.
Located in Penobscot Bay, it is accessible via the State Ferry Service from Rockland, with connections to Vinalhaven.
Fishing was the major industry on the island for many years, with a brief venture into canning that catch.
Logically, boat building emerged as a major economic activity producing both fishing vessels and yachts for the summer people.
Long a resort community, it has few permanent residents. Again Caldwell notes, "There is probably more blue blood and old money along the Fox Islands Thoroughfare than can be found in any other short stretch of salt water in the United States."
The Thoroughfare separates North Haven from Vinalhaven. Both communities have numerous well protected harbors.
The "Turner Farm Site," on the National Register of Historic Places, is an archaeological treasure of artifacts from early Maine pre-history.
The Vinalhaven-North Haven Archipelago preserve features six islands (Big Garden, Big White, Sheep, Smith, Brimstone and Little Brimstone) that orbit the larger islands of Vinalhaven and North Haven in Penobscot Bay.
Supporting an impressive array of birds, most of the islands, with the exception of Brimstone, are without trails, though are nice location for picnics and walks along the beach.
Calderwood Island, one of several in the town, is a favorite for a quiet, accessible space.  Managed by the Maine Coast Heritage Trust, this nature preserve  offers a beach, paths through meadows, and scenic vistas of East Penobscot Bay. (2008)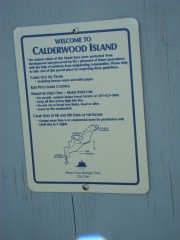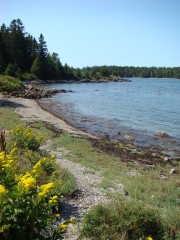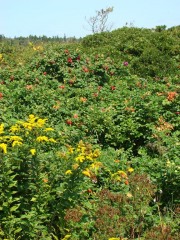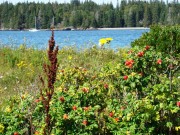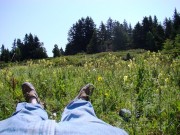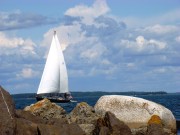 ---
---
Form of Government: Town Meeting-Select Board-Administrator.
Additional resources
Caldwell, Bill. Islands of Maine: Where America really began. pp. 168-179.
*Maine. Historic Preservation Commission. Augusta, Me.   Text and photos from National Register of Historic Places: http://pdfhost.focus.nps.gov/docs/nrhp/text/xxxxxxxx.PDF and http://pdfhost.focus.nps.gov/docs/nrhp/photos/xxxxxxxx.PDF
Goose Rocks Light Station: 87002267.PDF
Wharf House: 91001508.PDF
Simpson, Dorothy. The Maine Islands in Story and Legend.
Van Dusan. The Circus Ship. Somerville, MA. Candlewick Press. 2009.
Warner, Mark. The Tragedy of the Royal Tar: Maine's 1836 Circus Steamboat Disaster. Newcastle, Me. Warner Publishing. 2010.
National Register of Historic Places – Listings
Goose Rocks Light Station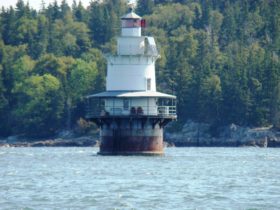 [East Entrance, Fox Islands Thorofare] The 1890 Goose Rocks Light Station marks the east entrance to the Fox Island Thorofare between Vinalhaven and North Haven Islands. On a shallow rock ledge, it contains the keeper's quarters and storage facilities. Goose Rocks Light occupies an important position in this heavily traveled thorofare. At the time of its construction, nearby Vinalhaven supported an important granite industry. Both islands attracted summer tourists, with hotels and cottages built to serve the growing resort communities. The station, an important engineering feat, was automated in 1963.*
Wharf House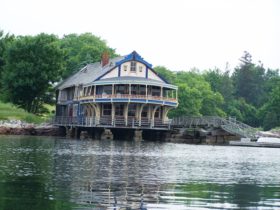 [Southeast of junction of Main and Smith Streets] The Wharf House, jutting over waters edge near North Haven village, is among the most whimsical of Maine's historic summer cottages. Built as a canning factory, the building was transformed in 1912 into the likeness of a 16th– or 17th-century galleon by its owner John P. Reynolds, Jr.
Local histories indicate that the site was acquired in 1879 by Lewis MacDonald who built a fish processing and canning facility. It may have been a sail loft prior to its acquisition by Mr. Reynolds in 1897. He converted it into a summer residence, but did not create the current structure until 1912.
Maine's rich legacy of historic summer homes is reflective of the many stylistic influences evident in domestic architecture of the late 19th and early 20th centuries. These range from small Gothic buildings at former religious campgrounds to sprawling Queen Anne, Shingle Style and Colonial Revival "cottages" at exclusive retreats such as Bar Harbor. Within this broad spectrum, the Wharf House clearly stands out. In fact, its fanciful maritime image represents the singularly unique use in a summer home of such a decided nautical motif.*
Sites with restricted addresses: Amesbury, Joe, Place, Bortz-Lewis Site, Bull Rock, Cabot I Site, Crocker Site, Mullen's Cove, Turner Farm II, Turner Farm Site.