| Year | Population |
| --- | --- |
| 1970 | 2,224 |
| 1980 | 2,878 |
| 1990 | 3,793 |
| 2000 | 4,293 |
| 2010 | 4,576 |
Geographic Data
N. Latitude
43:20:38
W. Latitude
70:46:22
Maine House
Dists 5,6
Maine Senate
District 34
Congress
District 1
Area sq. mi.
(total) 38.5
Area sq. mi.
(land) 38.3
Population/sq.mi
(land) 119.5
County: York

Total=land+water; Land=land only
[north BER-wik] is a town in York County, incorporated on March 22, 1831 from a portion of the town of Berwick, later annexing more land from that town in 1875. Settlers arrived in about 1630.  Since the area was inhabited by Native Americans, conflict between them and the Europeans was frequent. Its early history is that of Berwick, incorporated in 1713.
The town's population in 1880 was 1,801; that total has more than doubled and continues to grow.
The North Berwick Woolen Mill is a historic landmark on the banks of the Great Works River that passes through the main village. Here is a description of the mill and other economic engines of the late 19th century from the Gazetteer of Maine:
The North Berwick Woolen Mill have a fine brick mill on the Great Works River, at the village. It is 120 feet long and three stories in height, and has an engine of sufficient power to carry the mill in case of drought. Forty looms, six sets of cards, and thirteen spinning jacks are operated, which turn out daily 1,500 yards of flannel, beside blankets, and employ about 80 hands.  The capital is $100,000.
At the foot of Bonny Bigg Pond is a saw, grist, shingle and clapboard mill. On the Negutaqueit are the Hussey Agricultural Works, manufacturing farm implements. Other factories are a carding and yarn mill, a box and shook mill, several saw mills, stove polish factory, and many other lesser industries, including an extensive brick-yard.
Farmer William Hussey designed a cast iron plow in 1835. The resulting Hussey Plow Company expanded to manufacturing other farm equipment and tools. A history of innovation has led it to become a leader in producing seating solutions for stadiums and auditoriums. The defense contractor Pratt & Whitney has a major facility in the town.
This rapidly growing community is within an easy commute to Sanford, the Kennebunks, and, through South Berwick, to Kittery and Portsmouth.
Form of Government: Town Meeting-Select Board-Manager.
Additional resources
Buffum, Samuel. Historical Sketch of North Berwick. Maine. 1931. [University of Maine, Raymond H. Fogler Library, Special Collections; Maine State Library]
Cloyd, Royal. The Parish of Unity and the Men of Dunbar. North Berwick, Me. North Berwick Historical Society, 1996. [University of Maine, Raymond H. Fogler Library, Special Collections]
Cloyd, Royal. Something in the Air. North Berwick, Me. North Berwick Historical Society. 1997. [University of Maine, Raymond H. Fogler Library, Special Collections]
Doughty Falls: The History of the Town of North Berwick, Maine, 1831-2006. Portsmouth, N.H. Published for the North Berwick Historic Committee by Peter E. Randall Publisher. 2006.
A Pictorial History of North Berwick, Maine. Compiled by the North Berwick Bicentennial Committee. 1976. [University of Maine, Raymond H. Fogler Library, Special Collections; Maine State Library]
*Maine. Historic Preservation Commission. Augusta, Me.   Text and photos from National Register of Historic Places: http://pdfhost.focus.nps.gov/docs/nrhp/text/xxxxxxxx.PDF and http://pdfhost.focus.nps.gov/docs/nrhp/photos/xxxxxxxx.PDF
Hurd, Mary R. House: 79000180.PDF
North Berwick Woolen Mill: 83000482.PDF
Prescott, J.L., House: 85001268.PDF
Maine. Notary Public (North Berwick). Peletiah Hussey, Notary Public Docket, ca. 1861 Jan. 2-1875 March 27. (Cataloger Note: This docket records the Notary Public documents recorded by Peletiah Hussey. These civil records deal with debt cases.) [Maine State Archives]
National Register of Historic Places – Listings
Division No. 9 School, Maine Route 9 S side, 0.15 miles east of junction with Bragdon Road
Eaton House, Sanford Road
Hatch House, Sanford Road
Hobbs, Thomas, Jr., House, Wells Street
Hurd, Mary R., House
[Elm Street] In many small towns, one house stands out in size and elegance from other residences. Rarely is it a house built by a woman. This remarkable person, industrialist and local benefactor, was born in 1832, daughter of William Hill, one of the large Quaker population of the area and founder of the North Berwick woolen mill.
She was twice married, in 1870 to William Hobbs, whose two daughters by a previous marriage she brought up as her own, and in 1894, ten years after his death, to David A. Kurd who lived until 1931. At the time of her second marriage she built the great Queen Anne house on a hill at the main intersection overlooking the mill. Her father died in 1873, as his only heir she took over the administration of the mill. She continued for nearly sixty years until shortly before her death at age 94 in 1933. Even in her last years during the early period of the Depression she kept the mill going, three shifts a day, , often paying much of the payroll out of her own pocket.
In 1928 she built and gave to the town a complete modern fire station, including a large meeting hall on the second floor. She purchased at least one new fire truck. She was a founder and principal incorporator of the North Berwick Bank and, with her husband, built and endowed the D. A. Kurd Library. Her private charitable acts were legion and her outgoing friendly ways made her beloved by the town. The house that she built is the most outstanding example of its style in southern Maine and no where in the state does a more impressive wooden Queen Anne-Eastlake house exist.
Hussey Plow Company Building, Dyer Street
Littlefield Tavern, 9B Charles Chase L. Road
Littlefield-Chase Farmstead, Maine Route 9, North Berwick Road
Littlefield-Dustin Farm, Dodge Road
Littlefield-Keeping House, Route 9B, Charles Chase L. Road
Morrell House, north of North Berwick on Bauneg Beg Pond Road
North Berwick Woolen Mill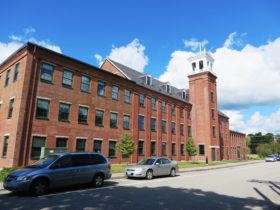 [Canal Street] The Woolen Mill at North Berwick is the only major mill structure in the Berwick area, and is one of the more stylistically eclectic of Maine's numerous rural Woolen mills. Although built in 1862, the mill incorporates Italianate, Greek Revival, Gothic Revival, and even some neo-Colonial stylistic features.
A woolen mill was first built on the site in 1834, and operated until about 1862, when it was destroyed by fire. It had been the first in the nation to produce machine-made blankets.
The building of the current mill luckily coincided with a contract to produce blankets for the Union Army, which markedly increased the scale of operations. The mill operated until the late 1950s.*
Prescott, J. L., House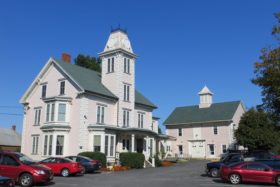 [High Street (See photo at top)] The Prescott House is the largest, most finely executed and most stylish house of its period in southern York County. It is interesting to find it in a small rural community that boasts only one other notable house: the Queen Anne Mary Hurd House.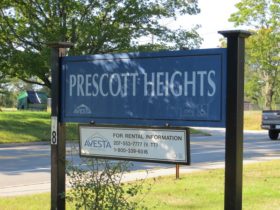 Prescott House was built by J. L. Prescott, owner and president of the Prescott Stove Polish Company, then located in North Berwick. He was very involved in Maine politics and entertained both Governor Joshua L. Chamberlain and his successor, Governor Sidney Perham, at the house. He remained in the house for only a relatively short time, however, since he relocated the stove polish plant to New Jersey in the early 1880s.