| Year | Population |
| --- | --- |
| 1970 | 1,964 |
| 1980 | 2,552 |
| 1990 | 3,105 |
| 2000 | 3,294 |
| 2010 | 3,367 |
Geographic Data
N. Latitude
44:42:35
W. Latitude
69:48:45
Maine House
District 111
Maine Senate
District 3
Congress
District 2
Area sq. mi.
(total) 51.1
Area sq. mi.
(land) 49.8
Population/sq.mi.
(land) 67.6
County: Somerset

Total=land+water; Land=land only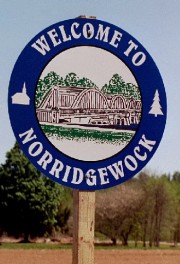 [NAUR-ij-wok] a town in Somerset County was incorporated June 18, 1788 from Norridgewock Plantation.
Other than ceding land to Skowhegan in 1828, when it was known as Milburn, and in 1856, the town annexed land from Fairfield (1834, 1841), Smithfield 1836 (then East Pond Plantation) and 1852, Madison (1846), Mercer (1849, 1852), and finally Starks (1907).
The name is apparently not derived from Native Americans, but of Norse origin meaning "A tribe located below the falls." Early interpretations leaned toward an Indian term meaning "little falls and smooth waters above and below."
An Indian community, the "Norridgewogs," on the Kennebec River was attacked by the British in 1724 and killed the French priest Father Rasle.
The British later settled the area in 1773, though Benedict Arnold's army passed through heading up the Kennebec River in 1775. According to Mary Calvert, Arnold stayed at the "widow Warren's home" in Norridgewock.
The expedition reached Bombazine Rips after miles of calm water. These rapids signaled the beginning of some very hard going. The river was to get wilder and wilder as they progressed.
Otis Spaulding, one of the earliest settlers, purchased land here in 1815.  He built the "Spaulding House" (photo below) about 1835 in the Greek Revival style. The house is considered an excellent example of the style in a rural setting.
Norridgewock became the shire town (county seat) of the newly established Somerset County in 1809, though it later lost that honor to neighboring Skowhegan in 1865. The county court followed in 1872.
Three granite quarries operated in the town during the 19th and early 20th centuries: Dodlin, Lawton and Taylor. All were located in the area of Dodlin Hill, south of Norridgewock village.
A local organization of the Granite Cutters' Union was formed in 1890.  The Garment Workers' Union, formed in 1900, represented people in the textile industry.
The Sophie May House, now on the National Register of Historic Places, was the home of Rebecca Clarke, 1833-1906, (Sophie May) and Sarah Clark, writers of nineteenth century children's books.
The house has been described as a "Greek Revival Temple house that beautifully displays the style of architecture which was popular in Maine during the thirty years before the Civil War." It was built in 1845 by Cullen Sawtelle, a Norridgewock native and Bowdoin graduate, who sold it to Asa Clark, Rebecca's father.
Norridgewock is the birthplace of 19th century U.S. Representatives Cullen Sawtelle and Stephen D. Lindsey.
The village straddles a bend in the river at the junction of Maine Routes 8 and 139, and U.S. Routes 2 and 201A. The Sandy River empties into the Kennebec at the northern boundary of the town.
The old Norridgewock Bridge was constructed in 1929 to replace a 600-foot covered bridge, the second longest in Maine, following the 792-foot Bangor Covered Bridge. After many years of deterioration and repairs, the 1928 cement bridge over the Kennebec was demolished and replaced in 2010.
---
Benedict Arnold's Expedition Route – click a Bateau


<== To Quebec                       To Beginning ==>

Form of Government: Town Meeting-Select Board-Manager.
Additional resources
Allen, William. The History Of Norridgewock: Comprising Memorials Of The Aboriginal Inhabitants And Jesuit Missionaries; . . . . Norridgewock, Me. Edward J. Peet. 1849.
Bond, Native Names of New England Towns and Villages.
Calvert, Mary R. Dawn Over the Kennebec. 1986. p. 336.
Chadbourne, Ava Harriet. Maine Place Names and The Peopling of its Towns.
Cowie, Ellen Ruth. Continuity and Change at Contact-Period Norridgewock. 2002. (Thesis (Ph. D.)–University of Pittsburgh, 2002.)
Crane, Pamela. Historical Archaeology of Norridgewock Mission. 1997. (Thesis (M.A.) in History–University of Maine, 1997.)
Danforth, Florence Waugh. "Sophie May (Rebecca S. Clarke)." Lewiston, Me. The Journal Printshop. 1924. (Extracted from: Just Maine Folks, by the Maine Writers Research Club.)
Eckstorm, Fannie Hardy. "The Attack on Norridgewock, 1724." New England Quarterly, September, 1934.
Emmons, Sidney Lyman. Growing up between the Bridges : Recollections of a Different Time in Norridgewock, Somerset County, Maine. edited by Amy Hequembourg. Maine. S. Emmons. 2008.
Hanson, J. W. History of the Old Towns, Norridgewock and Canaan, comprising Norridgewock, Canaan, Starks, Skowhegan, and Bloomfield, from their early settlement to the year 1849; including a sketch of the Abnakis Indians. Boston, Mass. The author. 1849.
Hetherly, Pam and Keith Wood. "A New Landmark for Norridgewock." Structure. April, 2009. http://www.structuremag.org/article.aspx?articleID=891 (accessed March 30, 2013)
Maine. Historic Preservation Commission. Augusta, Me.   Text and photos from National Register of Historic Places: http://pdfhost.focus.nps.gov/docs/nrhp/text/xxxxxxxx.PDF and http://pdfhost.focus.nps.gov/docs/nrhp/photos/xxxxxxxx.PDF (accessed December 15, 2014)
C. F. Douglas House: 78000200.PDF Photo credit: Frank A. Beard. Photo date: May 1978.
Eaton School: 88000884.PDF Photo credit: Kirk F. Mohney. Photo date: 1988.
Norridgewock Female Academy: 96000244.PDF  Photo credit: Kirk F. Mohney. Photo date: 1988.
Norridgewock Public Library: 82000780.PDF.
Sophie May House: 76000114.PDF Photo credit: Earle G. Shettleworth, Jr. Photo date: 1974.
Spaulding House: 78000201.PDF Photo credit: Frank A. Beard. Photo date: May 1978.
Norridgewock Historical Society. Bicentennial Book Committee. Norridgewock 200 Years, 1788-1988. Norridgewock, Me. The Society, 1988. (Norway, Me. The Oxford Group)
Sleeper, Frank. Madison, Norridgewock, and Smithfield. Dover, N.H. Arcadia Publishing. c1998. (pictorial)
Wood, Henrietta Danforth. Early Days Of Norridgewock. Skowhegan, Me. Skowhegan Press. 1941.
National Register of Historic Places – Listings
Douglas, C. F., House, Maine Route 8
The Douglas House is a rare fine example of Italian Villa style architecture in inland Maine. There are few examples in Maine and these, in mostly the more cosmopolitan coastal region. They are also, with few exceptions, less well executed. The reason for the quality of this house is that it was designed for himself by Charles F. Douglas, an architect of rare talents.
Born in Brunswick, he was educated at Foxcroft Academy and grew up on his father's farm in nearby Dover. At age 18 he was apprenticed to a house builder for three years. He became fascinated with architecture and studied the subject independently while working as a carpenter builder. In the early 1860s he opened an architectural office in Skowhegan and in 1866 built his home in Norridgewock. Examples of his work at this time, include the Methodist Church in Waterville, and the Somerset County Courthouse in Skowhegan.
Eaton School, junction of Main Street and Mercer Road [See Somerset Grange photo above.]
The former Eaton School is significant not only for its association with education, but also as one of the first known designs by Charles F. Douglas. Erected in 1866-67 the building, which also contained a meeting hall for the Masonic lodge, functioned as a school until 1916 when it was purchased by the Somerset Grange.
A graduate of the Wesleyan seminary at Kents Hill, Hamilton Fairfield Eaton (1838-1927) came to Norridgewock at the close of the Civil War. Encouraged by the leading citizens, he opened a school using the small Female Academy building. He offered instruction in foreign languages, mathematics, grammar, and rhetoric as well as music, art and business. Growing enrollment forced him expand, and in 1866 he solicited funds to build a larger school. Among the contributors was the Masons, planning to use the third story for a meeting hall.
May, Sophie, House, Sophie May Lane. [See background comments earlier in this article.]
Norridgewock Female Academy, US 2 N side, .05 miles west of junction with Maine Route 8 [now the Norridgewock Historical Society, see photo above]
Founded in 1837, the Academy was housed in a one-story brick, temple-fronted building constructed for that purpose. This Greek Revival style building was later adapted for use as a dwelling, at which time a frame wing and carriage barn were erected. The original block retains the important character defining features associated with its educational use.
A noted pupil of the Academy was Rebecca S. Clarke, the author of children's books under the pen name Sophie May. The Academy was in operation until about 1860, after which the building was used briefly by the Eaton School. When the School relocated to a new facility, the former academy was used for faculty housing and classes. It became a private residence in the early 1880s. In 1994 the building was acquired by the Norridgewock Historical Society.
Norridgewock Free Public Library, Sophie May Lane [see photo above]
The Library, a Greek Revival temple style building in miniature, is one of several 19th-century structures that are examples of architectural styles. It is notable as having been the office of a number of distinguished legal and political figures. The library organization can be traced to an early social library founded in 1810. John S. Abbott, a prominent lawyer and business person, erected this building in 1841 for his legal practice. The office was used by a succession of lawyers and later owned by Stephen Decatur Lindsey who served in the United States Congress from 1877 to 1883. He married a sister of Rebecca Sophia Clarke, better known as the author "Sophie May." The sister inherited the property and in 1903, donated the building for use as a public library.
Spaulding House, Main Street
The Spaulding House was built by Otis Spaulding who purchased the land in 1815. The brick structure is believed to have been built around 1835, although the wooden ell probably dates from the time the property was acquired. The house remained in the Spaulding family until 1921. The building typifies the Greek Revival style with one unusual characteristic. Recessed panels of brick appear on the exterior walls of the building between heavy piers and in the gable. This type of construction is more commonly found in larger commercial structures of the period, adding a rare distinction to this excellent example of the style.