This portion of the Nezinscot River canoe trip begins in Buckfield Village and terminates in Turner Center Village. Entrance to the canoe launch area is off Route 117 (Turner Street) in Buckfield, just downstream from the bridge, where the the water is conveniently flat.
Click on the circled village areas for related articles, and on canoe icons for photos and video clips of the river at those points. The GPS coordinates in each clip's title slide represent the estimated center of the images shown.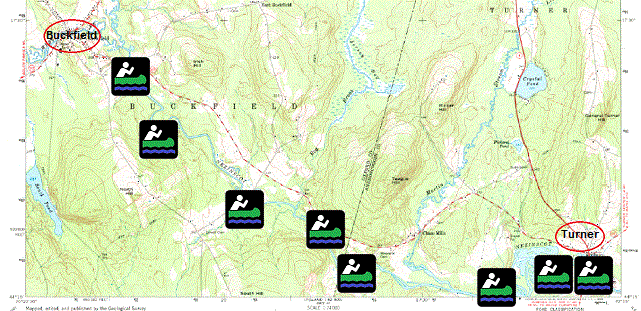 The river continues eight miles to Turner village, winding through woodlands and fields. Approaching Turner, the water widens and often splits into several channels, creating a challenge for navigation.
Nearing the village, one encounters two bridges. The first is on Route 4 (Auburn Road); the second, easily seen from under the first, is on Main Street. The dam is just downstream under the Main Street bridge.
Before the dam at the village, look for the landing on the left bank near the base of a large building. A small white sign stands at the landing.
The portage involves a haul up to the Main Street, across the bridge, and down to the right bank below the dam. There rapids await and require some planning to enter.
For the remaining three miles to Turner Center (not shown on map) the water is swift but less challenging. The takeout is on the right bank, immediately after passing under the Route 117 bridge.
Additional resources
See Canoe Trips
The map is a section of ME_Buckfield_104981_1967_24000_geo.pdf, a 1967 USGS map from nationalmap.gov/ustopo/ (accessed August 29, 2013)
[If some icons do not respond, search at their edges for the video click site.]