| Year | Population |
| --- | --- |
| 1970 | 458 |
| 1980 | 644 |
| 1990 | 1,042 |
| 2000 | 1,328 |
| 2010 | 1,522 |
Geographic Data
N. Latitude
43:38:33
W. Latitude
70:54:37
Maine House
District 21
Maine Senate
District 33
Congress
District 1
Area sq. mi.
(total) 33.5
Area sq. mi.
(land) 32.3
Population/sq.mi.
(land) 47.1
County: York

Total=land+water; Land=land only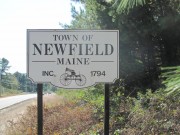 [NEW-field] is a town in York County, settled in 1778 and incorporated as a town on February 25, 1794 from Washington Plantation.
In 1846 it annexed land from Shapleigh.
Nathan Clifford, an attorney, member of the state legislature, and a U.S. Representative, U.S. Attorney General, and U.S. Supreme Court Justice, was a resident of Newfield in the early 19th century.
The old center of Newfield village was destroyed by the great forest fire of 1947, which also engulfed much of York County.
The Willowbrook Historic District covers this area and the buildings that survived the fire.
In 1984 the application to establish the district reported "Very little change in the buildings or landscape has occurred in the last one-hundred years so that the sense of time and place of a remote southwestern Maine rural community of the 19th century remains strongly present."
About one hundred years before that application, in 1886, the Gazetteer of Maine assessed the businesses in the town as follows:
At the [Newfield] village are two grist-mills, lumber, stave, shook and planing mills, carding machine; West Newfield has saw, grist and stave mills, one of each; at North Newfield, the principal business is the mining and preparation of a mineral used in the manufacture of stone, earthen, porcelain and glass ware, and for polishing lustre. Silver and iron have been mined in town, but not with profit.
At the source of the Little Ossipee River, and dotted with ponds and streams, Newfield is a rapidly growing community about twenty miles northwest of Sanford on Maine Route 11.
Form of Government: Town Meeting-Select Board.
Additional resources
Ayers, Ruth Bridges. Early Families of Newfield, Maine. Camden, Me. Penobscot Press. c1995.
Doyle, Mary E. Newfield–Notes from Shady Nook. West Newfield, Me. M.E. Doyle. c1994. (Portland, Me. Printed by Curry Printing)
Libby, Steve. Newfield, Maine: The First 200 Years. c1976.
The Ossipee Valley. Images from Cornish, Limerick, Limington, Newfield, and Parsonsfield-Porter Historical Societies. Charleston, SC. Arcadia. 2005.
United States Department of the Interior, National Park Service. National Register of Historic Places Inventory–Nomination Form. "Newfield (Willowbrook) Historic District." July, 1984. http://www.maine.gov/spo/landuse/compplans/2010falldata/newfield/Newfield%28Willowbrook%29HD-NR_Nomination_Form.pdf (accessed February 1, 2012)
Varney, George J. A Gazetteer of the State of Maine. 1886. pp. 384-385.
National Register of Historic Places – Listings
Newfield Willowbrook Historic District
---
[Elm Street] The few surviving structures in what was once a thriving agricultural community in remote western Maine bespeak a life and time whose evidence is fast disappearing. Despite the immense 1947 fire, they still stand in beautiful surroundings and have a better chance of survival than most such 19th century enclaves. The wisdom and foresight of Donald F. King, Sr., was founder of Willowbrook at Newfield. It is a museum dedicated to the preservation of this community and the collection and restoration of 19th century artifacts, buildings (including interiors) and symbols of a bygone way of life.
---
The mill that sits astride the dam, now a residence, was originally devoted to the manufacture of shingles and boxes, a typical activity of the period. The general store, now restored, and the hall above, where social, entertainment, and educational events were held are reminders of the early life of the community. The Newfield Willowbrook Historic District is a rare and pure survival of an earlier time.*