| Year | Population |
| --- | --- |
| 1970 | 1,076 |
| 1980 | 1,227 |
| 1990 | 1,538 |
| 2000 | 1,748 |
| 2010 | 1,752 |
Geographic Data
N. Latitude
44:02:48
W. Latitude
69:34:19
Maine House
District 90
Maine Senate
District 13
Congress
District 1
Area sq. mi.
(total) 32.6
Area sq. mi.
(land) 30.0
Population/sq.mi.
(land) 58.4
County: Lincoln

Total=land+water; Land=land only
Flying Eagle–1852
Western Empire–1852
Golden Rule–1854
Criterion–1855
[NEW-cass-el] is a town in Lincoln County, incorporated as a District on June 19, 1753 from the former Sheepscot Plantation, and as a town on August 23, 1775.
It set off land to New Milford (Alna) in 1795 and annexed land from Jefferson in 1858.
Settled in the early 1630's, Newcastle was the first town to be incorporated within the colonial territory of Sagadahoc. It was named for the Duke of Newcastle, the King's primary secretary and a friend of the colonies.
Beginning in 1765, the town began to support schools. By the 1890s and many years later, 15 school districts existed. District Number 1 school, on the River Road, sometimes called the Perkins school, was once owned by Frances Perkins, Secretary of Labor during the New Deal of the 1930s.
As was the case in many nearly places, residents fled in 1675 during the first Indian War on a vessel supplied by William Phipps. It was not until the 1730's that relatively permanent settlement resumed.
Ephraim Wilder Farley, a legislator, a Maine State Senator, and U.S. Representative, was born in Newcastle on August 29, 1817. It is also the birthplace, in March 1817, of Edwin Flye, also a U.S. Representative. Farley was elected in 1853; Flye, in 1876.
Damariscotta Lake is a major destination for adult alewives with intentions of spawning the next generation. The fishway near the dam at Damariscotta Mills in Newcastle provides access to and from the lake.
Newcastle, located on U.S. Route 1 just west of the Damariscotta River, is home to Maine's oldest Catholic Church, St. Patrick's, completed in 1808. It is the birthplace of early 19th century Governor Edward Kavanaugh.
Several nature preserves in Lincoln County are in Newcastle. Nearby Great Salt Bay is protected by Maine legislation and is the state's first marine shellfish protected area. The Marsh River Bog Preserve, near U.S. Route 1 provides hiking trails.
Dodge Point Public Reserved Land, with over 8,000 feet of frontage on the western shore of the Damariscotta River, encompasses 521 acres. It features pocket sand and pebble beaches, freshwater ponds and stream-cut ravines in the interior uplands. Recreation includes hiking, cross-country skiing, skating, swimming and fishing. An interpretive trail starts at the Old Farm Road and the Shore Trail has fine views. Visitors arrive by boat from the public landing in Damariscotta or by vehicle using the River Road in Newcastle.

Congressional Medal of Honor winner:
THOMAS M. DOHERTY
Form of Government: Town Meeting-Select Board-Administrator.
Additional resources
Biscoe, Mark Wyman. "No Pluckier Set of Men Anywhere": The Story of Ships and Men in Damariscotta and Newcastle, Maine. Newcastle, Me.? M.W. Biscoe. 1994. (Newcastle, Me. Lincoln County Pub. Co.) [University of Maine, Raymond H. Fogler Library, Special Collections; Maine State Library]
Cole, Arlene. Between Two Rivers: Newcastle, Maine: A Brief History of Newcastle on the 250th Anniversary of its Incorporation on June 19, 1753. Lincoln County Publishing Co.. 2003.
Cole, Arlene. "Newcastle Schoolhouses." http://www.newcastlemainehistoricalsociety.org/uploads/Newcastle_Schoolhouses.doc (accessed 11/15/14)
Centennial Celebration at Damariscotta and Newcastle, July 4, 1876: Together with the Historical Address Delivered by Gen. James A. Hall. Waldoboro, Me. Miller & Atwood, Printers. 1876.
*Maine. Historic Preservation Commission. Augusta, Me.   Text and photos from National Register of Historic Places: http://pdfhost.focus.nps.gov/docs/nrhp/text/xxxxxxxx.PDF and http://pdfhost.focus.nps.gov/docs/nrhp/photos/xxxxxxxx.PDF
Glidden-Austin Block: 75000102.PDF
Kavanaugh, Gov. Edward, House: 74000178.PDF
Second Congregational Church: 79000156.PDF
St. Andrew's Church: 76000101.PDF
St. Patrick's Church: 73000133.PDF
Palmer, Rundlette Kensell. A History of Newcastle, Maine. The Author. 1979. [University of Maine, Raymond H. Fogler Library, Special Collections; Maine State Library]
Sturges, Florence. High Points in the History of the Newcastle-Damariscotta Area. Damariscotta, Me. Newcastle-Damariscotta Woman's Club. 1976.
National Register of Historic Places – Listings
Glidden-Austin Block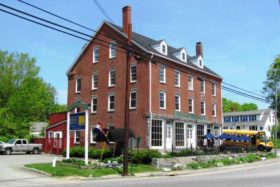 [Junction of U.S. 1 and Maine Route 215] This impressive 1845 business block was built by Captain William Taylor Glidden, a sea captain and prominent shipping magnate. Born in Newcastle in 1805, Captain Glidden began at an early age a seafaring career that took him to Europe, Africa, China and other ports. In 1848, he formed a partnership with John M. S. Williams of Cambridge Massachusetts. The firm of Glidden and Williams owned a large fleet of ships that plied mainly between Boston and San Francisco beginning with the 1849 gold rush and continuing until 1877.
Although spending his winters in Boston, Glidden maintained a summer home in Newcastle. His continued interest in the town was manifested by his endowment of the Episcopal Church in 1850.
Shortly after the Block was built, Algernon S. Austin became Glidden's partner. Once a blacksmith, by 1846 he was in the shipbuilding business. Between that year and 1854 he built and sold ships. He also served as a selectman and assessor for five years, was twice a representative to the state legislature and was the first president of the Newcastle Bank established in 1854. In 1859 he moved to Westport, Connecticut.
It seems safe to assume, in view of the business interests of both men, that the building had some connection with maritime affairs. More than likely in its early years it was a ship chandlery. It has experienced many uses: a garment factory, an undertaking parlor and a tenement. It stands as a focal point at the head of this once busy harbor of whose heritage it is so much a part.*
Kavanaugh, Gov. Edward, House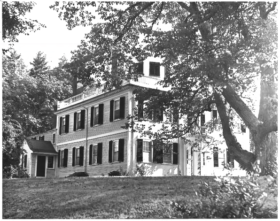 [Maine Route 213. Damariscotta Mills] The Governor Kavanaugh House is both architecturally and historically significant. Architecturally it is one of the finest pieces of federal architecture in the State. It was built in 1803 by James Kavanaugh, an Irish immigrant, and the house remains in very good condition. It did not leave the Kavanaugh family until 1932.
The architect was Nicholas Codd, another Irish immigrant. He designed St. Patrick's Catholic Church at Damariscotta Mills  and the Moses Carleton House at Wiscasset, and the Matthew Cottrill House in Damariscotta.
Codd married Margaret Coffin at Boston. He was listed as a housewright in the Boston City Directory from 1818 to 1823. We have no idea of his age but we know he died between 1823 and 1825. He and his wife had four male children. Rev. Francis Matignon, who married Codd in Boston, was a missionary to Damariscotta Mills where the Kavanaughs and Cottrills lived. Father Matignon may have been the reason that Codd came to Damariscotta to build St. Patricks and the fine residences there.
James Kavanaugh arrived in Boston in 1780 or 1781 with Matthew Cottrill. They were both natives of New Ross, County Wexford, Ireland. By 1791 they were both in Newcastle. Both returned to marry Boston girls with the Rev. Francis Matignon officiating. In Newcastle, at Damariscotta Mills, James Kavanaugh invested in land and soon became a wealthy lumber baron and shipowner.
James Kavanaugh, the builder of the 1803 house, was not the most famous resident. It was his son Edward Kavanaugh who became Governor of Maine. Edward Kavanaugh's political career began in 1826 with his elec tion to the Maine Legislature. He was a representative to the 22nd and 23rd U. S. Congress. In his candidacy for the 24th Congress in 1834, he was defeated by a Whig candidate from Wiscasset. In 1835, he was appointed Charge 'd  Affaire to Portugal by President Jackson. He returned to the United States in 1840 and to Maine in 1841. He was elected to the Maine Senate in 1842 and 1843. On the resignation of Governor Fairfield on March 7, 1843, Kavanaugh, who was presidentof the Senate, became Governor. He died on January 20, 1844. This house is quite significant to the architectural history of Maine and Edward Kavanaugh was an important political figure in Maine history as well as the nation. He was the first Catholic to hold any public office in all of New England. He is buried at St. Patrick's in Damariscotta Mills, not far from his stately home.*
Second Congregational Church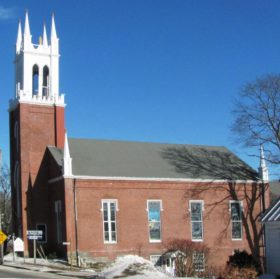 [River Street] The Second Congregational Church of Newcastle is the most outstanding and impressive example of vernacular Gothic Revival ecclesiastical architecture executed in brick in the mid-coast region.
Fine examples of this style in wood exist in Bath and other nearby communities but nowhere in the region was brick used as the main fabric for such an ambitious rendering of the Gothic mode. Of additional architectural interest is the unusual and detailed treatment of the pinnacles on the square tower and the four corners of the building. On high ground at the head of the harbor, the church is a prominent landmark visible from great distances to those approaching from the sea up the Damariscotta River.*
St. Andrew's Church
[Glidden Street] St. Andrew's Church has been called the most beautiful little church in America. Located on the shores of the Damariscotta River, its name fits appropriately since the saint was a fisherman. The parish church is the first example of a cottage Gothic church in the United States. It is also the first church designed in America by the English Gothicist Henry Vaughan. Vaughan was born in England in 1846, then came to the United States in 1881 with the purpose of interpreting Gothic Architecture in America.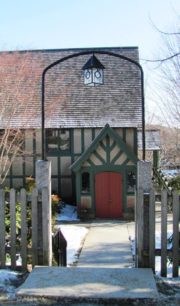 Vaughan designed several other buildings in Maine including the Searles Science Building, 1894 and the Hubbard Library, 1902, both at Bowdoin College; and St. Mary's-by-the Sea in Northeast Harbor in 1902.
St Andrew's church and the one and a half acres it occupies were a gift of Mr. and Mrs. William Glidden in 1883. Mr. Glidden himself built the church. The old parish house was used as a temporary quarters of the Newcastle National Bank when that building burned down in the Great Fire of 1908. Important both as an early example of a major style and as the first such design in America by a leading proponent of that style, St. Andrews is a building of great charm.*
St. Patrick's Catholic Church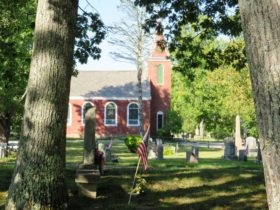 [Academy Road] St. Patrick's Catholic Church at Damariscotta Mills in Newcastle is the oldest Catholic Church in Maine. The parish was founded in 1796, mainly through the efforts of James Kavanaugh and Matthew Cottrill, two merchants who settled at Damariscotta Mills in the late 18th century. The first church erected at the Mills was Our Lady of the Mills Chapel, a wooden structure. Since there was no priest to say mass, it was used mainly for prayer.
When St. Patrick's Catholic Church at Damariscotta Mills was built in 1807 it resembled very closely some of the Colonial brick churches in Tidewater Virginia. The architect was Nicholas Codd. St. Patrick's is an excellent combination of Colonial and Federal styles. It was consecrated in 1808; the spire was not added until 1866.
The first priest to actually administer to the Catholics at Damariscotta on a somewhat full time basis was Father Romagne. He was brought to Damariscotta by Father Matignon, another missionary to the Indians of Maine. Father Romagne agreed to spend the winters with the Kavanaghs and return to his missionary work with Father Cheverus when the latter made his journeys to Maine during the summer months.
It was not until 1932 that St. Patrick's had a resident priest: Father Charles F. Bennett. In 1933, Father Edward F. Lynch was appointed Pastor at St. Patrick's.*
Address Restricted
Brick House Historic District; Dodge Point Site; Hilton, Anne, Site