| Year | Population |
| --- | --- |
| 1970 | 835 |
| 1980 | 1,228 |
| 1990 | 1,317 |
| 2000 | 1,394 |
| 2010 | 1,551 |
Geographic Data
N. Latitude
44:42:25
W. Latitude
69:01:01
Maine House
District 101
Maine Senate
District 10
Congress
District 2
Area sq. mi.
(total) 31.0
Area sq. mi.
(land) 30.9
Population/sq.mi.
(land) 50.2
County: Penobscot

Total=land+water; Land=land only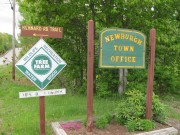 [NEW-burg] is a town in Penobscot County, incorporated on February 15, 1819 from township T2 R1 NWP. In 1823 and 1832 it ceded land to Hampden before stabilizing within its current boundaries.
Settled in about 1794, the town is on the old stage route from Bangor through China to Vassalboro near Augusta. Newburgh Center village is on combined U.S. Route 202 and  Maine Route 9.
In the 1880's Newburgh had two saw mills, two cheese factories, and a carriage factory. It's economy was primarily agricultural, including cattle raising. At that time it had ten public schoolhouses and a population of 1,057 in 1880.
The Kennard Road hiking trail, originally developed by the Newburgh Heritage Trust, is a one-mile walk, with parking available.
Newburgh has a town meeting form of government, with three members of its select board, and a town manager.
Near North Newburgh the small West Branch of Souadabscook Stream passes under Route 69, but not before showing off its charming low waterfall.
Form of Government: Town Meeting-Select Board-Manager.
Additional resources
Chadbourne, Ava Harriet. Maine Place Names and The Peopling of its Towns.
Luce, Roger F. A History of the Schools in Newburgh, Maine. 1947. Thesis (M.E.) in Education–University of Maine, 1947. [University of Maine, Raymond H. Fogler Library, Special Collections]
United States. Department of the Interior. National Park Service. "Jabez Knowlton Store." https://npgallery.nps.gov/NRHP/GetAsset/3c2e1e83-0374-4e0a-9bd6-12ce7b359e8f?branding=NRHP (accessed March 3, 2017)
Varney, George J. A Gazetteer of the State of Maine. 1886. p. 382.
National Register of Historic Places – Listings
Knowlton, Jabez, Store
[West of Newburgh on Maine Route 9] The Jabez Knowlton Store in Newburgh a remarkable survival example an early 20th century country general store. Not an artificially assembled collection of old merchandise and empty containers, it but rather is a fully stocked emporium preserved exactly as it was when the doors closed in 1910. It was built in 1839 by Jabez Knowlton, a local entrepreneur with many business interests. The store was operated continuously for over seventy years by him and his descendants.
Upon the death of its proprietor in 1910, his wife, unable to run the store on her own but loath to sell the property, closed it. Since then it has been maintained untouched except for periodic cleaning by members of the family.
The shelves were fully stocked with the endless variety of goods typically carried by a rural general store. Patent medicines abound, drawers contain dried medicinal herbs, and tobacco, both leaf and plug. New shoes of 1900 vintage are found next to kitchen utensils. Dozens of full button boxes accompany hundreds of spools of thread of all colors in shallow display drawers, and many bolts of cloth. Lamp chimneys of various designs are displayed on racks near the ceiling. Baskets, palm leaf fans and straw hats hang above glass cases filled with candies and trinkets for children.
In the rear a large tank for dispensing kerosene shares a wall with axe helves, fishing poles and spindles for lighting fires. A small room in the rear houses a massive iron safe and a counting desk. The Jabez Knowlton Store is a tremendously significant, authentic and living part of the past conveying the flavor of rural life as no reconstruction could possibly do.*