| Year | Population |
| --- | --- |
| 1970 | 444 |
| 1980 | 607 |
| 1990 | 661 |
| 2000 | 725 |
| 2010 | 757 |
Geographic Data
N. Latitude
44:48:28
W. Latitude
70:07:06
Maine House
District 114
Maine Senate
District 17
Congress
District 2
Area sq. mi.
(total) 36.4
Area sq. mi.
(land) 35.9
Population/sq.mi.
(land) 21.1
County: Franklin

Total=land+water; Land=land only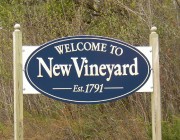 [new VIHN-yihd] a town in Franklin County, incorporated on February 22, 1802 from township T2 R1 WKR. It ceded land to Industry in 1815 and 1844, and to Anson in 1840. The town annexed land from Strong in 1856 to complete its modern boundaries with surrounding towns.
Settled in 1791, many early arrivals came to escape the heavy and illegal fees imposed by land agents in the Kennebec River Valley. The name derives from the early owners of the township who were from Martha's Vineyard, Massachusetts.
Framed by the Carrabassett and Sandy Rivers, this irregularly shaped town's main village lies on Maine Route 27 between New Portland and Farmington. New Vineyard Village, once known as Vaughn's Mills, has been the principal business center. Like many communities, it has had its boom and busts.
According to George Varney, in the 1880's when the population was 627,
New Vineyard has two saw-mills, and a grist-mill carried by water-power, and a spool-mill by steam power. The manufactures are salt-boxes, shovel-handles, dowels, brush blocks, spools, carriages, shingles, clapboards, flour and meal, boots and shoes, brooms, etc.
The Maine Wood Turning company's facility dominates on Route 27 as it passes through the village.
Nearby Bauds, Mill and Lily ponds, and frontage on Porter Lake, provide wide fishing and recreational opportunities.
The 1,458 foot Boardman Mountain is named for Herbert Boardman, who settled at its base in 1795.*
The L. A. Smith Memorial Building adjoins the World War I and II veterans memorial. Captain Nathan Daggett's plaque on the building notes that he was "Chief pilot of French Fleet at Surrender of Cornwallis Oct 19, 1781 – Yorktown, VA."  Daggett died in New Vineyard in 1838.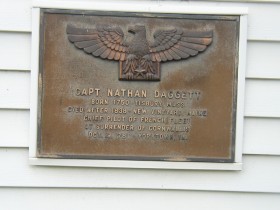 ---
Form of Government: Town Meeting-Select Board-Administrative Assistant.
Additional resources
*See Glossary, source number 7.
Poole, Dorothy Cottle. A New Vineyard. Edgartown, Mass. Dukes County Historical Society. 1976.
Varney, George J. A Gazetteer of the State of Maine. 1886. p. 393-394.