| Year | Population |
| --- | --- |
| 1970 | 725 |
| 1980 | 969 |
| 1990 | 1,175 |
| 2000 | 1,297 |
| 2010 | 1,407 |
Geographic Data
N. Latitude
44:38:27
W. Latitude
70:00:25
Maine House
District 113
Maine Senate
District 17
Congress
District 2
Area sq. mi.
(total) 46.6
Area sq. mi.
(land) 46.0
Population/sq.mi.
(land) 30.6
County: Franklin

Total=land+water; Land=land only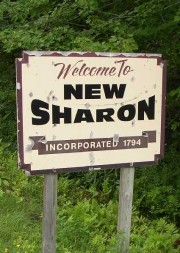 [NEW SHAR-uhn] is a town in Franklin County, settled in 1782 and incorporated on June 20, 1794 from Unity Plantation.
It swapped land with Industry (1813, 1852) and annexed land from Mercer in 1841.
The town, just east of Farmington, has been growing consistently in population over the past four decades.
New Sharon village straddles the Sandy River, which winds through from Farmington on its way to Starks and then Norridgewock where it enters the Kennebec River.
The old steel bridge was built in 1916 and crossed the river at the end of the main street. It was the oldest of the Baltimore and Pennsylvania truss-style bridges in Maine until its demolition in 2014.
The bridge, once on the Historic Register of Historic Places, was no longer used due to structural deterioration.
In 1886, the Gazetteer of Maine waxed enthusiastic about New Sharon:
[The soil] is quite productive; and numerous small fortunes have been gathered from the products of New Sharon farms. [Referring to the post-Civil War rush westward] Much of this money has gone to develop new towns and States in the West.
The village of New Sharon is one of the prettiest in the State. It is situated on both sides of the Sandy River, where a natural fall is increased by a dam, and the stream spanned by an expensive covered bridge. . . . There are operated in New Sharon three saw-mills, a grist mill, and chair, shoe, shovel-handle, carriage and clothing factories.
In the 1880's the town supported sixteen public schoolhouses on a population of just over 1,300, essentially it current size. The old village is now off the main highway near where Maine Routes 27 and 134 meet U.S. Route 2.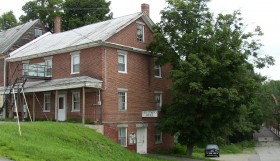 Form of Government: Town Meeting-Select Board.
Additional resources
Enslin, Theodore. New Sharon's Prospect & Journals. San Francisco, CA. City Lights [distributor] Coyote's Journal. 1966.
Kearney, Marie. New Sharon Remembered. New Sharon, Me. New Sharon Historical Society (Wilton, Me. Wilton Printed Products). 1989, c1981.
*Maine. Historic Preservation Commission. Augusta, Me.   Text and additional photos from National Register of Historic Places: http://pdfhost.focus.nps.gov/docs/nrhp/text/xxxxxxxx.PDF and http://pdfhost.focus.nps.gov/docs/nrhp/photos/xxxxxxxx.PDF
New Sharon Bridge: 99001189.PDF
New Sharon Congregational Church: 85001261.PDF
New Sharon (Me.). New Sharon, Maine, Historical Collections. 1977. [Maine State Library]
Pictorial History of Early New Sharon, Maine: Village and Town. New Sharon, Me. New Sharon Historical Society. 1988.
Varney, George J. A Gazetteer of the State of Maine. 1886. pp. 390-392.
York Family. Papers, 1866-1923. (Cataloger Note: The collection contains a daily list of farm chores written in 1866-1867 by an unknown compiler as well as Samuel York's diaries from 1891-1923, outlining his daily activities on his farm. Poultry records for 1907 and 1912-1913 . . . .) [University of Maine, Raymond H. Fogler Library, Special Collections]
National Register of Historic Places – Listings
New Sharon Bridge
[demolished, south of Maine Route 2 over the Sandy River]  (The following is adapted from the MDOT Historic Bridge Inventory Form prepared by Mary McCahon and J. Patrick Harshbarger of A.G. Lichtenstein & Associates, Inc.)
The 1916 New Sharon Bridge [photo above] was rare surviving example of a long span, pin-connected Pennsylvania through truss bridge. It is the last built of three identified in Maine, constructed between 1890 and 1916. Pin connections were the preferred field connections of late 19th century metal truss bridge builders because of the ease of design, fabrication, and erection. After 1900, pin connections were largely superseded by riveted connections due to improvements in metallurgy and field pneumatic riveting equipment. The New Sharon bridge was a late example of a pin-connected Pennsylvania truss.
The bridge was built under a special resolve of the state legislature. Before 1916, special resolves were a typical method used by the legislature to appropriate funds to assist towns and counties with specific road and bridge improvements. Although local or county governments paid for and built the projects, the State usually oversaw the projects and reviewed the plans. After 1916, most bridge projects funded by the state were handled under the provisions of the General Bridge Act of 1915.
The bridge's manufacturer, the Groton Bridge Company, was a prolific bridge fabricator active from the 1870s to the 1920s. It was noted in the 1870s and 1880s for a number of innovative and patented truss bridge designs. In 1901 the company was absorbed by the American Bridge Company. The reorganized Groton Bridge Company continued through the 1920s. The Pennsylvania truss design was developed in the mid 1870s and 1880s. It was extensively used by the Pennsylvania Railroad in about 1875, hence the name.*
New Sharon Congregational Church
[Maine Route 134] This charming village church in the Greek Revival style [see photo above] is sited on a rising ground overlooking the old residential center of New Sharon. With a large open space between it and the street, as near to a village green as is to be found in most small Maine towns, it is a focal point not only within the community but from its approaches as well.
Built in 1845 by the Congregational Church of New Sharon, it supplanted an 1816 wooden meeting house built as a common house of worship by the Congregationalists, Baptists, Methodists, and Unitarians and used by each denomination one-fourth of the time. Gradually each denomination built its own church leaving the wooden building to the Congregationalists. Its destruction by fire in 1843 brought about the present structure. The Congregational Church was federated with the Methodist Church from 1930 to 1965 after which it again became a separate entity.*