| Year | Population |
| --- | --- |
| 1970 | 559 |
| 1980 | 651 |
| 1990 | 789 |
| 2000 | 785 |
| 2010 | 718 |
Geographic Data
N. Latitude
44:54:15
W. Latitude
70:03:55
Maine House
District 112
Maine Senate
District 3
Congress
District 2
Area sq. mi.
(total) 43.8
Area sq. mi.
(land)43.4
Population/sq.mi.
(land) 16.5
County: Somerset

Total=land+water; Land=land only
[NEW PORT-lnd] is a town in Somerset County, settled in about 1785 and incorporated on March 9, 1808 from the township T2 R2 WKR.
It is the center of a once larger township given to the people of Portland (then Falmouth) by the Massachusetts General Court to compensate for their losses from the destruction caused by the British fleet in 1775.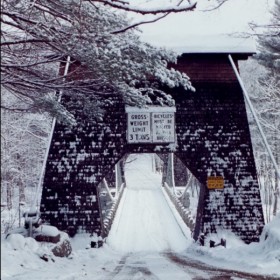 The famous wire suspension bridge, probably the last of its kind in New England, was built in 1842 from cable sent from England and hauled miles overland to the site by 16 yoke of oxen.
This rare structure, recognized by the National Register of Historic Places, spans the Carrabassett River just north New Portland village, on Maine Rt. 27 at its junction with Rt. 146 in the town's southwest.
During the Civil War, Company E, 8th Maine Infantry, organized at New Portland, was commanded by Captain Thomas Hutchins. It landed in Hilton Head, South Carolina in November 1861. Company E later served in the Petersburg and Appomattox campaigns, and mustered out January 18, 1866.
North New Portland hosts Morton's Country Store, the Community Church, and Chase Memorial Hall.
The village lies at the junction of routes 146 and 16, with Gilman Stream, and its Dam, flowing through the village.
New Portland Fairgrounds is just north of the village.
The Carrabassett River, with its spectacular rocky bed, passes through East New Portland Village and under an arch bridge.  In the fall with relatively low water, it is hard to imagine the adventurous canoeist braving these waters. The barns and grange below are in East New Portland.
Buildings in the small New Portland Village on Route 146 give evidence to a once more prosperous past.
---
Form of Government: Town Meeting-Select Board-Manager.
Additional resources
A collection of nostalgic photos of individuals, groups, buildings, bridges and maps of the Western Somerset area. Compiled by Kenton Quint and Roland Foss. Western Somerset Historical Society. 1979? [University of Maine, Raymond H. Fogler Library, Special Collections; Maine State Library]
Foss, Roland E. A History of the New Portlands. Farmington, Me. The Knowlton & McLeary Co. 1977.
Anderson, John F. The Hendersons of New Portland, Maine. San Andreas, CA Privately printed? 1996. [Maine State Library]
Hargreaves, Jack. Panning Gold: a Maine Memoir. Madison, Me. Maple Leaf Editions/Soleil Press. 2003. [Maine State Library]
United States. Army. Maine Infantry Regiment, 8th (1861-1866). Company E. Records, 1861-1865. (Cataloger Note: Records of the company including accounts and inventories kept by the captain of company clothing, equipment and ordnance as well as muster rolls, reports of manpower, company morning reports, etc. . . . The 8th Maine Infantry Regiment was mustered in on Sept. 7, 1861. Company E was organized at New Portland, Maine, and was under the command of Capt. Thomas Hutchins with Charles B. Knapp becoming captain in July 1863.) [University of Maine, Raymond H. Fogler Library, Special Collections]
*United States. Department of the Interior. National  Park Service. "New Portland Wire Bridge." https://npgallery.nps.gov/NRHP/GetAsset/a3c60a18-1e1d-4118-87a8-fcfb1d1f76c2?branding=NRHP (accessed March 2, 2017)
National Register of Historic Places – Listings
New Portland Wire Bridge
[Wire Bridge Road, over the Carrabassett River] It has been designated a Maine Historic Civil Engineering Landmark  by the Maine Section of the American Society of Civil Engineers. The history of this bridge dates to 1838 when there was discussion about a bridge over the Seven Mile Brook, as the Carrabassett River was known, so that the settlers on the north side of the river could get to New Portland village. Since the current was swift, it was considered doubtful if a wooden bridge would stand the freshets or even high water. Col. F. B. Morse who lived on the south road, proposed a  suspension or wire bridge.
At the town meeting in 1840 citizens appropriated $2,000 for a wire bridge. It was to be built under Morse's direction. He had been a colonel in the Army and had had engineering experience. He drew the design and ordered two cables to be made in Sheffield, England. That summer under his direction Elder Ezra Winslow and William Witham with a crew built the two abutments. There was much criticism about the project, called Colonel Morse's "Fool Bridge".
In the winter of 1841 the cables arrived at Bath and that spring were loaded on a schooner for Hallowell. On arrival Colonel Morse ordered 16 pair of oxen in two teams to haul the cables and fittings to New Portland. On June 29, 1841 the cables arrived, but high water delayed progress until July before the foundations were ready. In August the cables were strung and before cold weather the bridge was nearly completed. Work was suspended during the winter, but on June 20, 1842 it was completed and ready for traffic.
There were reports that the bridge was actually not built in 1842, but in 1866 by a Captain Charles Clark. Claims have been that bridge agent David Elder was paid for building the bridge. The lack of reliable records makes it impossible to be certain of the bridge's early history.
The Maine Department of Transportation now has responsibility for the bridge.* [See photos above]