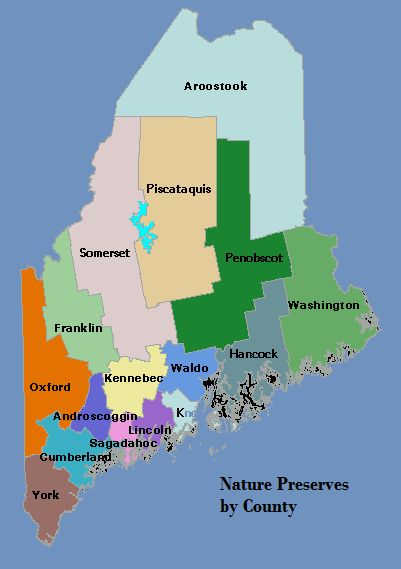 Maine has hundreds of special places set aside for perserving natural areas and wildlife.
Nature preserves, for the purposes of this article, include the following: public reserved lands, conservation areas, wildlife refuges, bird sanctuaries, etc.
Click on a county for an annotated list of preserves and links to detailed articles when available.
According to a report by Maine Public Broadcasting on May 15, 2012:
It's taken eight years, but the Nature Conservancy, the Forest Society of Maine and the Plum Creek Timber Company announced today that they've completed an historic conservation easement on 363,000 acres near Greenville. The Moosehead easement will prohibit most types of development, require sustainable forest practices and preserve public access for hunting, fishing and snowmobiling. The agreement assures not only the largest contiguous easement in the country, it also connects more than two million acres of land already conserved in Maine.