| Year | Population |
| --- | --- |
| 1970 | 956 |
| 1980 | 1,833 |
| 1990 | 2,860 |
| 2000 | 3,274 |
| 2010 | 3,872 |
Geographic Data
N. Latitude
43:58:21
W. Latitude
70:36:42
Maine House
District 68
Maine Senate
District 19
Congress
District 1
Area sq. mi.
(total) 37.2
Area sq. mi.
(land) 31.8
Population/sqmi
(land) 121.8
County: Cumberland

Total=land+water; Land=land only
[NAY-puhlz] is a town in Cumberland County, settled in 1790 and incorporated on March 4, 1834 from portions of Otisfield, Raymond, Harrison, Sebago and Bridgton.
It then annexed more land from Sebago, Otisfield and Bridgton between 1845 and 1856.
Blessed with ample access to Long Lake, Sebago Lake at the intersection of U.S. Route 302 and Maine Routes 11, 35 and 114, Naples has long been a vacation resort community. Henry Wadsworth Longfellow and Nathaniel Hawthorne have sung its praises. Hawthorne lived in nearby Casco in the early 19th century.
The Songo Lock, built about 1830 and now shared with the town of Casco, linked Long Pond and Brandy Pond with Sebago Lake, thus allowing passage of boats from Harrison to Portland through the Oxford-Cumberland Canal in Standish.
In the late 19th century, Naples economy was bolstered with a canning factory of the Portland Packing Company, coopers, and by makers of carriages, clothing and shoes.
The historic "Locust House" was donated by the Dodge family to house the Naples Public Library in the 1980's. It was renovated and expanded in 1998.
Naples is one of the fastest growing towns in the state, having nearly doubled its population between 1970 and 1980, then more than doubling from 1980 to 2010.
Lake Region High School (below) and associated vocational center  serves the towns of Bridgton, Casco, Naples, and Sebago, in Maine School Administrative District 61.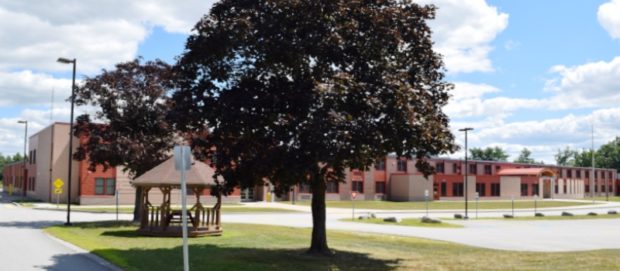 Additional resources
Barnes, Jack and Diane. Sebago Lake, West Shore: Standish, Baldwin, Sebago, and Naples. Charleston, SC. Arcadia Publishing. 2000.
"The History of Naples." by Llewellyn G. Barton. "The religious history of the town of Naples: religious historical address delivered at Naples Centennial Sunday, August 12, 1934." by Frederick Lyman. ( Photocopy of mounted newspaper clippings from the Bridgton news, Sept. 21-Oct. 6, 1934, and Dec. 15-Dec. 29, 1934.) [Maine State Library]
*Maine. Historic Preservation Commission. Augusta, Me.   Text and photos from National Register of Historic Places: http://pdfhost.focus.nps.gov/docs/nrhp/text/xxxxxxxx.PDF and http://pdfhost.focus.nps.gov/docs/nrhp/photos/xxxxxxxx.PDF
Songo Lock: 70000093.PDF; Christi, Josh. "It's Worth the Trip: A roundabout route from Sebago to the sea." Portand Press Herald. July 2, 2016.
Union Church: 94000638.PDF
"Now I will tell you: the story of Naples, Maine, its history and legends." Compiled by Robert Jordan Dingley. Naples, Me. Naples Historical Society. 1979.
Varney, George J. A Gazetteer of the State of Maine. 1886. p. 381.
National Register of Historic Places – Listings
Manor House, U.S. 302 Naples
Perley, Sam, Farm, Perley Road
Songo Lock
[South of Naples off Maine Route 114] In 1830 the first boat traveled on the Cumberland and Oxford Canal. It extended 20 miles from Portland to Sebago Lake and, via a lock on the Songo river, to Harrison at the head of Long Lake. The Presumpscot River drained two chains of lakes and ponds that reached far into the interior whose rich forests and farm lands were still largely unexploited. Roads were poor or non-existent. A canal link to Sebago, supplemented by locks and short pieces of canal between adjoining bodies of water, offered most of the Cumberland and Oxford counties area efficient low cost transportation and speed the development of the area.
In 1821 the Cumberland and Oxford Canal Corporation was chartered by the Maine Legislature, but financial problems delayed construction. On June 1, 1830, the first boat journeyed up the canal from Portland carrying a group of dignitaries. The marvelous "ditch" had been dug with pick and shovels by hard-working Irish immigrants, through 28 locks that raised boats 248 feet from tide level to the lakes. The canal enabled farmers, lumbermen, manufacturers and merchants to ship or receive goods from Portland cheaply, swiftly and efficiently. The 1830s and 1840s were successful years for the canal. But competition from  railroads reduced traffic. By 1870 the canal's commercial value ended.
The 1830 Songo Lock was rebuilt in 1911 by the Sebago Lake Improvement Company for water level control. The Canal remnants do not allow full, free navigation from the lakes to the sea. Well-planned paddling and portaging is reportedly possible.* The Lock is in Sebago Lake State Park between Naples and Casco off U.S. Route 302.
Union Church
[US 302 south side, 0.1 mile west of junction with Maine Route 11/114]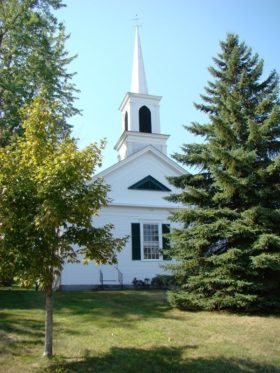 Prominently sited in the village center, the Union Church is a Greek Revival style frame building erected late in 1857. Founded by three local religious societies, the building had been used until the early twentieth century. It is now open in the warm months for a variety of religious and non-religious activities.
The Union Church was founded in 1857 by two Freewill Baptist societies (the Association Baptist and the Star Baptist), and the Congregational society. The joint Union Committee received subscriptions for construction, then a  building committee was appointed. Construction must have begun shortly after the committee's appointment since the church was dedicated on January 26, 1858, with both Congregational and Baptist ministers presiding.
The history of the Union Church during the late 19th century and early years of the twentieth is somewhat obscure. Apparently the congregation of the Union Church had dwindled to the point that by the late 1870s it could no longer support its own clergy. It seems likely that the ministerial duties were assigned to another pastor until regular services ceased altogether early in the 20th century. The Methodists occasionally used the church followed by an Episcopalian congregation in the 1950s. In the 1990s it served as an auditorium for community events, hosted weddings, and held at least one church service each year.*