| Year | Population |
| --- | --- |
| 1970 | 1,659 |
| 1980 | 2,063 |
| 1990 | 1,899 |
| 2000 | 2,109 |
| 2010 | 2,053 |
Geographic Data
N. Latitude
44:19:59
W. Latitude
68:19:42
Maine House
District 135
Maine Senate
District 7
Congress
District 2
Area sq. mi.
(total) 55.2
Area sq. mi.
(land) 36.9
Population/sq.mi.
(land) 55.6
County: Hancock

Total=land+water; Land=land only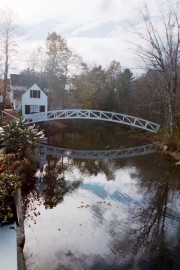 [mount duh-ZERT] is a town in Hancock County settled in 1761 and incorporated on February 17, 1789 from Mount Desert Plantation. It set off land to form several towns: Eden, now Bar Harbor, (1796); Cranberry Isles (1830); and Manset (1848).
The town is located on Mount Desert Island, between Bar Harbor and Tremont. The yellow building above is an old schoolhouse, recently owned by the local historical society.
In 1839 the town of Seaville was formed from Mount Desert, existing separately until annexed back into its parent in 1859.
Pemetic, Penobscot and Sargent mountains are poised on its southeastern portion. The communities of Northeast Harbor (the largest), Seal Harbor and Somesville constitute the major villages in the town. The town at large did not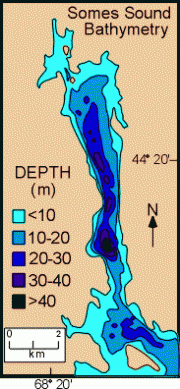 escape the fires of 1947 that consumed much of the island.
Somes Sound, most of which is within the Town of Mount Desert, is not a true fjord, as once thought, but is very much like one, having been gouged out by glaciers. The sound is a five-mile long embayment bordered by Norumbega Mountain (852 ft.) to the east, and Acadia (681 ft.) and St. Sauveur (249 ft.) mountains to the west. At its deepest point, the sound is slighter deeper than 130 feet, and in several places it is about 100 feet deep.
Several granite quarries were located in the town: Hall or McMullen, Campbell and Macomber, Snowflake, and Allen. In 1902 the Quarrymen's Protective Union was organized.
The Newbold Nature Preserve on Squid Island is a small forested area off the western shore of Mount Desert, important to a variety of bird species and managed by the Nature Conservancy.
Form of Government: Town Meeting-Select Board-Manager.
Additional resources
Hansen, Gunnar. Mount Desert: An Informal History. Mount Desert, Me.  Town of Mount Desert Maine. c1989.
Sanderson, Virginia Somes. The Living Past: Being the Story of Somesville, Mount Desert, Maine and its Relationships with other Areas of the Island. Mount Desert, Me. Beech Hill Publishing Company. 1982.
National Register of Historic Places – Listings
Bear Island Light Station, Bear Island, Acadia National Park, Northeast Harbor
Gilman, Daniel Coit, Summer Home, off Huntington Road, Northeast Harbor
Seal Harbor Congregational Church, Seal Harbor
Saint Jude's Episcopal Church, Seal Harbor
Somesville Historic District
[Somes Harbor and its environs] Somesville was the first permanent settlement in this now popular resort of Mount Desert. At the behest of Governor Bernard of Massachusetts, Abraham Somes, who had visited Mount Desert in 1759, established a home for himself, his wife and four daughters in what is now Somesville. There he built a rude log cabin. In 1763 or 1764 Governor Bernard paid him a visit of inspection and recorded in his journal, "We went on shore and into Somes' log house, found it neat and convenient, though not quite furnished, and in it a notable woman and four pretty girls, clean and orderly. Near it were many fish drying there."
Somes was soon joined by James Richardson who built the first mill in 1763. These two large families (Somes had thirteen children and Richardson eleven) were influential in almost all aspects of the early development of the community. Somesville, at first known by the picturesque name of Betwix't the Hills, became part of Mount Desert Plantation which was incorporated in 1789. In 1792 the Congregational Church was organized. In 1836 there were nine families living in Somesville. Evidently this small population was, nevertheless, extremely active for the town contained "one small store, one blacksmith shop, one shoemaker's shop, one tan yard, two ship yards, one bark mill, one lath mill, one shingle mill, one grist mill and one school house in which schools and meetings were held."
Besides the modern dam at the outlet of Somes Pond, there are remains of several mill sites along Somes Brook. Shipbuilding was carried on along the shore of landlocked Somes Harbor, although few if any remains are still visible. Somesville is also notable as an early artist's Mecca and perhaps the first place visited by the early "rusticators", the pioneers of the legions of summer folk who have made Mount Desert a legendary summer resort. Prominent 19th century artists like Thomas Cole and Frederick Church were drawn to the unusual scenery of the area as early as the 1840's.
St. Mary's-By-The-Sea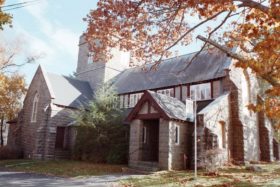 [20 South Shore Road, Northeast Harbor] St. Mary's-by-the-Sea is a cruciform shape stone chapel built in 1902 from designs by the English born Boston architect Henry Vaughan. It is one of a group of architecturally distinguished chapels in Maine's coastal resorts whose construction was initiated in large part by summer residents.
In 1882, the Right Reverend William Croswell Doane, Bishop of Albany, consecrated the little chapel of St. Mary's-by-the-Sea, the first church in Northeast Harbor. Built of timber, the exterior was covered with spruce and hemlock slabs simply oiled to bring out their rich color.
By the summer of 1899, the often-enlarged slab church had once again become too small to accommodate the swelling summer congregation. In addition, the chapel was felt to be too uncomfortable for winter services. An entirely new, much larger, stone chapel was planned. The chancel, with a vestry and organ loft, would be built first. The nave and transept would be added after more money could be raised through subscription. After some financial and technical difficulties, the chapel opened in 1902.
Union Church of Northeast Harbor, 21 Summit Road