| Year | Population |
| --- | --- |
| 1970 | 473 |
| 1980 | 598 |
| 1990 | 645 |
| 2000 | 684 |
| 2010 | 606 |
Geographic Data
N. Latitude
43:49:23
W. Latitude
69:40:02
Maine House
District 90
Maine Senate
District 13
Congress
District 1
Area sq. mi.
(total) 13.9
Area sq. mi.
(land) 5.4
Population/sq.mi.
(land) 127.0
County: Lincoln

Total=land+water; Land=land only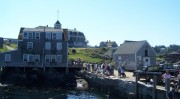 [mon-HE-guhn] is an island plantation in Lincoln County, incorporated on September 4, 1839 deriving its name from the Maliseet: "the island" or "the out-to-sea island." George Weymouth in 1605 claimed the island for King James I of England and named it St. George. Manana Island is adjacent and forms Monhegan Harbor between the two islands.
Attractive to artists since the late 19th century, its first draw was fish. After early European explorers passed by (Cabot in 1497, Weymouth and Champlain in 1605), the abundance of fish soon became apparent.
John Smith's crew in 1614 traded with the Indians on the island, cultivated the land, and enjoyed the fruits of the sea. Soon it became the focal point for European fishing fleets, then a trading and shipbuilding center.
To this day, fishing (especially for lobster) remains a rewarding occupation for the island's residents. This, mixed with tourism and semi-resident artists, keeps the hearty population going.
The first good day after December 1st, when every local fisherman is ready, Trap Day marks the beginning of the six-month lobster season around the island. The motto: "No one goes until everyone goes." Neighbors help neighbors with repairs, gear and loading. Even an illness for one means respectful waiting for all.
Monhegan Light was commissioned on July 2, 1824. The light keeper also alerted the Fog Signal keeper on Manana Island when a fog bank was spotted rolling in. Henry David Thoreau passed by in 1853 on his way to the Maine woods.
Botanists have identified over six hundred varieties of wildflowers on the island. In summer, hundreds of butterflies visit many of these colorful blooms. The Cathedral Woods, in the northeastern section, is a peaceful refuge of tall spruce and mossy boulders. Hiking trails to the woods and along the rugged shore offer great rewards to those who choose to follow them.
---
---
Form of Government: Assessors-Annual Meeting.
Additional resources
Ashley, Alta. Hark to the Bell Buoys' Song: Letters from Monhegan Island 1976 to 1985. Damariscotta, Me. Grey Gull Publications. c1990.
Bill Caldwell, Islands of Maine.
Curtis, Jane. Monhegan, The Artists' Island. Camden, Me. Down East Books. 1995.
Faller, Ruth Grant. Monhegan: Her Houses and Her People 1780-1970. Melrose, MA. Mainstay Publications. c1995 (Damariscotta, Maine : Lincoln County Publishing Co.).
Island Voices: Poetry of Monhegan: Selected Poems from the Island Visions/Island Voices Shows, Monhegan Island, Maine. Monhegan Island, Maine. Stone Island Press. 2001.
Jenney, Charles Francis. The Fortunate Island of Monhegan: A Historical Monograph. New Bedford, Mass. Reynolds Printing. 1927.
*Maine. Historic Preservation Commission. Augusta, Me.   Text and more photos from National Register of Historic Places: http://pdfhost.focus.nps.gov/docs/nrhp/text/xxxxxxxx.PDF and http://pdfhost.focus.nps.gov/docs/nrhp/photos/xxxxxxxx.PDF
The Influence: 83003655.PDF
Monhegan Island Lighthouse and Quarters: 80000239.PDF
Kent, Rockwell, Cottage and Studio: 92000278.PDF
Mersfelder, Ade. Monhegan Island, Maine: Yesterday and Today. 19??
Proper, Ida Sedgwick. Monhegan, The Cradle of New England. Portland Me. The Southworth Press. 1930.
Simpson, Dorothy. The Maine Islands in Story and Legend.
National Register of Historic Places – Listings
Influence, The
"The Influence" is by far the largest and most impressive residence on Monhegan Island, as well as one of the oldest. It was built by Henry Trefethern whose father, also Henry, was the last individual to own the island outright. The younger Henry was a man of great influence hence the name given the house by the islanders shortly after it was built.
The elder Trefthern, a cabinetmaker from Kittery, purchased the island in 1777 from the Bickford family of Beverly, Massachusetts. When he died in 1807, his property was divided among his heirs and ownership of the island was quickly diversified. Shortly after his son built the house in 1826, he made it into a double house, his son George occupying one half. Sited as it is on a high knoll overlooking the harbor of this rugged offshore island, "The Influence" is an impressive landmark overlooking the harbor and nearby Manana Island.*
Manana Island Fog Signal Station
The Manana Island Fog Signal Station is significant for its association with federal governmental efforts to provide an integrated system of navigational aids and to provide for safe maritime transportation along the coast of the United States. The northeast coast was a major transportation corridor for commercial fisheries from the early 19th through 20th centuries. Manana Island Station is one of the few fog signal stations existing in the United States that is still operational and not a part of a light station. From 1855 until 1876 Manana Island fog signal station was operationally a part of Monhegan Light Station. In 1876 it was designated as a separate station.
The first fog signal used at the station was a fog bell that operated from 1855 until replaced with a steam operated first-class Daboll trumpet in 1870. The fog bell was retained as an emergency backup. In 1872 the trumpet was replaced with a steam operated fog whistle. The whistle was not powerful enough for the site and was replaced in 1877 by a new first-class Daboll trumpet. The signal consumed approximately 16 tons of coal in 1894. The station used coal until 1902 when oil engines were installed still using a first-class Daboll trumpet. In 1912, the first-class Daboll trumpet was replaced with a first-class air siren.
The present fog signal (in 2002) was a diaphone horn. The last civilian keeper was Henley C. Day who retired in 1956. Coast Guard personnel staffed the station until automated in about 1986.*
Monhegan Island Lighthouse and Quarters
Probably familiar to Basque,Breton, Spanish and Portuguese fisherman in the late 15th century, Monhegan Island's location was recorded by John Cabot in 1498. One early visitor aptly described this lonely outpost as "a great island that was backed like a whale". The colorful and imaginative Captain John Smith landed on Monhegan in 1614. His account of island's attractions and its anchorage led to settlement as early as 1625. A population, based largely on fishing, has been here since 1674.
The population more than doubles in summer with the arrival of cottager owning summer residents. Rich and unusual flora has been carefully guarded by control of the wild areas so that the natural beauty is largely unspoiled. By act of Congress in 1822, $3,000 was appropriated to establish a lighthouse and keeper's house on Monhegan. The first keeper, Thomas B. Seavey, and his family occupied the quarters and lit the light on July 2, 1824.
In 1959 the kerosene fired Welsbach mantle and its weight-powered rotary mechanism were replaced by a generator operated and regulated by remote control from the fog signal station on nearby Manana Island. The keeper's house and outbuildings were declared surplus shortly thereafter. By public auction on June 1, 1962, they were acquired by Monhegan Associates, Inc., an organization formed in 1954 "to preserve for posterity the natural wild beauty, biotic communities, and desirable natural, artificial, and historic features of the so-called 'wild-lands' portions of Monhegan Island, Maine, and its environs, as well as the simple, friendly way of life that has existed on Monhegan as a whole".*
Kent, Rockwell, Cottage and Studio
[off north side of Horn Hill Road, Monhegan Island]  The Cottage and Studio, built in 1906 and 1910 respectively, rest on a hill overlooking the village, echoing and offsetting the forms and lines of each other. Designed and built by Rockwell Kent during his early days as an artist on the island, the two structures reflect the simplicity of Monhegan's architecture, and that of Maine and New England in general. (Jeffrey Harris cottage photo)
Of all of Kent's journeys around the world, and his many residences scattered throughout the northeastern United States, this pair of buildings represents his most significant retreat still standing. They are where some of his most famous paintings were created, reminders of a man who rose to national prominence through his painting, book illustration, writing, and social activism. They are also part of the artist's summer colony, long established on the island. One of his paintings is Quiet Pond of the Monhegan Ice Pond, once the island's only source of refrigeration.
In 1905 at 23, Kent was studying at the New York School of Art under the tutelage of Robert Henri, one of the most important painters of the day. Henri recounted to Kent the wonder and intrigue of the island of Monhegan, which Henri had visited briefly during a recent summer. Kent's interest was fired, and he set off for the island in the summer of that year and stayed on until December, painting during the summer and working as a laborer in winter. He returned in April of 1906, bought a piece of land on Horn's Hill, and drew plans for a small house to be built by a local carpenter. After a long delay, Kent decided to build it himself, aided by his previous training in architecture as a student at Columbia and his experience as a draftsman. As he wrote in his autobiography, the original cottage was "as nearly New England in character as a young New York trained architect of that period could make it."*