| Year | Population |
| --- | --- |
| 1970 | 473 |
| 1980 | 598 |
| 1990 | 645 |
| 2000 | 684 |
| 2010 | 606 |
Geographic Data
N. Latitude
43:49:23
W. Latitude
69:40:02
Maine House
District 90
Maine Senate
District 13
Congress
District 1
Area sq. mi.
(total) 13.9
Area sq. mi.
(land) 5.4
Population/sq.mi.
(land) 127.0
County: Lincoln

Total=land+water; Land=land only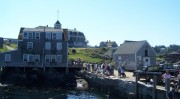 [mon-HE-guhn] is an island plantation in Lincoln County, incorporated on September 4, 1839 deriving its name from the Maliseet: "the island" or "the out-to-sea island." George Weymouth in 1605 claimed the island for King James I of England and named it St. George. Manana Island is adjacent and forms Monhegan Harbor between the two islands.
Attractive to artists since the late 19th century, its first draw was fish. After early European explorers passed by (Cabot in 1497, Weymouth and Champlain in 1605), the abundance of fish soon became apparent.
John Smith's crew in 1614 traded with the Indians on the island, cultivated the land, and enjoyed the fruits of the sea. Soon it became the focal point for European fishing fleets, then a trading and shipbuilding center.
To this day, fishing (especially for lobster) remains a rewarding occupation for the island's residents. This, mixed with tourism and semi-resident artists, keeps the hearty population going.
The first good day after December 1st, when every local fisherman is ready, Trap Day marks the beginning of the six-month lobster season around the island. The motto: "No one goes until everyone goes." Neighbors help neighbors with repairs, gear and loading. Even an illness for one means respectful waiting for all.
Monhegan Light was commissioned on July 2, 1824. The light keeper also alerted the Fog Signal keeper on Manana Island when a fog bank was spotted rolling in. Henry David Thoreau passed by in 1853 on his way to the Maine woods.
Botanists have identified over six hundred varieties of wildflowers on the island. In summer, hundreds of butterflies visit many of these colorful blooms. The Cathedral Woods, in the northeastern section, is a peaceful refuge of tall spruce and mossy boulders. Hiking trails to the woods and along the rugged shore offer great rewards to those who choose to follow them.
---
---
Form of Government: Assessors-Annual Meeting.
Additional resources
Ashley, Alta. Hark to the Bell Buoys' Song: Letters from Monhegan Island 1976 to 1985. Damariscotta, Me. Grey Gull Publications. c1990.
Bill Caldwell, Islands of Maine.
Curtis, Jane. Monhegan, The Artists' Island. Camden, Me. Down East Books. 1995.
Faller, Ruth Grant. Monhegan: Her Houses and Her People 1780-1970. Melrose, MA. Mainstay Publications. c1995 (Damariscotta, Maine : Lincoln County Publishing Co.).
Island Voices: Poetry of Monhegan: Selected Poems from the Island Visions/Island Voices Shows, Monhegan Island, Maine. Monhegan Island, Maine. Stone Island Press. 2001.
Jenney, Charles Francis. The Fortunate Island of Monhegan: A Historical Monograph. New Bedford, Mass. Reynolds Printing. 1927.
Mersfelder, Ade. Monhegan Island, Maine: Yesterday and Today. 19??
Proper, Ida Sedgwick. Monhegan, The Cradle of New England. Portland Me. The Southworth Press. 1930.
Simpson, Dorothy. The Maine Islands in Story and Legend.
National Register of Historic Places – Listings
Influence, The, Monhegan Island
Manana Island Fog Signal Station, Manana Island
Monhegan Island Lighthouse and Quarters, Monhegan Island
Kent, Rockwell, Cottage and Studio, off north side of Horn Hill Road, Monhegan Island