| Year | Population |
| --- | --- |
| 1970 | 2,572 |
| 1980 | 2,624 |
| 1990 | 2,600 |
| 2000 | 2,383 |
| 2010 | 2,340 |
Geographic Data
N. Latitude
45:15:27
W. Latitude
68:59:02
Maine House
District 120
Maine Senate
District 4
Congress
District 2
Area sq. mi.
(total) 33.6
Area sq. mi.
(land) 32.8
Population/sq.mi.
(land) 71.3
County: Piscataquis

Total=land+water; Land=land only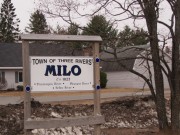 [MY-low] is a town in Piscataquis County, settled in 1802 and incorporated on January 21, 1823 from the township T3 R7 NWP.
From the 2005 Comprehensive Plan:
The first man to make a permanent settlement and to bring his family here was Benjamin Sargent. He came from Methuen, Massachusetts with his son Theophilus. Together they proceeded up the Penobscot in a boat that Mr. Sargent had secured in Bangor. At the mouth of the Piscataquis River they turned their boat up that stream and landed a little above what is presently the section of Milo called Derby. Here, on May 2, 1802, they began the first permanent settlement in the town of Milo.
It was named for the famed Greek athlete Milo of Crotona by the son of the first settler, Theophilus Sargent, who survived his first winter alone as a 14-year old with the help of friendly Indians.
In 1823 Winborn Swett built a dam across Traftons Falls, then built the first sawmill. A carding and fulling mill, and a gristmill followed.
In 1901 and 1902 the American Thread Company, a spool manufacturer, erected buildings on West Main Street. Another sawmill produced spool bars and box boards. Employing over 200 people, the industry raised the value of real estate substantially.
The Milo Textile Company followed in 1922, producing high-grade machine yarns. Other industries included a shovel handle factory, a manufacturer of wooden bowls, a clover mill, a hand rake factory, a cheese factory, and a creamery.
Milo village lies just north of the junction of the Sebec and Piscataquis Rivers. The Pleasant River flows south through the town from Brownville to join the Piscataquis. The last furnishes the power at Milo Village for grist, saw, shingle and spool-block mills, and a small woolen-factory. . . . Milo maintains a flourishing cheese factory. (Varney)
Entering Milo from Brownville on Route 11, one passes through a residential area and a short commercial strip before reaching the village and the Sebec River.
Derby, on the east side of the Sebec River, is a service area for the Bangor and Aroostook Railroad.
The 1923 Milo Town Hall housed the municipal offices, the fire department, the police department, and the recreation department in 2005.
Form of Government: Town Meeting-Select Board-Manager.
Additional resources
Carey, Russell. 3,750,000,000 Perfect Wooden Spools. Orono, Me. 1994. (Thesis (M.S.) in Liberal Studies–University of Maine, 1994.) [University of Maine, Raymond H. Fogler Library, Special Collections]
Cowan, Abbie Evelyn. Diary, 1908. [University of Maine, Raymond H. Fogler Library, Special Collections]
Diaries, 1921-1950. (Cataloger Note: During August of 1921 she worked in Pineo's store in Milo and then in September taught at the Lake View School in Lake View Plantation. . . . Two diaries of a woman from Milo, Maine, covering the years 1921 and 1946 to 1950. Included in the entries are observations on the weather, what restaurants she ate at in Denver, her daily activities, what books she read, the topics of Sunday sermons, who came to visit. Entries for 1946 to 1950 are short, and many days lack entries.) [University of Maine, Raymond H. Fogler Library, Special Collections]
Milo [moving image recording]: a Small Town History. United States?] Flying Fish Video Productions. c2004. (Cataloger Note: History of Milo, a small town in Maine. Contents – Milo's school system — Military — KKK — Sports — People of Milo — 1923 Flood — Railroad — Chic Theatre — American Thread Co. — Devils' Cave — Milo's creed — Video of 1948 parade — Early picture of Milo — Video of 1987 Flood — Song " The good old days") [University of Maine, Raymond H. Fogler Library, Special Collections; Maine State Library]
Comprehensive Planning Committee. Town of  Milo Comprehensive Plan. Town of Milo. 2005.
Sawtell, William R. Schoodic Lake Revisited. Greenville, Me. Moosehead Communications. c2008.
Sawtell, William R. The Wall: A Milo Man's Experience in Vietnam and Beyond. Greenville, Me. Moosehead Communications. c2003.
Treworgy, Lloyd J. The Milo Story. Milo, Me. The Town of Milo. 1987-1988. [University of Maine, Raymond H. Fogler Library, Special Collections; Maine State Library]
Varney, George J. A Gazetteer of the State of Maine. 1886. p. 364.
National Register of Historic Places – Listings
Brockway Site (ME 90.3), Address Restricted
Free Will Baptist Church (Former), Junction of High Street and Highland Avenue
Milo Public Library, 4 Pleasant Street
Sebec–Piscataquis River Confluence Prehistoric Archeological District, Address Restricted