| Year | Population |
| --- | --- |
| 1970 | 2,572 |
| 1980 | 2,624 |
| 1990 | 2,600 |
| 2000 | 2,383 |
| 2010 | 2,340 |
Geographic Data
N. Latitude
45:15:27
W. Latitude
68:59:02
Maine House
District 120
Maine Senate
District 4
Congress
District 2
Area sq. mi.
(total) 33.6
Area sq. mi.
(land) 32.8
Population/sq.mi.
(land) 71.3
County: Piscataquis

Total=land+water; Land=land only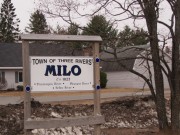 [MY-low] is a town in Piscataquis County, settled in 1802 and incorporated on January 21, 1823 from the township T3 R7 NWP.
From the 2005 Comprehensive Plan:
The first man to make a permanent settlement and to bring his family here was Benjamin Sargent. He came from Methuen, Massachusetts with his son Theophilus. Together they proceeded up the Penobscot in a boat that Mr. Sargent had secured in Bangor. At the mouth of the Piscataquis River they turned their boat up that stream and landed a little above what is presently the section of Milo called Derby. Here, on May 2, 1802, they began the first permanent settlement in the town of Milo.
Milo was named for the famed Greek athlete Milo of Crotona by the son of the first settler, Theophilus Sargent, who survived his first winter alone as a 14-year old with the help of friendly Indians.
In 1823 Winborn Swett built a dam across Traftons Falls, then built the first sawmill. A carding and fulling mill, and a gristmill followed.
In 1901 and 1902 the American Thread Company, a spool manufacturer, erected buildings on West Main Street. Another sawmill produced spool bars and box boards. Employing over 200 people, the industry raised the value of real estate substantially.
The Milo Textile Company followed in 1922, producing high-grade machine yarns. Other firms included a shovel handle factory, a manufacturer of wooden bowls, a clover mill, a hand rake factory, a cheese factory, and a creamery.
Milo village lies just north of the junction of the Sebec and Piscataquis Rivers. The Pleasant River flows south through the town from Brownville to join the Piscataquis. The last furnishes the power at Milo Village for grist, saw, shingle and spool-block mills, and a small woolen-factory. . . . Milo maintains a flourishing cheese factory. (Varney)
Entering Milo from Brownville on Route 11, one passes through a residential area and a short commercial strip before reaching the village and the Sebec River.
Derby, on the east side of the Sebec River, is a service area for the Bangor and Aroostook Railroad.
The 1923 Milo Town Hall housed the municipal offices, the fire department, the police department, and the recreation department in 2005.
Form of Government: Town Meeting-Select Board-Manager.
Additional resources
Carey, Russell. 3,750,000,000 Perfect Wooden Spools. Orono, Me. 1994. (Thesis (M.S.) in Liberal Studies–University of Maine, 1994.) [University of Maine, Raymond H. Fogler Library, Special Collections]
Cowan, Abbie Evelyn. Diary, 1908. [University of Maine, Raymond H. Fogler Library, Special Collections]
Diaries, 1921-1950. (Cataloger Note: During August of 1921 she worked in Pineo's store in Milo and then in September taught at the Lake View School in Lake View Plantation. . . . Two diaries of a woman from Milo, Maine, covering the years 1921 and 1946 to 1950. Included in the entries are observations on the weather, what restaurants she ate at in Denver, her daily activities, what books she read, the topics of Sunday sermons, who came to visit. Entries for 1946 to 1950 are short, and many days lack entries.) [University of Maine, Raymond H. Fogler Library, Special Collections]
Milo [moving image recording]: a Small Town History. United States?] Flying Fish Video Productions. c2004. (Cataloger Note: History of Milo, a small town in Maine. Contents – Milo's school system — Military — KKK — Sports — People of Milo — 1923 Flood — Railroad — Chic Theatre — American Thread Co. — Devils' Cave — Milo's creed — Video of 1948 parade — Early picture of Milo — Video of 1987 Flood — Song " The good old days") [University of Maine, Raymond H. Fogler Library, Special Collections; Maine State Library]
Comprehensive Planning Committee. Town of  Milo Comprehensive Plan. Town of Milo. 2005.
Sawtell, William R. Schoodic Lake Revisited. Greenville, Me. Moosehead Communications. c2008.
Sawtell, William R. The Wall: A Milo Man's Experience in Vietnam and Beyond. Greenville, Me. Moosehead Communications. c2003.
Treworgy, Lloyd J. The Milo Story. Milo, Me. The Town of Milo. 1987-1988. [University of Maine, Raymond H. Fogler Library, Special Collections; Maine State Library]
Varney, George J. A Gazetteer of the State of Maine. 1886. p. 364.
National Register of Historic Places – Listings
Brockway Site (ME 90.3), Address Restricted
Free Will Baptist Church (Former)
[Junction of High Street and Highland Avenue] Built in 1853 and remodeled about 1890, the (former) Free Will Baptist Church is the oldest religious building in Milo. The modest wood frame church was privately built by William Owen, who partially recovered his expenses through the sale of pews. Milo's first organized religious denomination was the Free Will Baptist Society, formed in 1827. In 1840, a separate Baptist Church was founded, and both groups considered building a common meeting house. In 1850, 27 years after the town's incorporation, Milo was a town of nearly a thousand inhabitants but it had no church in 1850 and there was no prospect of one. [Allen Monroe photo]
Mr. Owen, a tanner and farmer by trade, simply went ahead and built his church, which he saw the community so greatly needed, and he took a chance on being reimbursed in part or in whole by what his fellow citizens would do after it had been erected. The lot on the hill, reserved as a church site when the town was incorporated, was a village common and no more. Mr. Owen was a Baptist, and a Baptist preacher was the first to be employed by the town. Later, Deacon Joe Blaisdell came to Milo and was chiefly instrumental in organizing the Free Will Baptist society, which shared the privileges of the church building for a number of years. The Baptist minister preached one Sunday and the Free Baptist the next.
In 1888 the Baptist congregation built their own church on Pleasant Street. The two congregations remained separate until 1913 when they formed the United Baptist Church, at which time the old church building was vacated. The old church was obtained by the Christian Scientists, who sold it in 1953 to St. Joseph's Episcopal Church. In 1996, the building was purchased by the Milo Historical Society which uses it for a museum of local history.*
Milo Public Library
[4 Pleasant Street] Built in 1922, the Milo Public Library is one of eighteen in Maine whose construction was made possible by a grant from Andrew Carnegie. It is also a library whose plan was drawn directly from James Bertram's Notes on Library Buildings (1910). In 1902 members of the W.C.T.U. obtained a "traveling library" from the Maine State Library. The collection was kept in a private home until 1909 when it was transferred to a room in the Odd Fellow's Building. The newly formed W.C.T.U. Public Library Association supported the library. In 1921 it received a $10,000 grant commitment from the Carnegie Corporation to erect a building. The town guaranteed a lot and $1,000 in yearly maintenance and support, a condition of the Carnegie grant.
On July 27, 1921, the Milo Free Public Library Corporation was organized and a building committee assigned the task of securing a suitable design. The Carnegie Corporation had funded a library in Hartington, Nebraska at the same amount. It is not clear whether those plans were followed literally, but the exteriors are remarkably alike, implying that local architect Paterson may have only slightly modified the Hartington design. In any case, construction began in May, 1922 and the library opened on January 6, 1923.*
Sebec–Piscataquis River Confluence Prehistoric Archeological District, Address Restricted