[muh-TIN-ih-kuss] is an island plantation, organized on October 22, 1840, in Knox County in the Gulf of Maine 20 miles south of Rockland from which it is accessible by ferry.
Its name, says Lawrence Bond, means "far off island," from the Abenaki "metin" meaning "cut off, separate" and "nic" meaning island.
French fisherman used the island as early as the fifteenth century, but John Josselyn was the first to describe it in writing when he visited it in 1671, saying, according to Simpson, that the island was "well supplied with homes, cattle, arable land, and marshes."
In 1728 William Vaughn of Damariscotta established a fishing fleet on the island. Though his fleet had left by 1757, that year witnessed an Indian raid on the sole household remaining.
The father, Ebeneezer Hall, was killed; his wife and daughters captured; but his fourteen year old son escaped and was later rescued.
According to one observer, this 814 acre "'unspoiled' island out in the Atlantic engenders romanticism." It also demands work.
Currently a fishing community, the island is about two and a half miles long and a mile wide.
On the nearby 440-acre Ragged Island south of Matinicus is the unorganized township of Criehaven. Robert Crie of Matinicus bought the island in 1848 and built a house that was still standing at the end of the twentieth century. The village consists of several houses and wharfs that mark the primary livelihood: fishing.
Matinicus Rock and its light station is three miles south of Ragged Island in Criehaven Township. Abbie Burgess was a young lighthouse keeper here in the 19th century.
---
---
National Register of Historic Places – Listings
Matinicus Rock Light Station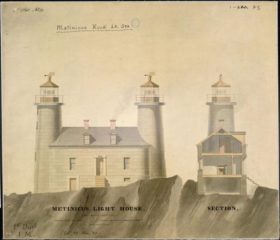 [Matinicus Rock] On a lonely island south of Matinicus Island, the Light Station(1848 sketch at left)  was established in 1827 and rebuilt in 1847 and 1857. It was originally classified as a primary seacoast light but its designation had changed to secondary seacoast light by 1886. It is important as a guide along the shipping lanes off the southern entrance to Penobscot Bay.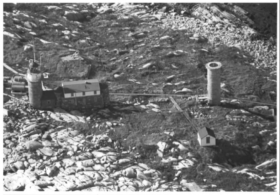 Matinicus Rock Light Station was the fourteenth established along the Maine coast. When built it was the most distant light from the mainland and the first to have a pair of towers. These were located at the ends of the original rectangular rubble stone keeper's house. An 1847 rebuilding produced the existing granite dwelling and twin towers, again at each end of the house. Ten years later new towers were designed and placed 180 feet apart.
A steam fog signal was established in 1869 making it one of the few in Maine at the time. After an 1857 reconstruction the complex was continually enlarged and transformed through the addition and removal of a host of ancillary buildings such as dwellings, rain sheds and cisterns. Beginning in the 1950s, many of the structures were demolished as new aids to navigation made them obsolete. In 1983 the station was automated.* [Kirk Mohney photo 1987]
See more Lighthouses.
Form of Government: Assessors-Annual Meeting.
Additional resources
Bond, C. Lawrence. Native Names of New England Towns and Villages.
Isaacson, Dorris A. Maine: A Guide Downeast.
*Maine. Historic Preservation Commission. Augusta, Me.   More text and photos from National Register of Historic Places: http://pdfhost.focus.nps.gov/docs/nrhp/text/88000149.PDF and http://pdfhost.focus.nps.gov/docs/nrhp/photos/88000149.PDF
The Maine Island Trail 2000: Stewardship Handbook & Guidebook.
National Archives. "Matinicus Lt. Sta." Photo ID=Matinicus island light 1848 NARA.
Simpson, Dorothy. The Maine Islands in Story and Legend.