| Year | Population |
| --- | --- |
| 1970 | 1,875 |
| 1980 | 1,892 |
| 1990 | 1,760 |
| 2000 | 1,480 |
| 2010 | 1,493 |
Geographic Data
N. Latitude
46:33:35
W. Latitude
67:51:07
Maine House
District 146
Maine Senate
District 2
Congress
District 2
Area sq. mi.
(total) 39.5
Area sq. mi.
(land) 38.9
Population/sq.mi.
(land) 42.5
County: Aroostook

Total=land+water; Land=land only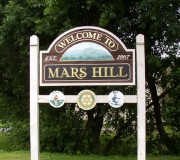 [marz HILL] is a town in Aroostook County, incorporated on February 21, 1867 from Mars Hill Plantation.
The area was named by a British Army chaplain in 1790 who held a service on the Hill and likened it to the hill in Athens dedicated to Mars, where "the Apostle Paul declared the unknown God to the Athenians."
Later the British claimed the Hill defined the boundary between the United States and Canada.
The Webster-Ashburton Treaty clarified the issue, placing the border much further north and the Hill, overlooking the St. John River valley, safely within the U.S.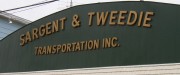 The first settlers came from nearby New Brunswick in 1844 to participate in the potato growing and shipping economy. Both growing and shipping still dominate the local landscape, as may be seen by the signs within a few feet of each other on the main street.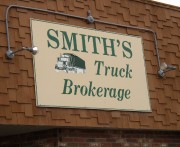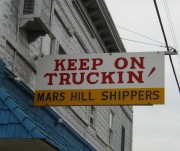 As is the case with many rural Maine towns, Mars Hill is a community of pickup trucks as an essential tool of the farm economy. Installation of wind turbines has benefited the town budget.
The town shares a main street, U.S. Route 1, with the neighboring town of Blaine.
---
Mars Hill is located on the Prestile Stream where U.S. Route 1 forks to Presque Isle and Route 1A leads to Fort Fairfield. A dam on the stream creates a pleasant pond in the downtown area.
Established in the 1960's, the Big Rock Ski Area was purchased in 2000 by the Maine Winter Sports Center through grants available from the Portland-based Libra Foundation, which has also supported the creation of a cross-country ski and biathlon complex in the towns of Ft. Kent and Presque Isle.
Form of Government: Council-Manager
Additional resources
Centennial Committee (Mars Hill, Me.). Mars Hill, Maine Centennial, 1867-1967. Mars Hill, Me.? The Committee. 1967.
Central Aroostook High School. Maine. Historical Survey Project of the Town of Mars Hill from 1867-1976: Survey Research. By U.S. history students at Central Aroostook High School; project supervisor Mr. Roger Shaw. 1977?. [Maine State Library]
"I remember when in Mars Hill, Maine": golden oldies / Mars Hill Rotary Club. Mars Hill, Me. Mars Hill Rotary Club. 2009.
Snow, Seth L. History of Mars Hill. Mars Hill. Me. 1921?
Tweedie, Gladys Sylvester. Mars Hill: Typical Aroostook Town. Presque Isle, Me. Northern Printers. c1952.