is a college located in Castine created primarily to educate and train students for service in the U.S. Merchant Marine. Former Governor Kenneth M. Curtis, once its President, is a distinguished graduate.
According to the statute establishing Maine Merchant Marine Day each May 22nd,
"The purpose of commemorating the United States Merchant Marines is to recognize the courage and heroism of merchant mariners who have served the nation in times of national emergencies. Merchant mariners have valiantly served the nation during periods of international conflict by serving as combatant crews on Letters of Marque during the Revolutionary War and the War of 1812 and on armed vessels during the Civil War. In World War I and World War II, they served on ships equipped with naval armament while transporting supplies and troops between the home front and war fronts. Thousands of merchant mariners have been killed, captured or injured in the defense of the nation." (1 MRSA Chapter 5)
Maine has been known worldwide for the skills of her shipbuilders and sea captains, and for leadership in every phase of maritime affairs. It was in Maine that the first English ship built in America, the Virginia, was launched in 1607 from the Popham Colony, and, in the 21st century, Mainers continue to build and sail vessels ranging from custom yachts to mighty warships. Windjammers, fishing fleets, and defenders of the America's Cup have all been part of Maine's seafaring tradition.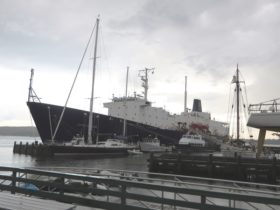 Proposals for an institution devoted to nautical training began in Maine in the 1930s. Educational and civic leaders throughout the state prompted the creation of Maine Maritime Academy the Maine Legislature on March 21, 1941.
The original class of twenty-nine students reported on October 9th of that year to Rear Admiral Douglas Dismukes, a veteran of World War I who came out of retirement to head the fledgling school. Classes met on the campus of the Eastern State Normal School, with students lodged at Castine's Pentagoet Inn. The Mattie, a coastal schooner out of Camden, served as the first training ship.
World War II required a rapid build-up of the U.S. Merchant Marine, with a critical need for new deck and engineering officers. The Academy met that challenge. By war's end, Maine Maritime had graduated 384 men who served at sea during the war in every theater of operations.
The World War II memorial reads "The seas washed over them and they were gone. 6,895 a Merchant Mariners, 60 from the State of Maine, and 1,810 members of the U.S. Naval Armed Guard lost their lives in WW II. We shall not forget them."
In the post-war era, the program was expanded from the original concept of a three-year course leading to a bachelor of science degree. In the 1960's and 1970's, Rear Admiral Edward Rodgers led a multi-million dollar development program, culminating in full membership in the New England Association of Schools and Colleges.
In recent years, the college has grown steadily and now offers three degrees, ten undergraduate and graduate academic majors, two lifestyles, new training labs and expanded student services.
In 1976, Academy senior Deborah Doane Dempsey became the first women to graduate from any maritime academy in the United States. Also she was the first woman to receive a merchant marine unlimited masters license, and she would be the first woman to sail as a master. In 2006 the Academy inducted her as a member of its Wall of Honor for distinguished graduates.
Additional resources
Aldrich, James M. Fair Winds, Stormy Seas: 50 Years of Maine Maritime Academy. Stonington, Me. Penobscot Books. c1991.
Hopkins, Bryant L. The School Back Then, the Ocean Back Then, and the War: An Engineer's Log. Publisher Castine, Me. Nutting Memorial Library, Maine Maritime Academy. 2007.
Jaffee, Walter W. Heritage of the Sea: The Training Ships of Maine Maritime Academy. Palo Alto, CA. Glenncannon Press. 2000, c1999.
Jordan, Howard Clinton. Maine Maritime Academy: The Formative Years, 1941-1966. Castine, Me. Maine Maritime Academy. 1975.
Maine. Legislature. Joint Standing Committee on Audit and Program Review. Review of Maine Maritime Academy. Augusta, Me. The Committee. 1988. (Maine State Law and Legislative Reference Library).
Maine Maritime Academy. http://www.mainemaritime.edu/ (accessed May 27, 2008). (Source of academy history above.)
Maine. Risk Management Division. Photographs of State Buildings, 1946-2004. Augusta, Me. Maine State Archives. (photos of Maine Maritime Academy).
Miller, Kevin. "Overlooked for decades, WWII merchant mariners honored as veterans at MMA." Bangor Daily News. November 11, 2011. http://bangordailynews.com/2011/11/11/news/hancock/overlooked-for-decades-wwii-merchant-mariners-honored-as-veterans-at-mma/ (accessed January 14, 2012)