| Year | Population |
| --- | --- |
| 1970 | 107 |
| 1980 | 178 |
| 1990 | 1782 |
| 2000 | 173 |
| 2010 | n.a. |
Geographic Data
N. Latitude
44:53:51
W. Latitude
70:25:59
Maine House
District 92
Maine Senate
District 18
Congress
District 2
Area sq. mi.
(total) 41.8
Area sq. mi.
(land) 41.7
Population/sq.mi. (2000)
(land) 52.9
County: Franklin

Total=land+water; Land=land only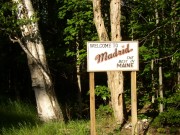 [MAD-rid] is an unorganized township in Franklin County, settled in 1807 and incorporated as a town on January 29, 1836 from township T1 R1 WBKP.
It gave up its municipal status on July 1, 2000 since it was unable to sustain the expenses associated with being an organized town.
Since the U.S. Census does not report population counts for townships, the 2010 numbers are unavailable.
According to George J. Varney's Gazetteer of the State of Maine, published in 1886,
The west branch of Sandy River crosses the south-west part, and Perkins Stream, forming the eastern branch, comes down through the south-east part of the town, though having its origin in the north-west and at the north. The Sandy River Falls are an attraction to all lovers of the beautiful.
There are two streams only a few rods apart, and each has a fine cataract. The town is quite uneven, and in the northern portion is quite mountainous. The principal elevations are Saddleback and Spruce Scrabble mountains and Potato Hill. The principal business centre is on Sandy River, at the south-western part of the town. The principal manufactures are lumber and carriages.
Maine Route 4 follows the Sandy River in the southwest portion of the township, where the main village lies about twenty-six miles northwest of Farmington.
Madrid's physical geography includes two modest mountains, Potato Hill (2,561 ft.) and Mecham Hill (2,090 ft.), and Beal Pond, also known as Trout Pond.
The Appalachian Trail cuts the northwest corner of the township, passing over The Horn, just northeast of Saddleback Mountain, then Saddle Back, Jr. as it exits north to Redington Township.
Appalachian Trail photos courtesy of Brady G. Williams 2007.
---
The Phillips Phonograph, a local newspaper, in a promotional mood, drew this picture of the community in 1880:
Our pretty little village is situated on the Sandy River, six miles from the Railroad Depot in Phillips, on the main stage route from Phillips to Rangeley. We have two house carpenters, two carriage makers, one blacksmith, one store, mills, a hotel and a nice new schoolhouse (emphasis added). Our water power is only partially improved, as we have two good unoccupied mill privileges within a half mile of the village. Here would be a good chance for some enterprising man to start a spool and box factory, for our hills are covered with white birch and poplar, enough to keep a factory of this kind running years. The plumbago mine is less than a quarter of a mile from the village and turns out the pure article. We have some pretty mountain scenery and beautiful cascades and waterfalls, good fishing, making it a pleasant place for the tourist to stop a few days with us.*
National Register of Historic Places – Listings
Madrid Village Schoolhouse
[Reeds Mills Road west side, .05 miles north of junction with Maine Route 4] The Madrid Village Schoolhouse is a one-story, wooden frame building which is sheathed in weatherboards and rests on a rubble stone foundation. It has a basement level with exposed windows on a slope under the first story. A corrugated metal roof is topped by a short bell tower at the front end.
In the mid-19th century, Madrid had seven school districts with a total of twelve schools. Apparently built in 1872, this School is the last remaining relatively unaltered one-room school in this rural Franklin County community. It is one of only a handful of locally important historic buildings.* [See photo above.]
Additional resources
Madrid (Me.) Annual Report of the Municipal Officers of the Town of Madrid. Madrid, Me. The Town. [University of Maine, Fogler Library, Special Collections: 1935/36; 1937-40; 1942-50; 1951-99. Maine State Library: 1919-1998.
Madrid (Me.) Town of Madrid (Me.) records, 1777-2000 June 30. Maine State Archives. Augusta, Me.
*Maine. Historic Preservation Commission. Augusta, Me.   Text and other photos from National Register of Historic Places: http://pdfhost.focus.nps.gov/docs/nrhp/text/80000221.PDF and http://pdfhost.focus.nps.gov/docs/nrhp/photos/80000221.PDF
Varney, George J. A Gazetteer of the State of Maine.

<= South      Appalachian Trail – click a boot       North

=>