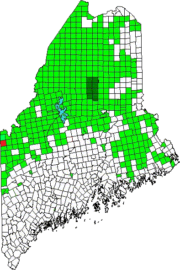 The Oxford County Township, in northwestern Maine on the New Hampshire border, is just south of Parmachenee Township. It includes and  a small north portion of Aziscohos Lake and the bulk of Parmachenee Lake.  That lake was home to the Parmachenee Club.
The Club was formed in 1890 by a group of mostly New York City lawyers. The members obtained a lease of 120,000 acres, from the Old Aziscohos Dam above Wilson's Mills in Lincoln Plantation to the Canadian border. They hunted and fished within these acres, and built a camp, called "Camp in the Meadows," along the Magalloway River. Maine Guides assisted the expeditions.
In 1910, the Berlin Mills Company and International Paper Company built a dam in the leased territory to move cut lumber. Club members were able to penetrate further into the woods due to the new dam, but it also placed the Camp in the Meadows under twelve feet of water. So the Club regrouped with the main camp and several others, to Treat's Island on Parmachenee Lake in Lynchtown Township. Access to the camps was by train, steamboat, canoe, and on foot.
In July 1955, President Dwight D. Eisenhower was the guest of honor at the Club, accompanied by Senator Frederick Payne, and William Wyman, President of Central Maine Power Company, among others.
According to the Brown Bulletin, "The Parmachenee Club, and its surrounding camps, were turned over to Dwight D. Eisenhower, President of the United States and his party . . . . From Saturday noon, June 25, until the afternoon of the following Monday, President Eisenhower, obviously relaxed and enjoying himself, did exactly what any other vacationist would do —fished, loafed and had a good time." He then traveled to Skowhegan to visit Senator Margaret Chase Smith and deliver a speech at the Skowhegan Fairgrounds.
The club disbanded in the 1960s.
Additional resources
Noble, Nancy. "Autumn in the Maine Woods  . . . 100 Years Ago." Maine Historical Society Blog. September 29, 2014. https://mainehistory.wordpress.com/tag/parmachenee-club/ (accessed July 16, 2017)
"Our Guest-The President of the United States." The Brown Bulletin.  Berlin, New Hampshire. July 1955. http://berlinnhhistoricalsociety.org/wp-content/uploads/2011/06/The_Brown_Bulletin_V3_No12_Jul_1955.pdf
United States. Department of the Interior. U.S. Geological Survey.University of New Hampshire. Dimond Library. Documents Department & Data Center. Historic USGS Maps of New England & New York.  "Cupsuptic, ME Quadrangle: Northwest Corner." 1935.