| Year | Population |
| --- | --- |
| 1970 | 864 |
| 1980 | 2,509 |
| 1990 | 3,390 |
| 2000 | 3,795 |
| 2010 | 4,344 |
Geographic Data
N. Latitude
43:29:59
W. Latitude
70:38:31
Maine House
Dis 10,17
Maine Senate
District 32
Congress
District 1
Area sq. mi.
(total) 39.5
Area sq. mi.
(land) 38.9
Population/sqmi
(land) 111.7
County: York

Total=land+water; Land=land only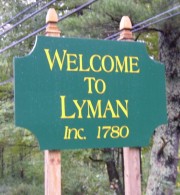 [LII-man] is a town in York County, first settled in 1767 and incorporated on March 11, 1778 under the name Coxhall.
The name was changed to Lyman on February 20, 1803.
The title to the town was derived from a deed purchased from the Sagamore Fluellen in 1660.
Though earlier it was also called called Swansfield, it was finally named after Theodore Lyman of York, a successful businessman and Boston merchant who amassed a substantial fortune.
Its early settlement is sadly commemorated in a small old cemetery just off Route 111 where the headstone declares the death of a two-year old child in the year Maine became a state.
Goodwins Mills is a village straddling the town lines of Lyman and Dayton.
This village has held that name since 1782 when the first saw and grist mills were located there. Lyman's United Methodist Church was established in 1840.
On the Goodwins Mills Road (Route 35), a dam and mill pond on Swan Pond Brook retains the structure of an old sawmill, now renovated.
Dotted with ponds, the area is a rapidly growing rural commuter community served by Maine Route 111 (providing easy access to Sanford and the Biddeford–Saco areas) and Route 35.
The images below are in or near Goodwins Mills Village.
Form of Government:
National Register of Historic Places – Listings
Foss, Levi, House, Maine Route 35