| Year | Population |
| --- | --- |
| 1970 | 1,949 |
| 1980 | 2,045 |
| 1990 | 1,853 |
| 2000 | 1,652 |
| 2010 | 1,359 |
Geographic Data
N. Latitude
44:49:47
W. Latitude
67:01:18
Maine House
District 139
Maine Senate
District 6
Congress
District 2
Area sq. mi.
(total) 78.9
Area sq. mi.
(land) 33.3
Population/sq.mi.
(land) 40.8
County: Washington

Total=land+water; Land=land only
[Loo-BEK] is a town in Washington County, at the entrance to Passamaquoddy Bay, incorporated on June 21, 1811 under the name of Lubeck (for the German town) from a portion of Eastport. In 1847 it both ceded land to Eastport and annexed land from Trescott.
The first settlers in 1758 were French people, probably Acadians, from Nova Scotia, later moving up the St. John River as the English attempted to remove them from the area.
Here is a view of Lubec in the 1880's from the Gazetteer of Maine:
Lubec has a large and admirable harbor, of sufficient depth for the largest vessels, and is never obstructed by ice, is easy of access, and well protected from rough seas by points and islands. The principal place of business is at the end of a point of land jutting into and dividing the harbor,–the situation being very beautiful. . . .
There is at this point a good tide-power, which is improved by a saw mill. The largest power in the town is at Lubec Mills, where is a tide-power of about 15 feet tall, and a pond of over 100 acres, equal to about 100 horsepower. . . .
Lubec has two ship-yards, three boat-builders, three sail-makers, and the other small manufactures common to villages. The Lubec lead mines are situated near the northern part of the town.
The population of this thriving community in 1880 was 2,109: about equal to the 1980 count of 2,045.  See the Lubec of the 1930's in this "Movie Queen" production, courtesy of Northeast Historic Film.
This photo of Lubec was taken in May of 1973 looking west from Campobello Island. Smoke is emitted by the McCurdy packing plant where herring was smoked. (U.S. EPA photo, National Archives # NWDNS-412-DA-7822)
A number of companies were involved in the sardine industry in the late 19th and early 20th centuries. The Columbian Canning Company packed sardines. The American Can Company built a plant in North Lubec in 1899 to makee cans for the sardine industry. After it burned in 1907, the company built a new plant; this plant closed in 1972.
Lubec contains the easternmost point of land in the United States: West Quoddy Head, on which the famous lighthouse of the same name is located. A State Park is nearby and open from June through Labor Day.
Lubec is the birthplace of Myron H. Avery, a key to the creation of the Appalachian Trail and a founder of the Maine Appalachian Trail Club.
South Lubec Sand Bar is a barrier beach whose extensive tidal mud flats, which adjoin it, are an internationally important shorebird staging area. In the fall, tens of thousands of shorebirds congregate at this site to feed and rest during their southern migration. It is managed by The Nature Conservancy.
The town also is the gateway to the Canadian island of Campobello, the longtime and now historic summer home of Franklin D. Roosevelt.
Form of Government: Town Meeting-Select Board-Administrator.
Additional resources
200 Years of Lubec History 1776-1976. Lubec, Me.? Ryerson and Lois Johnson; Lubec Historical Society. c1976.
Adams, Frank P. Notes on the Maritime History of Lubec, Maine. Salem, Mass. American Neptune. 1964.
[Lubec sardine industry business records] 1896-1991. Cataloger Note: The Columbian Packing Company was founded in 1892 by John P. McCurdy, James J. McCurdy, and J. McGonigal. The company manufactured sardines and also smoked herring. In its later years it was also a wholesale and retail grocer and dealt in wood and coal. The Columbian Canning Company existed from 1903-1924, with James J. McCurdy as president and John P. McCurdy as treasurer and manager. . . .The Johnson's Bay Canning Co. was purchased by John P. McCurdy in 1924 and was dismantled in 1931. The Booth Fisheries Sardine Co. bought the factories of the Lubec Sardine Co. in 1917 and operated them there until 1985.) [University of Maine, Raymond H. Fogler Library, Special Collections]
*Maine. Historic Preservation Commission. Augusta, Me.   Text and photos from National Register of Historic Places: http://pdfhost.focus.nps.gov/docs/nrhp/text/xxxxxxxx.PDF and http://pdfhost.focus.nps.gov/docs/nrhp/photos/xxxxxxxx.PDF
West Quoddy Head Light Station: 80004601.PDF
Pesha, Ronald. Remembering Lubec: Stories from the Easternmost Point. Charleston, SC. History Press. 2009.
National Register of Historic Places – Listings
Fowler, Jeremiah, House
[35 School Street]
Lubec Channel Light Station
[Lubec Channel]
McCurdy Smokehouse
[Water Street, east side, at junction with School Street]
West Quoddy Head Light Station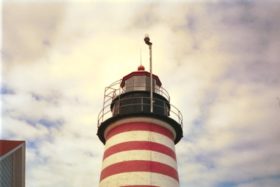 [southeast of Lubec on West Quoddy Head] West Quoddy Head Light Station, first authorized in 1808 and rebuilt in 1858, is one of the earliest such installations on the Maine coast and the first east of Penobscot Bay. It is also distinguished as the easternmost light in the United States. In 1869 a steam operated horn was installed to replace the old fog bell. West Quoddy was one of the first two stations in the country to be so equipped.
Picturesquely sited with a magnificent view across Quoddy Roads to the palisades of Grand Manan Island, West Quoddy Head Light with its red and white stripes is an internationally known landmark and a favorite tourist attraction.
The two principal structures are the Lighthouse and the keeper's quarters. The light, with an 18-mile maximum range, rises 83 feet above the water. A wood frame service building and a wood frame oil house complete the light station complex.* [See photo above.]
West Quoddy Lifesaving Station
[north side W. Quoddy Head]
Young, Daniel, House
[34 Main Street]