His Work . . .
Hyperion, a prose romance and Voices of the Night (1839)
"Psalm of Life," a poem (1839)
Ballads and Other Poems, including "The Skeleton in Armor" (1841)
Ballads and Other Poems (1842)
Poems on Slavery (1842)
The Spanish Student (1843)
The Belfry of Bruges and Other Poems (1846)
Evangeline (1847)
Kavagh, a story in prose (1849)
The Seaside and the Fireside (1850)
The Golden Legend (1851)
The Song of Hiawatha (1855)
The Courtship of Miles Standish (1858)
Tales of a Wayside Inn (1863)
Dante's Divine Comedy, a translation (1865-67)
Flower-de-Luce (1867)
The Divine Tragedy (1871)
Christus, a Mystery (1872)
Three Books of Song (1872)
Aftermath (1873)
The Masque of Pandora (1875)
Kéamos and Other Poems (1878)
Ultima Thule (1880)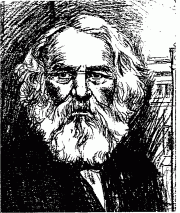 (1807-1882) was born in Portland on February 27, 1807. His father, Stephen Longfellow, was a lawyer and his mother, Zilpah Wadsworth was the daughter of General Peleg Wadsworth, a Portland Revolutionary War hero. Longfellow spent the majority of his boyhood in a handsome brick house on Congress Street which still stands today, now under the care of the Maine Historical Society. The young Henry also spent his vacations while growing up at his grandfather's farm in Gorham and was doubtless influenced by the old man.
The Portland of Longfellow's early days was a bustling, beautiful city, with merchant ships from all over the world in and out of the busy harbor, exotic-looking sailors strolling along the docks and brick sidewalks and a thousand other sights and sounds and smells to excite a young boy's imagination.
Educated at Portland Academy, he attended Bowdoin (1822-1825) with Hawthorne and soon after became professor of modern languages there from 1829-1835, then went on to teach at Harvard from 1836-1854. While at Bowdoin, he lived in a house which later was purchased by Joshua L. Chamberlain, who moved it to the corner of Potter and Maine Streets in Brunswick. Chamberlain had the house raised to put a new first floor structure under it. Longfellow's apartment may still be visited in the Chamberlain House operated by the Pejepscot Historical Society.
While at Harvard, the Longfellows lived at Craigie House, a gift of his father-in-law. He had three daughters and two sons. Longfellow's first book of poems, Voices of the Night, was published in 1839, and his last, In the Harbor, in 1882. Between those two dates, Longfellow published more than 20 books.
William Dean Howells managed to meet Longfellow in Cambridge in October of 1866. He noted that "When Longfellow read verse, it was with a hollow, with a mellow resonant murmur, like the note of some deep-throated horn."
In 1842 he visited Charles Dickens in London, and his 1868-69 tour of Europe included honorary degrees at Oxford and Cambridge, by which time he had universally become popular a poet. During his long life, he was honored and admired by presidents and monarchs, great scholars and thinkers, other writers, poets and people of letters, and an adoring public.
The author of 280 poems, 87 translations of great works in seven languages in addition to various dramas, anthologies, textbooks, and novels, Longfellow had achieved such a high status in western literature at the time of his death that he was the first American poet to have a bust erected in his honor in Westminster Abbey's Poets' Corner, alongside writers such as Chaucer and John Dryden.
As an older man, he would recall his happy days in Portland in his poem entitled "My Lost Youth":
Often I think of the beautiful town
That is seated by the sea;
Often in thought up and down
The pleasant streets of that dear old town,
And my youth comes back to me…
Henry, the second of eight children, attended private school at the Portland Academy where he showed great promise. His first published poem, "The Battle of Lovell's Pond," appeared in the pages of the Portland Gazette when he was only 13 years old.
He continued to publish poetry at Bowdoin College, where he rented a room in what was to become known as "The Stowe House" named for a later resident, Harriet Beecher Stowe.  and distinguished himself as being a dedicated student and scholar. Nearing the time of his graduation, he declared to his father that he wanted to pursue a literary career. Stephen Longfellow, a very practical man, wasn't entirely pleased with his son's decision and tried to persuade him to consider being a lawyer like himself or perhaps a doctor or even a clergyman. But young Longfellow stuck to his plans and graduated fourth in his class in 1825 with the intention of going on to study languages for a year at Harvard.
An unexpected opportunity arose, however. The trustees at Bowdoin offered him the newly-created job of professor of modern languages. They requested that he spend a year abroad studying language to prepare himself. Longfellow happily took three years, touring France, Spain, Italy, and Germany. He returned to Brunswick a more sophisticated, polished young gentleman and began his work as the new professor of modern languages.
Soon after he began teaching at Bowdoin, Longfellow happened to notice a pretty young woman in church by the name of Mary Storer Potter, a daughter of Judge Barrett Potter of Portland. Longfellow was soon courting the woman and in the fall of 1831 they were married. The couple settled in Brunswick where Longfellow continued to teach, contribute poetry to journals and wrote on his first long work, a collection of sketches on French life called Outre-Mer which he published in two parts.
In 1834, Longfellow was offered the Professorship of Modern Languages at Harvard. He readily accepted. Once again, it was requested that he take a European tour. Bringing Mary as well as two young friends along, Longfellow toured the Scandinavian countries with the intention of studying their languages and cultures.
During the trip in 1835, Mary Longfellow, who was pregnant at the time, suffered a miscarriage and died in Rotterdam. Longfellow, heartbroken over the loss, would remember her as "the Being Beauteous" in his poem "Footsteps of Angels." He nevertheless continued his journey and in Switzerland happened to meet a young Boston woman by the name of Francis or "Fanny" Appleton who was on tour with her family. He joined their party for a time, being cheered by the company of Fanny in particular, with whom he fell in love.
He returned to America in 1836 and took up his duties at Harvard and moved into a set of rooms in a Cambridge home owned by Mrs. Craigie, who at first thought he was a student and not a professor since he was so young. At Craigie House, Longfellow continued to write his poetry and by 1839 published much of it in his first book of verse entitled Voices of the Night. His popularity as a poet was increasing. During the mid-nineteenth century, people enjoyed sitting in their parlors reading long poems called ballads to each other for entertainment. Longfellow became a master at this form and his success was built upon such works as "The Skeleton in Armor" and "The Wreck of the Hesperus."
In 1839, he published the long prose work, Hyperion, which was based on his travels and his love for Fanny Appleton. The young woman was far from pleased to recognize herself in the poem and wouldn't speak to Longfellow for several years. She finally came round in 1843, however, and accepted Longfellow's proposal of marriage. Her wealthy father purchased Craigie House as a wedding gift for the couple.
In 1854, Longfellow decided to quit teaching and devote all his time to the writing of poetry. The following year, he published perhaps his most famous narrative poem 'The Song of Hiawatha," which was based on the traditions and legends of the American Indians. Selling over a million copies during the poet's lifetime, "Hiawatha" was the first major work in American literature to address itself to Indian life.
Longfellow followed up the immense success of the poem with another narrative work, 'The Courtship of Miles Standish," published in 1858. He had established himself as one of America's greatest literary figures and people all over the world were reading his poetry.
A second tragedy struck the Longfellows in 1861. Fanny Longfellow's dress came too near a candle and caught fire. She was burned to death and Longfellow was burned himself trying to save her life. Painful scars on his face prohibited him from shaving and so he was forced to grow a beard, by which he is popularly recognized. Grief-stricken, Longfellow now took comfort in his family. He was especially fond of his grandchildren, taking great joy in rocking them on his knees, playing the piano beside them or reading to them from his book Tales of a Wayside Inn which contained the famous poem, "The Midnight Ride of Paul Revere" which begins:
Listen my children and you shall hear
Of the midnight ride of Paul Revere.
On the eighteenth of April, in Seventy-five
Hardly a man is now alive
Who remembers that famous day and year.
In the summer of 1868, Longfellow took his family with him on a tour of Europe. He was granted a private audience with Britain's Queen Victoria, received an honorary degree from Cambridge University and met with the great English poet, Alfred Lord Tennyson, his English counterpart in terms of national respect.
Returning home, Longfellow settled into a quiet life in Cambridge receiving distinguished visitors from around the world. Despite his age and his failing eyesight, he continued to work steadily. His health began to decline in 1881. On March 24, 1882, just a few weeks after his 75th birthday was celebrated all over America, he died at Craigie House. The tolling bells of Harvard chapel informed the citizens of Cambridge that they and the world had lost a great poet.
Time and literary criticism have not always been very kind to Henry Wadsworth Longfellow. Yet the fact remains that he was one of the most popular, if not the most popular, poet of his day and the body of his work stands as a major contribution to American literature.
Sources: University of Toronto Library. http://www.library.utoronto.ca/utel/rp/authors/longfel.html;
and much verbatim, with editing, from the Maine Department of Education's Maine's Claim to Fame.
Additional resources (regarding Longfellow's Maine roots)
Bowdoin College. Institute of Modern Literature. An Institute of modern literature at Bowdoin College, Brunswick, Maine, from May 5 to May 16, 1925, in commemoration of the centennial year of the graduation of the class of 1825. Lewiston, Me. Lewiston Journal Company. 1926.
Clarke, Helen Archibald. Longfellow's Country. New York. The Baker and Taylor Company. 1909.
Edwards, George Thornton. The Youthful Haunts of Longfellow. Portland, Me. G.T. Edwards. 1907.
Howells, William Dean. Literary Friends And Acquaintances: a personal retrospect of American authorship. "The White Mr. Longfellow." New York, London, Harper, 1902. http://www.gutenberg.org/files/3394/3394.txt (accesssedNovember 21, 2013)

Longfellow Statue Association (Portland, Me.). Exercises at the unveiling of the statue of Henry Wadsworth Longfellow, Portland, Maine, Sept. 29, 1888. Portland,Me. Brown, Thurston & Company. 1888. [Maine State Library]
Maine Historical Society. The Wadsworth-Longfellow House: Its History & Its Occupants. Portland, Me. The Anthoensen Press. 1969.
Thompson, Lawrance Roger. Young Longfellow (1807-1843). New York. Octagon Books. 1969. c1938.