| Year | Population |
| --- | --- |
| 1970 | 3,450 |
| 1980 | 3,572 |
| 1990 | 3,455 |
| 2000 | 3,227 |
| 2010 | 3,187 |
Geographic Data
N. Latitude
44:26:05
W. Latitude
70:09:06
Maine House
District 74
Maine Senate
District 18
Congress
District 2
Area sq. mi.
(total) 20.4
Area sq. mi.
(land) 19.8
Population/sqmi
(land) 161.0
County: Androscoggin

Total=land+water; Land=land only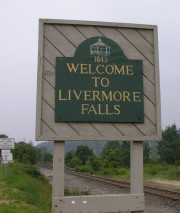 [LIV-ehr-more FALLZ] is a town in Androscoggin County, incorporated March 1, 1844 as East Livermore.  It had been the northeastern part of the town of Livermore on the east side of the Androscoggin River.
Nearly 90 years later, in 1930, the name was changed to Livermore Falls.
Elijah Livermore, who owned the original intact town of Livermore, built grist and saw mills at the falls on the Androscoggin.
According to the Gazetteer of Maine in 1886,
There is a natural fall of fourteen feet. There are on these falls at present, a grist-mill, three saw-mills, a factory for novelty wood-turning, a leather-board factory, and the Umbagog Paper Fibre Mills. In the village there are also various small manufactures without water-power.  The Indian name of the locality is Rokomeko, signifying, it is said, "great corn land." The town yields good crops and is excellent grazing-land.  It has also been noted for its cattle.
At the time, with distance being a transportation challenge, the town supported seven schoolhouses with a population of 1,082, about one-third of the current population.
Eventually, especially in the early 20th century, the small mills and factories gave way to a major industry hungry for water power.
The Jay village of Chisholm was the site of the "Chisholm" paper mill, also known as the Otis mill.  It was located virtually on the Livermore Falls town line, to the benefit of both towns.
---
The Paper Makers Union, No. 11 had been formed in 1899. For many years Livermore Falls was a thriving paper mill town.  More recently, the employment future has become less certain, as shown by the age of the housing stock.
Pikes Corner at Route 133 and 106, is in the East Livermore area, in Livermore Falls. The town is served by Maine Routes 4, 17, 106 and 133, directly north of the Lewiston–Auburn area. An extensive logging and manufacturing operation producing wood pallets is located on outer Park Street (Route 133).
Form of Government: Town Meeting-Select Board-Manager.
Additional resources
Image credit: "Livermore Falls Birdseye View 1889." LC classification: G3734.L6A3 1889 .N6 Repository: Library of Congress Geography and Map Division Washington, D.C. 20540-4650 USA dcu. Digital ID: G3734L Pm002460 Http://Hdl.Loc.Gov/Loc.Gmd/G3734L.Pm002460.  Image source:  Http://Hdl.Loc.Gov/Loc.Gmd/G3734L.Pm002460 (accessed March 19, 2013)
Dalton, Pete. They Heard the Call: Contributions of Five Maine Towns in the Civil War. Union, Me. Union Pub. Co. 1995.
Hamlin, Henry H. Memorandum Book, 1826-1842. (Cataloger Note: A volume used by Henry H. Hamlin of Livermore Falls, to record his daily work activities, sales of products, financial matters, etc. Transactions include use of a horse and wagon, sharpening a plow, and sales of beef, ham, corn, apples, etc.) [University of Maine, Raymond H. Fogler Library, Special Collections]
**"Local landmark will be preserved," Livermore Falls Advertiser. September 4, 2014. http://lfadvertiser.com/local-landmark-will-be-preserved/ (accessed December 2, 2015)
MacDonald, Ellen E. "Do-It-Yourself History in Livermore Falls." Down East Magazine, November 1985, pgs. 44-49, 78-84. See the Norlands web site at www.norlands.org.
*Maine Preservation. "Lamb Block, Livermore Falls." http://mainepreservation.org/lamb-block-livermore-falls (accessed September 1, 2016)
Fiftieth anniversary, Livermore Falls Trust Company, 1895-1945. 150th anniversary of the incorporation of Livermore-Livermore Falls: original grant 1735, permanently settled 1779, incorporated as a town 1795. Livermore Falls, Me. Livermore Falls Trust Company. 1945.
Varney, George J. A Gazetteer of the State of Maine. 1886. pp. 208-209.
National Register of Historic Places – Listings
Lamb Block
The 1895 Lamb Block was the first commercial brick structure of its size on Depot Street in Livermore Falls. Built by John F. Lamb, it consists of a first-floor storefront, second floor offices and a large third floor meeting hall.
In 2013 it still had a significant presence on Depot Street. Its new owner, the town and local businesses joined in an effort to preserve the deteriorating structure. As Maine Preservation noted in presenting its 2013 Honor Award for adaptive use to several community businesses:
As part of the rehabilitation effort, historic moldings, fixtures, lighting and wood floors were restored to their original state. Adjoining non-historic buildings were removed and exterior damages repaired. The masonry exterior was repointed creating an authentic look. . . . The restoration of this historic landmark has helped keep Livermore Falls' local heritage alive and thriving.*
Livermore, Deacon Elijah, House
[6 miles South of Livermore Falls on Hillman's Ferry Road] The National Register for this property has been withdrawn due to a fire that destroyed the house.  However, local people have determined to have the location marked as an historic site.  The following is from an article in the Livermore Falls Advertiser:
The property where the Deacon Livermore House once stood has been unused since the disastrous fire on June 30, 1999.   The home was built in 1793 by the Deacon Elijah Livermore and his wife Hannah.  The Livermore-Livermore Falls Historical Society spent more than thirteen years working carefully to restore the home to it's origins.  With plans only a month away for a formal opening, lightning struck the home and it burned to the ground.
For sometime, the group had discussed the many offers they had to purchase the property. Feeling that nothing as yet was quite right the property remained as is for the past fifteen years.  Members of the society wished to have the property used for historic purposes.  When [Ray] Hamilton approached them they found they had "the perfect fit" according to President, Muriel Bowerman.  A permanent marker will be placed designating where the Deacon Livermore House once stood.**