| Year | Population |
| --- | --- |
| 1970 | 6,544 |
| 1980 | 8,769 |
| 1990 | 9,457 |
| 2000 | 9,077 |
| 2010 | 9,009 |
Geographic Data
N. Latitude
44:01:41
W. Latitude
70:05:39
Maine House
District 56
Maine Senate
District 22
Congress
District 2
Area sq. mi.
(total) 24.2
Area sq. mi.
(land) 23.6
Population/sqmi
(land) 381.7
County: Androscoggin

Total=land+water; Land=land only
[LIZ-bun] is a town in Androscoggin County, incorporated on June 22, 1799 as Thompsonborough from a portion of Little River Plantation.
Its name was changed to Lisbon in 1802, followed by the annexation of the remains of Little River Plantation in 1806.
Until it settled its modern boundaries in 1863, it annexed land from Bowdoinham and swapped land with Webster (now Sabattus).
The division between Lisbon and Topsham (as well as between Androscoggin and Sagadahoc counties at this point) is defined by the Little River, which flows south into the Androscoggin River.
According to David Hale, "A major fire occurred in 1896 involving half a dozen business blocks in Lisbon Falls. All of which were rebuilt just in time for the devastating fire of 1901 in which the entire business district of Lisbon Falls was destroyed."
Lisbon Falls, on the Androscoggin River, is the largest village; Lisbon Village, on the Sabattus River, is the next largest.
A mill town harnessing the power of these rivers through most of the 20 century, Lisbon's economy has turned more toward services and light industry as the mills have closed.
Writer Stephen King attended high school in Lisbon Falls in the 1960's. Humorist and author John Gould was once the owner-editor of the Lisbon Enterprise newspaper.
The Moxie Festival in July draws crowds to honor this official State Drink with events and visits to the Moxie Store in Lisbon Falls. A Moxie history site credits the festival with preventing "the Moxie brand from falling off the face of the earth."
Its formula was created by Dr. Augustin Thompson, a homeopathic physician and Civil War veteran born in Union.
---
Form of Government: Council-Manager
Additional resources
Barr, Wilford E. Thompsonborough (Lisbon) at its Birth June, 1799. Lisbon Falls, Me. W.E. Barr. 1999.
Hale, David. "The History of the Lisbon Fire Department." http://www.lisbonme.org/ (accessed January 10, 2012)
Jack, Robert. Account book of Robert Jack, 1845-1864. Lisbon Falls, Me. The Chapter. 1947.
*Maine. Historic Preservation Commission. Augusta, Me.   Text and photos from National Register of Historic Places: http://pdfhost.focus.nps.gov/docs/nrhp/text/xxxxxxxx.PDF and http://pdfhost.focus.nps.gov/docs/nrhp/photos/xxxxxxxx.PDF
Cushman Tavern: 79000125.PDF
Farwell Mill: 85001260.PDF
Lisbon Falls High School: 07001150.PDF
Worumbo Mill: 73000235.PDF
Plummer, Francis W. Lisbon: The History of a Small Maine Town. Lewiston, Me. Twin City Printery. 1970.
Some Interesting Pictures: Lisbon Falls Village Before and After the Recent Disastrous Fire. Lisbon Falls, Me. Lisbon Enterprise. 1901.
Souvenir of Lisbon, Maine, 1911. Brunswick, Me. Maine Map & Register Co. 1911.
"The History of Moxie." www.drinkmoxie.com (accessed July 13, 2015)
Watkins, Ambra. The Birth, Being and Burning of Worumbo Mill. Norway, Me. Printed by The Oxford Group. 1987.
Lisbon Historical Society. "Worumbo Mill." http://www.lisbonmainehistory.org/worumbo.html (accessed February 11, 2015)
National Register of Historic Places – Listings
Cushman Tavern
[Northeast of Lisbon on Maine Route 9] Built c.1825 by a Mr. Dwinal, this large house was sold within two years to Captain Samuel Cushman who operated it as a tavern for many years. It is now a private residence. Its lies in the magnificent murals by Orison Wood executed in the first and second story hallways and the wall of the stairwell between. These murals are outstanding examples of highly stylized primitive painting.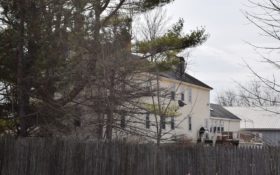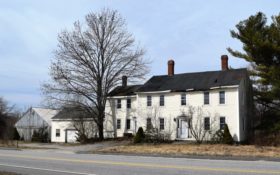 Auburn's Orison Wood (1811-1842) was an outstanding artist. His father had gone to Boston as a young man to seek his fortune, and found employment with an Italian who made, painted and peddled decorative plaster ornaments. Orison evidently learned the plaster painting technique from his father, using it to decorate plaster walls instead of figurines. About 1830 he frescoed at least four houses in West Auburn, Lewiston and Webster Corner, with landscapes clearly planned following artist Rufus Porter designs.
They were executed in Porter's recommended technique, perhaps under his supervision. Wood's animated murals have, within the Porter formula, a distinctive, slender, charming style of their own. Captain Cushman's daughter recalled how a stranger came to the Tavern soon after it was built in 1826, said he was an artist, and could paint the walls with marvelous decorations. He said they would help to advertise the Cushman House and make its name notable on the lips of the traveling public. Wood's frescoes must have brought travelers to the tavern. These landscape designs in which willowy trees fill the space in a bold pattern are outstanding examples of early American art.*
Farwell Mill
]Maine Route 196] The Farwell Mill is a large sprawling complex located in the center of Lisbon village and along the Sabattus River. It was an example of a "state of the art" cotton mill built at the height of the Industrial Revolution. The largest structure in the small, Lisbon Village, the mill has long been the economic backbone of the village and the surrounding area. Begun in 1872, the mill was the only full-scale textile operation owned by Nathaniel W. Farwell, whose interest and holdings in the textile industry were many. [See photo above.]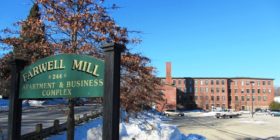 On the Sabattus River, tributary to Maine's Androscoggin River, this site was the location of Maine's earliest recorded woolen mill, begun by John Mayall around 1808. That water power had been used as early as 1800 for a grist mill. The 1873 Atlas of Androscoggin County describes the 1872 mill as "a first-class cotton mill, built of brick, three stories in height, 346 feet long, and 52 feet wide, with a working capacity of 12,000 mule spindles." Its one-story gas works located just below the bridge was not especially common on a mill site and is one of the few such gas houses remaining in Maine.*
The mill has been renovated to operate as residential housing apartments.
Lisbon Falls High School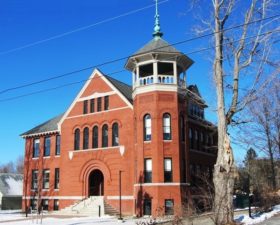 [4 Campus Avenue] This High School is an example of Romanesque Revival architecture. The brick school, with finial topped tower, arched windows and doors, and terra cotta and granite accents, was the work of William R. Miller, a prolific Maine architect known for designing lavishly detailed public buildings. Opened in the spring of 1906, this school served the students of Lisbon Falls until 1952.
Although unified under one municipal name, Lisbon consists of three villages: Lisbon Center, Lisbon and Lisbon Falls. Lisbon Center is the smallest settlement. The other two villages maintain their own business districts, cultural identity, and until the middle of the 20th century, their own separate sets of schools.
Between 1875 and 1914 the mills at Lisbon Falls attracted a large number of immigrants from Hungary, Poland, Germany and what was later named Czechoslovakia, while Lisbon Factory became home to French Canadian workers. A significant fire in 1901 leveled much of Lisbon Falls' business district, yet the village rebuilt quickly and its economy continued to prosper. As a result of the town's general success and increasing demographics, the school Superintendent reported in 1904 that "a new school building at Lisbon Falls before the beginning of another fall term seems to be an absolute necessity. Our present buildings, are crowded to their utmost capacity and we can hardly find room for another pupil." Although the town abolished the district system in 1871, and had placed the schools under control of a School Committee, the two major villages of Lisbon supported their own, separate schools well into the 20th century. The first high school in Lisbon Village was built prior to 1884; its replacement, which was used until 1941, was constructed in 1893.
The new high school opened in 1906, becoming  an elementary school after 1952, then used as offices for the Superintendent of Schools, between 1985 and 2006.*
St. Cyril and St. Methodius Church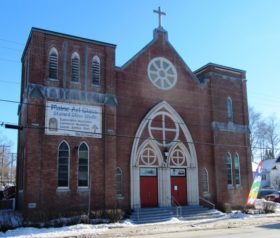 [Main and High Streets] The story of the Saint Cyril and Saint Methodius Church, and of the only Slovak community in Maine, is essentially a microcosm of the late 19th century immigrant experience in America. The building, not an outstanding architectural achievement, has a kind of stubborn solidity, reflecting the tenacious determination of a small ethnic enclave to survive in alien surroundings.
Well before the beginning of the 20th century immigrants of Slovak nationality arrived from that part of Central Europe known as the Austro-Hungarian Empire. They were motivated by hopes of economic opportunity, and a desire to avoid the almost universal military conscription to which they were subjected. Most were Catholics belonging either to the Latin Rite or the Eastern Rite of the Church. A group of these immigrants came in the late 1890s to Lisbon Falls where the great Worumbo textile mill was in a period of prosperous expansion. From the beginning they were subject to prejudice and alienation, particularly from older immigrant groups among the mill worker population. This quickly turned the Slovaks into a tightly knit ethnic body determined to preserve its cultural and religious entity. They began to join various national Slovak fraternal societies, such as the First Catholic Slovak Union of America, called the Jednota Society. Eventually they formed a completely local group, the Slovak Catholic Association of Lisbon Falls.
They were grudgingly permitted to attend the Holy Family Catholic Church in Lisbon Falls, but were forced to sit only in the rear pews. Many of the practices were alien and, because of the language barrier, they were able to participate in confession only when administered by an occasional visiting Slovak priest. Finally they decided to erect a church of their own outside Diocesan authority. For this they were branded as independents and threatened with excommunication. Each family pledged what was to them an enormous sum of $100. By good fortune they found a friend in Lewiston banker Henry Coolidge, who, on the basis of these pledges arranged a bank loan of $10,000 and, on his personal note, raised an, additional equal amount.
Construction was begun in 1923; finally, in September 1926 the church was dedicated. The name was derived from two brothers, Saints Cyril and Methodius who were missionary apostles to the Slavic Nations in the 9th century and whose teachings still survive. In 1936 with the consecration of a new bishop, a reconciliation took place and the building became church property. The church served 150 families including about 450 individual members in 1977.*
No longer a house of worship, the building in 2016 hosted the Maine Art Glass Studio.
Worumbo Mill
[on the bank of the Androscoggin River] The Worumbo Mills, named for a tribal chief of the Anasagunticook Indians, was begun in 1864, built on land at Ten Mile Falls in Lisbon. Edward Plummer and Oliver and Galen Moses of Bath were the major actors in this corporate venture. Frank Gutmann, a native of Germany, became Agent for Worumbo in 1865. He was skilled in woolen mill manufacture, having studied the process in Germany, England and Scotland. He remained with the mill until his death in 1918. His son Walter succeeded him in the business.
In 1876 the Worumbo Mills won a gold medal at the Centennial Exposition in Philadelphia. Another gold medal was awarded to the mill at Columbia Exposition in Chicago in 1893. In 1920 a large concrete addition to the mill was built, holding a dye house and a boiler house. In 1956 the mill became a division of the J.P. Stevens Company. On July 29, 1964 the announcement came that the mill, the largest employer in Lisbon, would be closing.
It was later purchased by Mr. Robert G. Fromkin and reopened under the name of Lisbon Weaving Company. The mill was sold again, working with 19th century technology, and survived at least into the 1970s. A fire in 1987 destroyed the mill buildings, except for the white mill, built in the 1920's.*
2006 saw that last mill building close permanently. It lay dormant a decade, deteriorated, and in 2016 was demolished.