| Year | Population |
| --- | --- |
| 1970 | 955 |
| 1980 | 1,414 |
| 1990 | 1,809 |
| 2000 | 2,042 |
| 2010 | 2,164 |
Geographic Data
N. Latitude
44:17:34
W. Latitude
69:04:06
Maine House
District 96
Maine Senate
District 11
Congress
District 2
Area sq. mi.
(total) 43.7
Area sq. mi.
(land) 37.4
Population/sq.mi.
(land) 57.9
County: Waldo

Total=land+water; Land=land only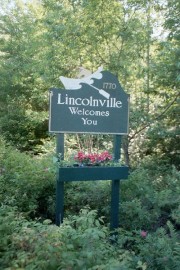 [LINK-uhn-vil] is a town in Waldo County, incorporated on June 23, 1802 from Canaan and Ducktrap Plantations.  The first European settler may have been Nathan Knight in 1770, followed by substantial population growth totaling nearly 300 by 1790.
The community was named for General Benjamin Lincoln, a Revolutionary War General and early proprietorin the area. In an early vote for separation from Massachusetts in 1807, it was only one of three coastal communities (along with Bath and Belfast) to vote "YES." By the 1850 U.S. Census, the population peaked at 2,174.
Located on U.S. Route 1 and Penobscot Bay, the village of Lincolnville Beach is the Maine State Ferry Service mainland terminal for the ferry to Islesboro, three miles out in the middle of the Bay.
At the Beach, in addition to the sandy shore, one of the two town post offices is available, along with the long-standing Lobster Pound restaurant.
Lake Megunticook 

  also offers water access south of Lincolnville Center.
Lincolnville Center is about seven miles inland from the beach. The village hosts another post office, a general store, a former fire house and adjoining schoolhouse, an old meetinghouse, and the Lincolnville Telephone Company.
Camden Hills State Park, with access to Mount Battie overlooking Camden harbor, lies just south of the village on Route 1.
Duck Trap Village is a small settlement of old, well-maintained houses near Duck Trap Harbor north of Lincolnville Beach on U.S. Route 1.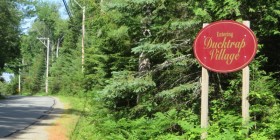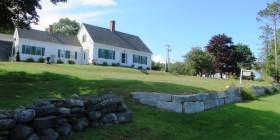 Tanglewood Day camp, inland from Duck Trap Village, provides opportunities for children to connected to the natural world and to other children in a nurturing, child-focused way. The campers spend their days in the woods, along the river, at the ocean, and learning new skills with camp friends. The Camp is a program of the University of Maine's Cooperative Extension Service and 4-H. A hiking trail, part of the Camden Hills State Park system, is accessible on the Camp access road.
Fernald's Neck Preserve, partially in Camden and managed by the Nature Conservancy, covers 315 acres of a peninsula jutting into Lake Megunticook. Densely covered with forest in many places, the area provides a refuge for many small and some large mammals. A wetland in the preserve's center supports many bog species such as sedges, blue flag iris, pitcher plant and rose begonia. Cliffs offer impressive views from the western edge.
Form of Government: Town Meeting-Select Board-Administrator.
Additional resources
Banks, Ronald. Maine Becomes A State.
Carlson, Shirlee Connors. Camden-Rockport-Lincolnville, 1776-1976: the life and times of its people. Camden, Me. Town Crier. 1975.
Lincolnville Historical Society, Lincolnville, Me. Lincolnville. Camden, Me. The Society. 1976- (a series 1976, 1977, 1983, 1984) [University of Maine, Raymond H. Fogler Library, Special Collections; Maine State Library; University of Maine at Farmington. Mantor Library]
*Maine. Historic Preservation Commission. Augusta, Me.   Text and photos from National Register of Historic Places: http://pdfhost.focus.nps.gov/docs/nrhp/text/xxxxxxxx.PDF and http://pdfhost.focus.nps.gov/docs/nrhp/photos/xxxxxxxx.PDF
Lincolnville Center Meeting House: 83000475.PDF
Tranquility Grange No. 344: 02000350.PDF
Ulmer, George, House: 6000922.PDF
Miller, Joseph. Historical Sketch of the Town of Lincolnville. 1981. (Cataloger Note: "First published in The Progressive Age (Belfast) in l879. In 1910 … republished serially in The Waldo County Herald (Belfast). Now in 1981 it has been retyped with an index." [University of Maine, Raymond H. Fogler Library, Special Collections]
Nichols, David Arthur. "Growing up at the beach": the diaries of young David Arthur Nichols. 2010. [University of Maine, Raymond H. Fogler Library, Special Collections]
O'Brien, Diane Roesing. Ducktrap: Chronicles of a Maine Village. Lincolnville Center, Me. Schoolhouse Museum of the Lincolnville Historical Society. c1994.
O'Brien, Diane Roesing. Staying Put in Lincolnville, Maine, 1900-1950. Lincolnville, Me. Lincolnville Historical Society. c2004. [University of Maine, Raymond H. Fogler Library, Special Collections; Maine State Library]
Town of Lincolnville. "Lincolnville Comprehensive Plan Inventories: History and Archaeology." 2001. http://www.town.lincolnville.me.us/cp-i-hy.html (accessed January 10, 2012)
National Register of Historic Places – Listings
Lincolnville Center Meeting House
Maine Route 173 Lincolnville Center] The Meeting House is a virtually unaltered, wooden Federal style structure. Typical of rural Maine meeting houses, it is a simple rectangle, two stories tall, with pitched roof and no steeple or belfry. It has a fieldstone foundation. Walls are supported at one point by a natural rock outcropping. Granite slabs around the base aid in support and give the impression of a solid granite foundation. The pews are boxed, have simple wooden latches, and large plain seats of pumpkin pine. The balcony contains box pews in all but its rear section, which has four long, free-standing choir benches.
One of the few completely unaltered Federal meeting houses or churches in Maine, it is one of less than a dozen to have been built with the pulpit against the forward wall. Captain Joshua Lamb of Lincolnville built it in 1822. He owned the building for at least a decade and sold pews to defray his expenses. The meeting house reportedly failed as a business, and was deeded to the congregation.* (See photo above.)
Tranquility Grange No. 344
[1 mile north of junction Maine Routes 52 and 173] The Tranquility Grange #344 was established in April of 1898. A mile north of Lincolnville Center, it is now on the edge of a slope, surrounded by fields with a magnificent view of Colman Pond and the Megunticook Range. The first grange hall, known as "Farmer's Pride," was off upper Route 52 on Cilley Road. Although the building burned in 1901, the area was called Grange Corner on state maps.
In April 1903, land was purchased closer to town and another grange hall built. Once again, in 1907, the building burned extensively, but was raised a third time by 1908. The 1903 and 1908 buildings were similar: appearing to be only one and a half stories tall from the street, each was built into the side a bank, providing for large function rooms on both the street level and in the basement.
The building was also the location of Lincolnville town meetings until the early 1950s. Since its inception, the Grange has also functioned as a community gathering place, sponsoring dances, bands, receptions, performances, Boy and Girl Scout Troops and agricultural fairs.*  [Christi A. Mitchell photos]
Ulmer, George, House
[3 South Cobbtown Road] The Ulmer House is an imposing, elegant Federal-era structure on the east side of the Ducktrap River. Built on a small rise, Ulmer had a commanding view of the forests, mills, bridge, harbor, and shipyard that comprised the immediate facilities of his late 18th century empire.
After becoming General Henry Knox's land agent, Ulmer secured important political appointments as Sheriff of Hancock County, Justice of the Peace, and Federal Tax Collector, and served his community as an often elected representative to the Massachusetts House and Senate. Through a series of misfortunes, and in the face of localized revolt against Knox and his agents, Ulmer's power, prestige and fortune had all but disappeared by the end of the War of 1812.
The two-story, Federal style house is all that remains of Ulmer's micro-empire whose rapid rise to success after the American Revolution and rapid decline in fortunes in the first decade of the 19th century nonetheless had a lasting effect on the development of this section of mid-Coast Maine.* [Christi A. Mitchell photo]