| Year | Population |
| --- | --- |
| 1970 | 4,759 |
| 1980 | 5,066 |
| 1990 | 5,587 |
| 2000 | 5,221 |
| 2010 | 5,085 |
Geographic Data
N. Latitude
45:20:50
W. Latitude
68:27:50
Maine House
District 142
Maine Senate
District 8
Congress
District 2
Area sq. mi.
(total) 74.9
Area sq. mi.
(land) 67.9
Population/sq.mi.
(land) 74.9
County: Penobscot

Total=land+water; Land=land only
Congressional Medal of Honor winner:
GARY I. GORDON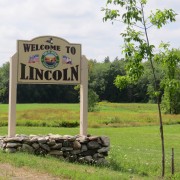 [LINK-uhn] is a town in Penobscot County, incorporated on January 30, 1829 from River townships number 2 and 3, and a half township granted to J. E. Foxcroft.
Settled in about 1822, a substantial number of families arrived in 1825.
Enoch Lincoln was the major landowner of the area. After he was elected Governor in 1827, the town was named in his honor upon incorporation two years later.
Passing through in 1846, Henry David Thoreau noted that his traveling group "came into the Houlton road again, here called the military road, at Lincoln, forty-five miles from Bangor, where there is quite a village for this country, – the principal one above Oldtown."
Forty years later, George Varney observed that
The construction of the military road to Houlton, which passed through here, gave the settlements an increased impetus; and this village, being quite central to the lumbering operations of the period, became quite a rendezvous for the lumbermen.
That may have been a polite way of saying that the village was wild and wooly at times!
Lincoln has been a manufacturing center for pulp and paper, shoes and textiles. Recent years have seen a declining population as those economic sectors have faded.
In addition to shops and an apartment house, downtown contain the municipal building and the American Legion Hall.
The 40 turbine Rollins Wind project began operations in 2011. Located about 8 miles east of the town, it consists of 40 1.5 megawatt wind turbines.
Lincoln town government expects to receive about  $250,000 per year from the company.
U.S. Route 2, which now passes through the village, is the successor to the military road that was built in response to the ongoing boundary dispute that resulted in the Aroostook War.
Penobscot Valley Hospital is located south of downtown on High Street (Route 155) toward Enfield.
Lincoln Center, north of the main village on U.S. Route 2, contains a community center, two schools, a church and a small commercial area. Further north becomes more rural and is marked by the 887-foot Bagley Mountain and it array of communications towers in North Lincoln.
Form of Government: Council-Manager
Additional resources
Chadbourne, Ava Harriet. Maine Place Names and The Peopling of its Towns.
Thoreau, Henry David. The Maine Woods. Penguin Books, USA. New York, NY. 1988. p. 9.
Varney, George J. A Gazetteer of the State of Maine. 1886. pp. 328-329.