Bass Rock, Round Pond. 12 acres look out on Muscongus Sound. There are no trails. Managed by the Nature Conservancy. Park on Back Shore Road.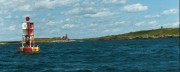 Damariscove Island, Boothbay. This National Historic Landmark (Maine's earliest permanent settlement) is 209 acres of treeless, coastal tundra vegetation. Home to large populations of nesting seabirds and muskrats. Accessible by a Nature Conservancy dock.
Dodge Point Public Reserved Land, located on the western shore of the Damariscotta River, encompasses 521 acres in the Town of Newcastle. The property has over 8,000 feet of frontage on the Damariscotta River with pocket sand and pebble beaches, vistas from the River's shore, freshwater ponds and stream-cut ravines in the interior uplands. Outdoor recreational opportunities include hiking, cross-country skiing, skating, swimming and fishing. An interpretive trail starts at the Old Farm Road and the Shore Trail has fine views. Visitors arrive by boat from the public landing in Damariscotta or by vehicle using the River Road in Newcastle.
Erle R. Kelley Wildlife Management Area, Dresden. This 500 acre area, 290 acres of which is marshland, is maintained by the State Department of Inland Fisheries and Wildlife. It includes large sections of the Dresden Bog, which offers a canoe trip over two small beaver dams, through a narrow channel to the open water of a large pond.
Great Salt Bay, Damariscotta, Newcastle, Nobleboro. Protected by Maine legislation, it is the state's first marine shellfish protected area. Formerly polluted by industrial activity, it has been closed to shellfish harvesting for many years. In earlier times, it had been a very productive environment, used by Native Americans as the huge shell middens nearby indicate. Now the Department of Marine Resources may not license shellfish harvesting in the bay.
La Verna Preserve, Bristol. Hardwoods and conifers surround 3,600 feet of shore frontage on Muscongus Bay on the Pemaquid Peninsula. The dense forest gives way to swamp, freshwater marsh and overgrown farmland in places, providing interesting contrasts. Managed by the Nature Conservancy.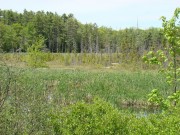 Marsh River Bog Preserve, Newcastle.  The 54 acre property is owned by the Damariscotta River Association.  It includes the bog, hiking trails, and small bridges. As a bog, it has its share of bugs, including deer ticks; but it also features turtles, and many birds.
Musquash Pond Preserve, Jefferson. Extensive freshwater wetlands draining three ponds. Self-guiding nature trails and interpretive signs in western portion known as Dyer Neck, which contains numerous bog species. The Nature Conservancy. Off Rt. 215, Weeks Road.
Osborn-Finch Preserve, Waldoboro. Red spruce, northern red oak, and balsam fir border an old field. Frontage on the Medomak River. Managed by the Nature Conservancy. On Dutch Neck.
Plummer Point, South Bristol. A 74 acre wooded peninsula with over a mile of shoreline on the Damariscotta river. Walk in on entrance road (only), or access by boat. Managed by the Nature Conservancy. Off Rt. 129.
Rachel Carson Salt Pond Preserve, New Harbor. Popular salt pond and tidal pool area along Rt. 32 where Rachel Carson came to observe the diverse marine life. Across the road are fields and forest with rough trails to an old ice pond and high views over Muscongus Bay. Geologic guide to rock formations along shore available from The Nature Conservancy. On Rt. 32.
Tracy Property, South Bristol. Town park provides public access to 800′ on Damariscotta River. 33 acres of rocky ledges, cliffs, tidal basin and small marsh. Forested in parts by mixed hardwoods.
Witch Island Sanctuary, South Bristol. Wooded, 18-acre, provides views of Johns Bay. Two beaches offer picnicking, swimming and boat access. Managed by Maine Audubon Society. 15 minute row or paddle from the town landing.