| Year | Population |
| --- | --- |
| 1970 | 963 |
| 1980 | 1,356 |
| 1990 | 1,688 |
| 2000 | 2,240 |
| 2010 | 2,892 |
Geographic Data
N. Latitude
43:41:13
W. Latitude
70:47:25
Maine House
Dists 21,22
Maine Senate
District 33
Congress
District 1
Area sq. mi.
(total) 28.2
Area sq. mi.
(land) 27.1
Population/sqmi
(land) 106.8
County: York

Total=land+water; Land=land only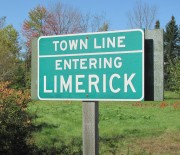 [LIM-er-ik] is a town in York County, incorporated on March 6, 1787 from Limerick Plantation. It annexed land from Limington in 1870. Supporting ten schoolhouses, Limerick's population was 1,253 in 1880.
It was settled by whites in 1775 on the old Pequaket Trail, a way station used by the Sokoki Indians traveling between the Saco River and Pequaket (Fryeburg).
James Sullivan, one of the original proprietors, named the town after Limerick, Ireland, the birthplace of his father.
James was an active patriot during the Revolutionary War, Governor of Massachusetts, and the first historian of Maine with the publication of The History of the District of Maine in 1795.

The community held its first town meeting in 1787 in McDonald's Inn. Limerick's Moses McDonald served as State Treasurer 1847 through 1849. The town's economy in the 1880's appeared this way to George Varney:
The manufactories consist of a steam-powered furniture manufactory, a tannery which turns out about 600 hides per week, a clothing factory at the village, and at Hollandville two woolen factories, one of which produces the celebrated "Holland blankets," and other woolen cloths to the value of about $150,000 worth of goods annually.  There are also grist, shingle, and lumber mills on the same stream, Brown's Brook, and on Staple's and Fogg's brooks, and on the Little Ossipee River, which bounds the town on the south.
Limerick village stands at the junction of Maine Routes 5  (The Sokokis Trail), 11 and 160, sixteen miles north of Alfred.
Sokokis Lake (also known as Holland Pond) and the long Lake Arrowhead grace the northeast corner of the town near Limerick village.
A scenic overlook, with directional signs, on the Sokokis Trail (Route 5) provides panoramic views of the area.
Just south of Perry's Corner in rural northeastern Limerick, adjacent to an old barn, is a small, overgrown family cemetery (the Durgans).
Limerick is the birthplace of 19th century U.S. Congress member Moses MacDonald.
Form of Government: Town Meeting-Select Board.
Additional resources
Chadbourne, Ava Harriet. Maine Place Names and The Peopling of its Towns.
Lamprey, Louise. History of Limerick. Cornish, Me. Printed by C.V. Small. 1928?
Lamprey, Louise. The Limerick Pageant. 1936. [Maine State Library]
The Ossipee Valley. Images from Cornish, Limerick, Limington, Newfield, and Parsonsfield-Porter Historical Societies. Charleston, SC. Arcadia. 2005.
S.S. Knight (Limerick, Me. Firm) Account Book, 1878-1904. (Cataloger Note: Samuel S. Knight was a shoemaker in Limerick, Maine and was the owner of a shoe store. S.S. Knight is described in an advertisement as a "manufacturer of ladies' boots, shoes and slippers, button shoes, kid slippers, village ties, etc., ladies' button, gored or lace boots, heavy or light sole made to order, slippers bottomed, boots newly foxed with kid or cloth, ladies' and gentlemen's boots and shoes repaired." Samuel died in 1936.) [University of Maine, Raymond H. Fogler Library, Special Collections]
Varney, George J. A Gazetteer of the State of Maine. 1881. pp. 325-326.
National Register of Historic Places – Listings
Harper Family House, Maine Route 5, approximately 95 miles South of junction of East Range Road and Maine Route 5
Limerick Upper Village Historic District
[Maine Route 5] Limerick is the central one of the five original Ossipee towns north of the Little Ossipee River, conveyed to Francis Small of Kittery by Captain Sandy, a Sagamore Chieftain in 1668. In 1669, Small conveyed half of his Ossipee tract to Maj. Nicholas Shapleigh of Kittery. After several ownership changes and a survey, the town was incorporated in 1787. The Upper Village contains many buildings from that early era.
As the 19th century began there was a thriving backwoods village at Perrys Corner, with a store, tannery, shoe shop and ashery, followed shortly by a hotel. The census listed 829 people in Limerick. The most significant event of the early 19th century was the establishing of the Limerick Academy. The academy probably influenced and affected more lives than any school in the area. It brought culture and learning and gave many men and women an opportunity to study the classics, Greek, Latin and French. It also provided relief from the hard work of the era.
Sunnycroft, Locust Hill