The overall political party balance in the Legislature is important since a joint convention of both bodies elects the Attorney General, Secretary of State, State Treasurer, and State Auditor. The Republican party controlled that joint convention from 1917 through 1974 except for 1965-1966 and 2011-2012.
Since 1974 the Democratic party has had an overall majority with the exception of 1979-80, when the Republican party still did not achieve a majority. With a 92-90 margin over the Democrats, two unenrolled ("independent") legislators held the balance of power. During that session, Democrats retained all the offices noted above.
In 2010, the Republican Party gained control of both the Senate and the House of Representatives, as well as the governor's office.
The four legislators elected in 2002 with no ties to either major party (one Green Independent and three unenrolled) marked the largest number not affiliated with the Democrats or Republicans since the election of 1914. In the 2012 election, the number increased to five members. Members may change enrollment at any time, even after their election. It is not unusual for several changes to occur during the two-year legislative sessions.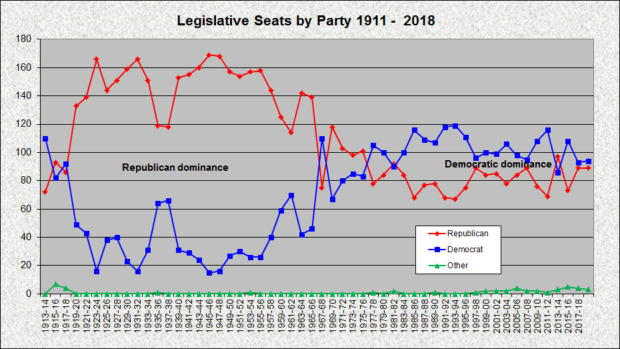 An overall majority in the legislature may not mean dominance in both chambers – the House and the Senate. When a split in control exists, or when one party controls both chambers but the governor is of another party, compromise or gridlock will emerge, often depending on the leadership qualities of the governor.
House
Senate
Legislature
Period
Rep.
Dem.
Other
Rep.
Dem.
Other
Rep.
Dem.
Other
1911-12
64
87
8
23
72
110
1913-14
72
72
7
21
10
93
82
7
1915-16
69
78
4
17
14
86
92
4
1917-18
105
46
28
3
133
49
1919-20
110
41
29
2
139
43
1921-22
135
16
31
0
166
16
1923-24
116
35
28
3
144
38
1925-26
121
39
30
1
151
40
1927-28
129
22
30
1
159
23
1929-30
135
16
31
0
166
16
1931-32
120
31
31
0
151
31
1933-34
93
57
1
26
7
119
64
1
1935-36
96
55
22
11
118
66
1937-38
124
27
29
4
153
31
1939-40
125
26
30
3
155
29
1941-42
129
22
31
2
160
24
1943-44
137
14
32
1
169
15
1945-46
137
14
31
2
168
16
1947-48
127
24
30
3
157
27
1949-50
126
25
28
5
154
30
1951-52
126
24
1
31
2
157
26
1
1953-54
127
24
31
2
158
26
1955-56
117
34
27
6
144
40
1957-58
100
51
25
8
125
59
1959-60
93
58
21
12
114
70
1961-62
112
39
30
3
142
42
1963-64
110
41
29
5
139
46
1965-66
70
81
5
29
75
110
1967-68
94
57
24
10
118
67
1969-70
85
66
18
14
103
80
1971-72
80
71
18
14
98
85
1973-74
79
72
22
11
101
83
1975-76
59
91
1
19
14
78
105
1
1977-78
63
88
21
12
84
100
1979-80
73
77
1
19
13
1
92
90
2
1981-82
67
84
17
16
84
100
1983-84
58
93
10
23
68
116
1985-86
66
85
11
24
77
109
1987-88
63
87
1
15
20
78
107
1
1989-90
53
98
15
20
68
118
1991-92
54
97
13
22
67
119
1993-94
60
91
15
20
75
111
1995-96
73
78
16
18
1
89
96
1
1997-98
69
81
1
15
19
1
84
100
2
1999-00
71
79
1
14
20
1
85
99
2
2001-02
61
89
1
17
17
1
78
106
2
2003-04
67
80
4
17
18
84
98
4
2005-06
73
76
2
16
19
89
95
2
2007-08
59
90
2
17
18
76
108
2
2009-10
54
96
1
15
20
69
116
1
2011-12
78
71
2
19
15
1
97
86
3
2013-14
 58
 89
 4
 15
 19
1
 73
 108
5
2015-16
69
78
3
20
15
1
89
93
4
2017-18
71
77
3
18
17
0
89
94
3