| Year | Population |
| --- | --- |
| 1970 | 599 |
| 1980 | 688 |
| 1990 | 832 |
| 2000 | 845 |
| 2010 | 922 |
Geographic Data
N. Latitude
45:22:15
W. Latitude
68:17:69
Maine House
District 141
Maine Senate
District 2
Congress
District 2
Area sq. mi.
(total) 39.7
Area sq. mi.
(land) 38.6
Population/sq.mi.
(land) 23.9
County: Penobscot

Total=land+water; Land=land only
[LEE] is a town in Penobscot County, incorporated on February 3, 1832 from township T2 R2 NBPP, EPR. As a township it was originally a grant to Williams College. L
ee's population in 1880 was 894, similar to its recent census. Contrary to many northern Maine towns, it has increased its population consistently since 1970.
Settlement began in 1824 and consisted of at least thirty families by 1828.
Stephen Lee was one of those settlers; the town was named in his honor.
According to George Varney in his Gazetteer of Maine in 1886,
In the southern part of the town are several ponds, the largest being Mattakeunk (area, 1,000 acres) and Ware ponds, the head of the Passadumkeag Stream.
Lee village, the chief centre of business, is situated on Mattakeunk Stream, near the pond of the same name, where there is a good water-power. There are here two saw-mills–one a board, shingle and grist-mill, a tannery, and wheel, tinware, and furniture factories.
Near the village is a good trotting park, where fairs are held. The nearest railroad station is that of the European and North American Railway at Lincoln village, 12 miles west of Lee village.
In the village a Veterans Memorial stands in the small park in front of Elmwood Hall.  The village center lies at the intersection of Route 6 and the short Route 168, from Winn in the north to Lee.
Lee sits astride Maine Route 6, the site of an old military road from Lincoln through Lee and Springfield, then on to Houlton. The Houlton portion is probably the current Maine Route 169 which links Springfield with Danforth and then joins U.S. Route 1 for the journey north. Heavily loaded logging trucks rumble through the town moving east to west from eastern forests to mills in Lincoln and elsewhere.
Lee Baptist Church reportedly was established in 1858, serving the community well for over 100 years until a controversial minister, Rev. Daniel Dunphy, stirred resentment and violence in the 1980s and 1990s.  Charged with criminal trespass and assault, he quit in 1997 leaving the church with a diminished congregation and an opportunity to rebuild.
The Lee Normal Academy for teachers was established on land once a summer resort. The former Mount Jefferson Hotel was turned into a boys dormitory. According to Isaacson,
When it was in operation as a hotel in the early 1900's, the Jaehnes brothers created as estate on land that included Mt. Jefferson . . . and in the village with a long allee of poplars. Dr. George Averill acquired the property and gave it to the Academy which was incorporated in 1845. Averill and WPA funds built Averill gymnasium which houses the Lee Historical Museum . . . .
Varney noted that "The institution remains a monument of the sagacity and public spirit of those of the early settlers who were instrumental in its establishment."  Lee Academy is now a 9-12 grade high school, with boarding international students in addition to serving surrounding towns.  The steeple has been removed from the Baptist Church that is now Cobb Center.  Surrounded by academy buildings, Lee's Town Office occupies a former elementary school, named for Eula Ham, a long-time teacher who died suddenly.
Historical note: Elmwood Hall, the old town hall, was a social center hosting, in addition to town meetings, minstrel shows and other social events.  The museum, which it also contains, is reported to contain a piece of the ill-fated Hindenburg dirigible (steerable lighter-than-air craft) that exploded in a fiery inferno as it was docking in New Jersey in 1937, killing about one-third of those on board.
The Victorian style Mallett Hall, also known as the Mount Jefferson House, has been a fixture in the town since 1889 when it was built by James Mallett as a hotel.  Once a dormitory for Lee Academy, it was purchased by the Lee Historical Society in he 1990s.  It was placed on the National Register of Historic Places in 1993. The fire department and post office are just east of the Hall on Route 6.
Across from the Post Office, and just past the convenience store, the modest Mount Jefferson Ski Area provides recreation for the community and nearby towns.
As Mr. Varney noted over 125 years ago, the Mattakeunk Stream passes through the town, from Mill Pond to under what appears to be an old mill, to Houghton's Cedar Products, and into Silver Lake.
Passing the convenience store traveling east on Route 6, one finds Mallett's Mill Road on the left. Once the site of a working mill on the banks of Mill Pond, the company there now is a building supply business. Two house sit on a nearby hill overlooking the pond.
Form of Government: Town Meeting-Select Board.
Additional resources
Chadbourne, Ava Harriet. Maine Place Names and The Peopling of its Towns.
Isaacson, Dorris, ed. Maine: A Guide Downeast, p. 353.
*Maine. Historic Preservation Commission. Augusta, Me.   National Register source files have changed! 2016 UPDATE: Follow the link above to find sources for these properties using their eight digit "Reference Number."
Cushman, Abial, Store: 90001906
Mallett Hall: 93001115
Sambides, Nick, Jr. "Lee congregation to celebrate 150 years." Bangor Dailey News. October 24, 2008.  P. B1.
Varney, George J. A Gazetteer of the State of Maine. 1886. p. 313.
Many thanks to former Lee resident David Ballard, who contributed to this article.
National Register of Historic Places – Listings
Cushman, Abial, Store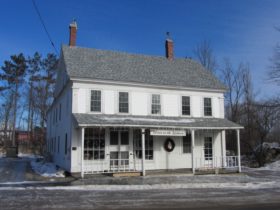 [Main Street east of Maine Route 168] The c. 1840 Abial Cushman Store is the oldest and most intact commercial building in Lee. Built for use as a general store, it has also served as a boarding house for nearby Lee Academy and as the home of the Forest Grange since 1884.
The Town was first settled in 1824 following the resolution of a protracted legal dispute over its ownership. Three years later the first mill was built near what would become the village center. The Lee Normal Academy, an institution that would figure prominently in the town's history, was founded in 1845. Lee's 19th century development was limited by its low population, which averaged only 926 from 1850-1890. Like many other Maine communities, the village of Lee developed at a crossroads. The two roads were lined by a mix of residential, commercial, religious, and institutional buildings. The sustained small scale of the community did not require development of parallel streets behind the two roads.
Abial Cushman's store stands in a row of surviving residential buildings on the north side of Main Street. It is the earliest and most architecturally significant of the two or three extant 19th century commercial buildings. It ranks as one of the least altered Greek Revival style structures in town.*
Mallett Hall
[Maine Route 6 North side, 0.1 mile east of junction with Maine Route 168] The 1889 Mallett Hall is a large two-story frame building, originally an inn and later a summer tourist hotel. Built by James Mallett, the property was further developed in the early 20th century by Mallett's son, with the addition of a cabin colony along the shores of Mattakeunk Pond. Mallett Hall is an example of a rural 19th century hotel building, relatively rare in Maine despite that they were once a common feature of nearly every community.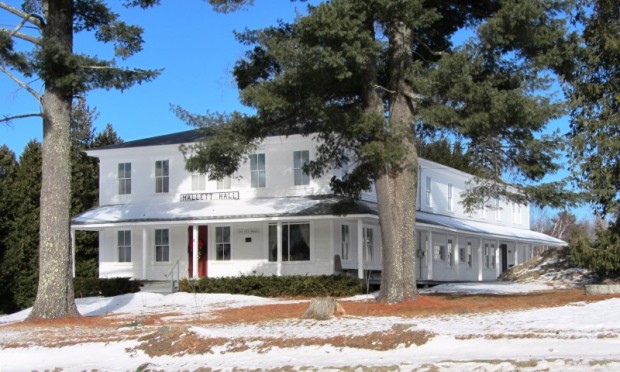 It opened as a hotel in 1889 under the proprietorship of James Mallett. Judging from the size of the building (in part due to the second floor dance hall, apparently built in exchange for a ten year tax abatement), Mallett envisioned a large clientele. This assumption must have been based on a strictly local need for the wagon traffic and stage line between Lincoln and the Maine Central Railroad to the west and Springfield and Carroll to the east. In previous years this need for accommodations was provided by a variety of persons such as H. Ricker in 1856 (The "Lee House") and Charles True in 1875 ("Hotel"). Since the railroad had already bypassed this corridor, it seems unlikely that Mallett foresaw a booming tourist trade.
At the time of the Hall's construction, Lee appears to have been a bustling community with no fewer than six merchants, eight small-scale manufacturers, three halls, a library, and the Lee Normal Academy. Mallett ran his hotel until 1908-09. In the following year S. S. Foss appears as the operator of the hotel. In 1914 the name "Mt. Jefferson House" appears with John Wyman as proprietor. Mallett's son Frank E. Mallett, an ex-consul general to Budapest, Hungary, assumed control of his father's property in 1916.*